Spartan bats silenced by Michigan ace Alexis Storako, fall 3-0
EAST LANSING, Mich— Michigan State came into Tuesday evening's rivalry tilt with Michigan in desperate need of a win. After all, the Spartans had lost 10 out of its last 11 games.
Wolverine starting pitcher Alexis Storako had other plans.
The senior limited the MSU offense to one hit en route to a complete game masterpiece. She also registered 13 strikeouts to only four walks. 
For MSU, it's the third time in the past eight games it has failed to score and the seventh time in the past eight games it has scored four or fewer runs.
After today's contest, the Spartans dropped to 21-24 on the season, including its fourth straight loss, after getting swept against Wisconsin over the weekend. MSU also fell to 1-13 in Big Ten play with the loss and 0-2 against Michigan this season.
Michigan, meanwhile, improved to 27-13 and 7-6 in the Big Ten with the road victory.
MSU starting pitcher Ashley Miller was the lone bright spot for the Spartans, going the distance while allowing three earned runs and striking out 10 batters. After today's outing, Miller's ERA stands at 1.67 on the year.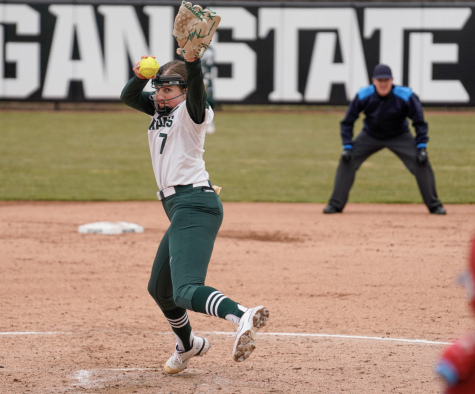 She also has 218 total strikeouts, which moves her into fourth all-time for single-season strikeouts at Michigan State. 
Both offenses would start off rather slowly, but a pair of doubles for Michigan to start the third inning would lead to two runs. The Wolverines would grab the early lead off of a Kristina Burkhardt RBI double. She would come around to score on another double, this time by senior catcher Hannah Carson.
Michigan also got contributions from fifth-year Kristina Burkhardt, who went 1-for-4 with an RBI and freshman Ellie Seiler, going 2-for-3 on the day. As a team, the Wolverines had five team hits.
"I loved the way our kids competed tonight, and I thought Ashley Miller was lights out," coach Jacquie Joseph said. "We competed and that's all I can ask for out of the group. If we play like this, we're going to have a nice end to the season." 
A groundout by shortstop Ella McVey in the fourth inning would give Michigan the 3-0 lead, more than enough for Storako to work with.
With a no-hitter on the line, junior first baseman Camryn Wincher was able to break up the bid with a single in the bottom of the 7th.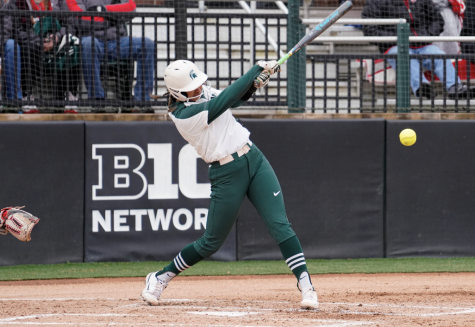 "I thought Alex Storako had a special night," Joseph said. "Whatever it is about us, she loves playing against us."
Storako struck out eight different Spartans at least one and four players two or more times.
The Spartans will look to snap their four-game losing streak this weekend when they travel to West Lafayette for a three-game series against the 19-24 Purdue Boilermakers.  First pitch for the series opener is set for this Friday at 5 p.m.