Concert Review | The Tuareg Songwriter and Art-Punk Out of Brooklyn: Mdou Moctar and Parquet Courts
The night began with my dad and I running through the cold streets of Milwaukee to get to the venue of the night's event. We made it to Turner Hall which has an interesting history with the American Turner movement. The building is one of the largest surviving buildings dedicated to the movement, which was founded under the title "Socialist Turnverein" in Milwaukee. This history is very fitting for hosting a band whose songs contain socialist and political themes. The age of the building shows, but the old feeling was pleasant. Once entering the main ballroom, I'm hit with the smell of cheap IPAs, cigarettes and the sight of men with small beanies. All to be expected at a hipster indie gathering. After getting some cool merch, my dad and I were up close, right next to the huge left speaker, and ready to get started.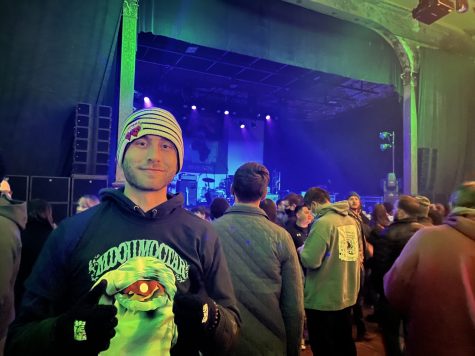 To start off the night, we had Mdou Moctar walk onto the stage. The group based out of Niger is known for its psychedelic rock sound that grabs influences from Saharan music styles. All of their music is sung in the Tamasheq language, a Berber language from western Africa. The lyrics of their music talk of religion, women's rights, inequality in Africa, and love. 
"From prison to Nobel prize. They ceded to Mandela /
Africa is a victim of so many crimes / 
If we stay silent it will be the end of us / 
Why is this happening?"
Mahamadou Souleymane, the lead vocalist and guitarist, took center stage alongside his bandmates. As he made his way in, tuning his guitar and getting into the first song, you could tell he was the leader, and the others followed along and supplemented his music. The first song was a blast of walls of guitars and the psychedelic vibrations gave it a Jimi Hendrix feel. The loud rhythm and beat with the songs were easy to bop your head to. Mahamadou introduced his song with a bit of backstory about the music, telling us how it symbolizes the grievances of Africans and all the atrocities happening. His English was not great but he let his music speak for him. I watched his hands as he played the guitar and it was mesmerizing how fast his fingers moved along the strings. He is truly the greatest guitarist I have ever seen in my life. At times in each song, he would go on impressive solo guitar riffs that just displayed his incredible talent. He had such a big grin on his face during these solos and you could tell he was kind of showing off.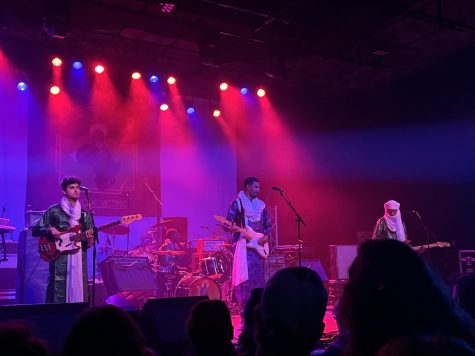 Two stand-out tracks were "Chismiten" and "Afrique Victime" which really got the crowd going and almost started a bit of a mosh pit. The overall performance was brilliant, and I'm excited for the future of the band. Mahamadou stayed on the stage a bit longer after the performance, bowing and taking praise from the audience. While waiting for the next performance the guy in front of me was looking up Mdou Moctar on Spotify and adding their songs to his playlist. Always a nice sight to see after an opener. 
After waiting through the band's stage crew setting up all their instruments — and letting my left eardrum recover a little — it was time for Parquet Courts to take the stage. The band decided to start off with two of their slower songs, one of which being "Marathon of Anger." I think these songs gave us some time to get acclimated and listen to some of the newer, heavy synth-driven songs of their new album Sympathy for Life. Out of nowhere with zero precursors, the band quickly switches to "Almost Had to Start a Fight/In and Out of Patience" and I'm shoved straight into a mosh pit. Caught a little off guard, it took me a second to remember the lyrics. By the time I did the song came to the beat switch, switching to even faster guitars which only amplified the mosh pit. I was surrounded by people, and we all seemed to be stomping out feet in unison to the fast guitar riffs.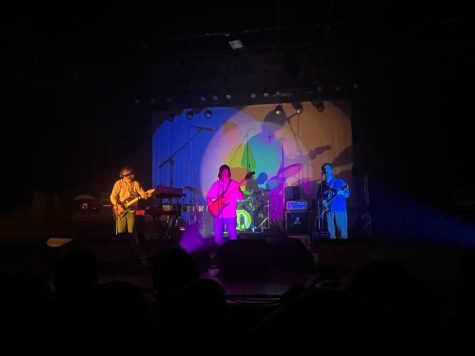 The mosh pits for "Master of My Craft" and "Walking at a Downtown Pace" were excellent and everything to be expected at a punk show. What made this show unique was the variety of listening experiences per song. Aside from the loud, dancing mosh pits, there were also quiet and swaying moments to just stand and enjoy the music. For the song "Plant Life," The band lit some incense and turned on wavy green lights. With the help of samples from nature, it gave the feeling of chilling by a swamp or lagoon. Another song that had a different mood would be "Sympathy For Life," whose lyrics set a completely different mood in the venue. 
"Hands free /
I bet you are / 
Touch, scream / 
Express yourself / 
Feel free / 
Come one common feeling." 
For me, Andrew Savage, the co-vocalist and co-guitarist was a standout, with him seeming to push his vocals to the limit with every song while still making every lyric to be easily heard. Being able to clearly hear each word Savage says while singing makes his tone unique. When he switched to play the keyboard for a song, there's a chorus where he stops playing and puts a ton of strain on his voice, loudly yelling the lyrics. He kind of stood there awkwardly as he did with his hands to his sides, but you could tell he put all his concentration into these few lines of the song and pushed it. Overall, the talent put on display from Mahamadou and Andrew were the highlights for me, and seeing it in person is what makes live music so special.