Spartans spanked in opening set of doubleheader by Illinois, fall 11-3
EAST LANSING, Mich – Every game in a season is important, but none are more valuable than conference matchups. Michigan State kicked off Big Ten play on Friday afternoon against Illinois. 
The Spartans have been on a roll heading into conference play after sweeping Houston Baptist in three games last week. Friday's afternoon tilt gave MSU the opportunity to start conference play off on the right foot.
The Spartans came into Friday's doubleheader with a 10-7 record facing a below .500 Illinois team (8-10). After being rained out last Wednesday, the Spartans had a chance to extend their winning streak to four games.
However, the Fighting Illini had other plans in Game 1. Sophomore right-hander Harrison Cook (0-1) got the start for the Spartans but was tagged early in the ballgame en route to an 11-3 loss for MSU.  The Fighting Illini compiled 11 runs on 15 hits and two MSU errors over the course of the ballgame and coasted to an 11-3 victory to begin Big Ten action. 
Cook was charged with six earned runs in two innings of work to go along with seven hits given up and two hit batters. Freshman and Saline, Michigan native Aidan Arbaugh received his first college action, pitching three innings of one-run ball despite yielding four hits. Dominic Pianto and Jack Brockhaus each allowed a run in two innings of work.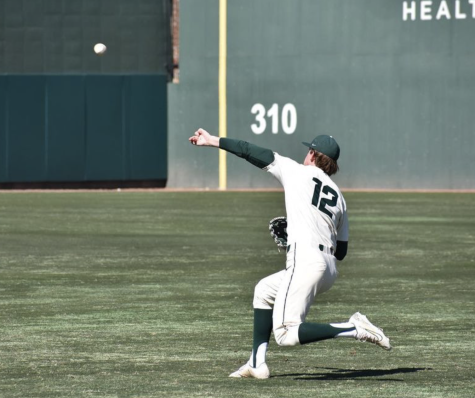 The loss dropped the Spartans to 10-8 on the season and 0-1 in Big Ten play.
Illinois junior outfielder Danny Doligale had a statement game as he was just a triple shy of the cycle, going 4-for-5 at the plate with a three-run homer in the second inning. 
While scoring just three runs, there were a few notable highlights for the Spartans. Junior outfielder Zaid Walker broke up Illinois' no-hitter in the bottom of the fourth and scored the first run of the game for MSU in the bottom of the sixth with a blistering line drive up the middle to score sophomore infielder Trent Farquhar. 
Farquhar also had a solid performance with two walks and a double in four at-bats, complimented by a solid all-around defensive performance. 
While looking at a hefty deficit, MSU hitters struggled offensively to put together good at-bats and generate quality scoring chances. The Spartans recorded 12 total flyouts as a team and notched four total hits to go along with six strikeouts.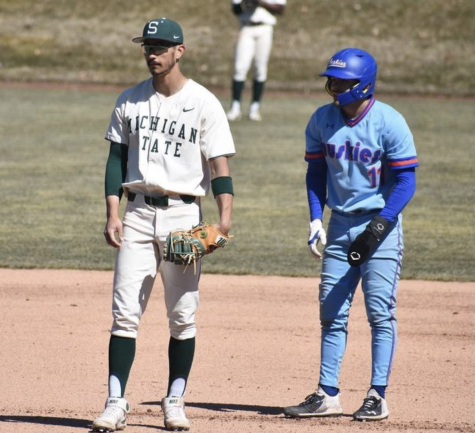 Illini starting pitcher Cole Kirschsieper picked up his fourth win of the season, going six innings and only allowing one earned run.
Luckily for the Spartans, they will have an opportunity to avenge their game 1 loss as they face off against Illinois again tonight at 4:05.
Sophomore Nick Powers is set to get the start for the Spartans. He has a 2-1 record on the year and has been red hot allowing just eight earned runs and 20 strikeouts in 17.1 innings pitched.