Spartans' luck runs out, ousted from Big Ten Tournament by Boilermakers
INDIANAPOLIS — With one spot remaining in Sunday's Big Ten Tournament championship game, Tom Izzo's Michigan State Spartans and Matt Painter's Purdue Boilermakers went to battle Saturday. But after two thrilling victories in the tournament, the Spartans' magic failed to materialize a third time as the Boilermakers closed the game strongly for a 75-70 victory.
Much like the Spartans' clash with Wisconsin Friday, the first half of this one was primarily a defensive effort for both teams. Despite Purdue's below-average defensive ranking this season, the Boilermakers managed to hold the Spartans to 30 percent from the floor.
Gabe Brown scored the game's first points with a mid-range jumper, but didn't convert another shot from the floor all half. Max Christie got the worst of it, though, and was held to 0-for-6 from the floor with two turnovers. He'd go on to finish the game with nine points on 3-for-10 shooting. Other notable scoreless Spartans in the opening half were Joey Hauser and Julius Marble II.
Coach Tom Izzo and the Spartans had a scare early in the game, with both point guards Tyson Walker and A.J. Hoggard leaving the game with lower leg injuries within 30 seconds of each other. They both went to the locker room, and Hoggard was able to return, but Walker wasn't so lucky. He'd finish the game with zero points in only three minutes played.
The Spartans' saving grace is they were able to hold the Boilermakers – who shoot nearly 50 percent from the floor this season – to 34 percent. Zach Edey led them with nine points and six rebounds, followed by Big Ten Sixth Man of the Year Trevion Williams with seven points to give the Boilermakers a 27-20 halftime advantage.
Ultimately, the Spartans were fortunate to be down by only single digits at the break.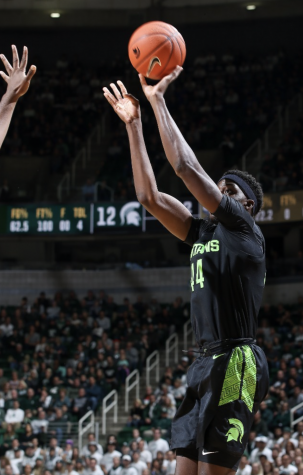 The second half started with Purdue's All-Big Ten First Team point guard Jaden Ivey trading threes with Brown. Hoggard did his best to help his Spartans out, too, with a pair of and-one finishes in the opening minutes, though he only converted on one of them.
But the Boilermakers made six of their first nine second-half shots, highlighted by a Sasha Stefanovic three to put them ahead by a game-high 13 points.
Then, the Spartan offense began to come alive, as Marble II and Christie got their first buckets. Christie's came on a tip-in off a contested Hoggard miss and cut the Purdue lead to seven with 13:32 to play, forcing Painter to call timeout.
A couple of minutes later, Hoggard and Malik Hall put in back-to-back buckets in the paint, bringing the Spartans to within four points. 
With eight-and-a-half minutes to play, Marble II committed his fifth foul, disqualifying him for the rest of the way. Izzo was forced to ride with Bingham, who had three fouls of his own at that point, for the next crucial stretch.
A three from Brown made it a two-point game with six-and-a-half to play, as the Boilermakers held onto a 56-54 lead. Minutes later, however, Eric Hunter Jr. nailed back-to-back 3-pointers for the Boilermakers to put them back ahead by seven with 4:25 to play, a lead they would not give back. The Spartans sure missed their offensive closer in Walker during the final minutes.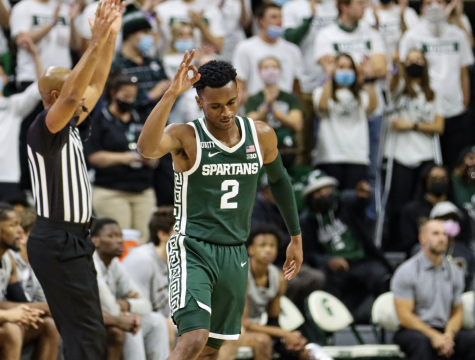 Leading the Boilermakers was Ivey, who finished with 22 points (17 in the second half), nine rebounds and five assists. Edey finished with a double-double of 11 points and 10 rebounds. Four of Purdue's five starters reached double figures in scoring, including Hunter, who scored all 11 of his points in the second half.
For the Spartans, it was Hoggard stepping up in Walker's absence to turn in 17 points and 10 assists. Brown also had 16 points. One of the bigger surprises in this one was the Spartans' four turnovers, a season-low, but the reward wasn't there.
The Boilermakers advance to play the Iowa Hawkeyes for the Big Ten Tournament championship Sunday, while the Spartans will head back to East Lansing and await the Selection Show to find out where they're seeded in the big dance.
You can follow Trent Balley on Twitter at @TrentBalley.