Concert Review | Dua's Levitating in Detroit
The lights dimmed. Many fans started to scream as the dance crew's faces appeared on the screens, followed by Dua Lipa herself. Kicking off the show with "Physical," Dua Lipa appeared on the stage standing confidently. Almost the entire arena screamed much louder.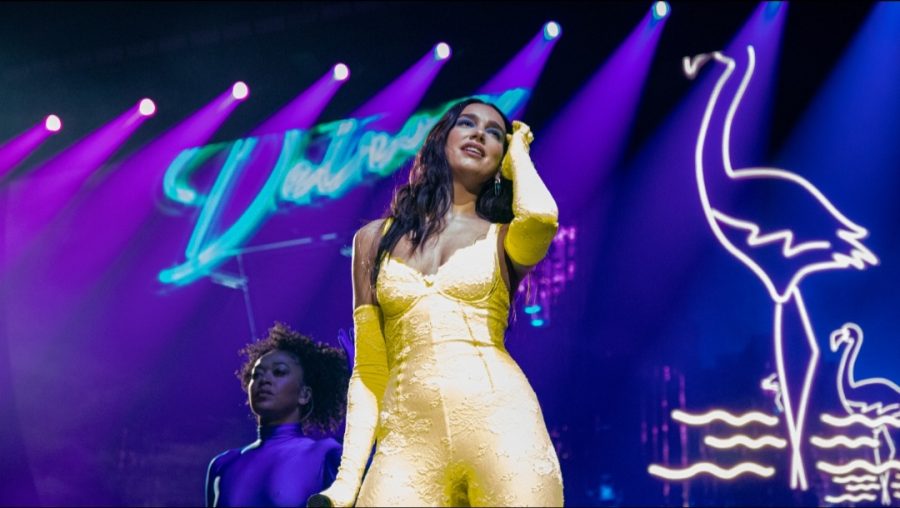 She recently performed at Little Caesars Arena as part of her Future Nostalgia Tour. The tour was supposed to happen when Future Nostalgia was released in 2020 but had to be postponed due to the pandemic.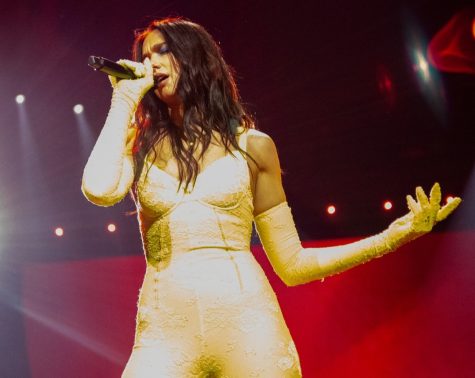 "We've been waiting to put this show on for two years so I'm really really honored to be here sharing this room with you all," Lipa said.
The concert had two opening acts, Lolo Zouaï and Caroline Polachek. Each of the artists did a nice job with their sets. Zouaï came onto the stage with a purple button-down dress, long black gloves, and knee-high platform boots. She jumped around the stage happily singing while most of the crowd jumped with her. During Polachek's set, she gave off an earthy vibe as she motioned her arms alongside her body. She had a soothing voice as well. Most of the crowd stared at her in awe, nodding along to her music. Then, the main event, Dua Lipa. The stage was set up like a gym, and the dancers wore matching vintage workout clothes while Lipa wore a bright green neon suit.
Next, she performed "New Rules," the song that ignited her career. She did a dance routine with blue umbrellas. Lipa and her dancers showed the crowd that they were there to entertain. Most people at the concert looked like they were having a fun time.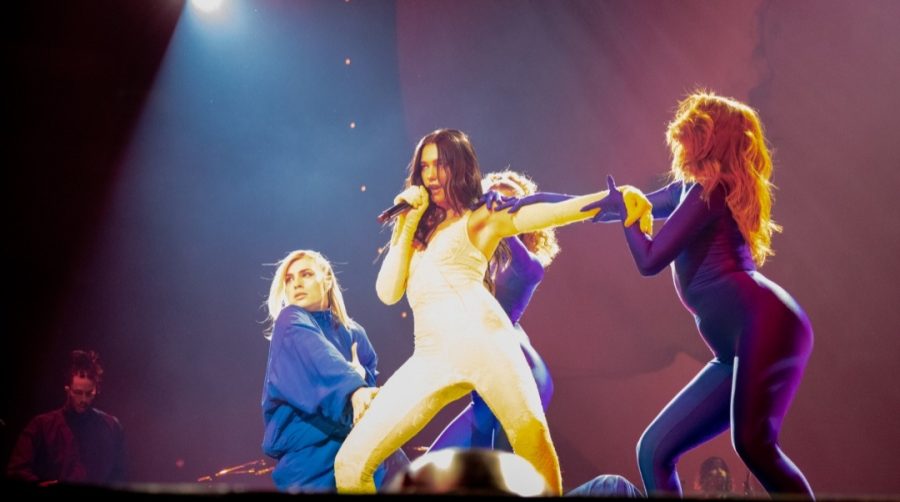 Throughout the show, fans sang along to almost all the songs. It was clear that Dua Lipa has already made quite an impact, even if it is only the beginning of her career.
Most of the songs that were on her setlist were from her newest album,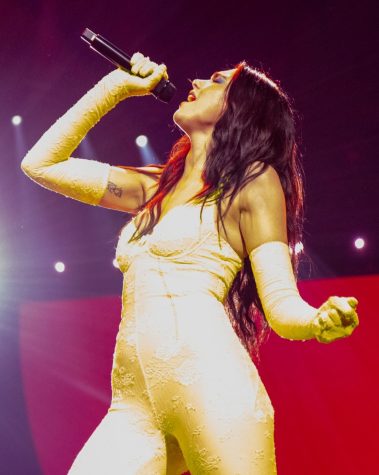 including "Love Again," "Cool," "Pretty Please," "Boys Will Be Boys," "Good in Bed" and "Future Nostalgia." She also included songs from the Moonlight Edition of Future Nostalgia including "Fever" and "We're Good." During "We're Good," she had a wardrobe change into a one-piece white sparkly bodysuit and a huge inflatable lobster on stage, inspired by the song's music video. During "Break My Heart," a cube of dazzling lights appeared from the ceiling. It was a unique prop that fit her set well. 
All of her dancers were incredibly talented. Some even wore roller skates while dancing along to her songs, which really fit  her disco themed show. The dancers walked along the stage to a smaller stage that was closer to the crowd. The smaller stage resembled a dance floor and had lots of vibrant lights. Most of the audience danced along with Dua throughout the show. Lipa may have played a lot of her newer songs, but she did not forget to bring back some of her classics as well, including "Be the One."
"Hello, Detroit! How are you feeling tonight? I'm kind of at a loss for words. Welcome to the Future Nostalgia Tour. How many of you guys have been here since the first album?" asked Lipa. 
Most of the crowd cheered with enthusiasm. This showed that they were big fans of hers since the beginning.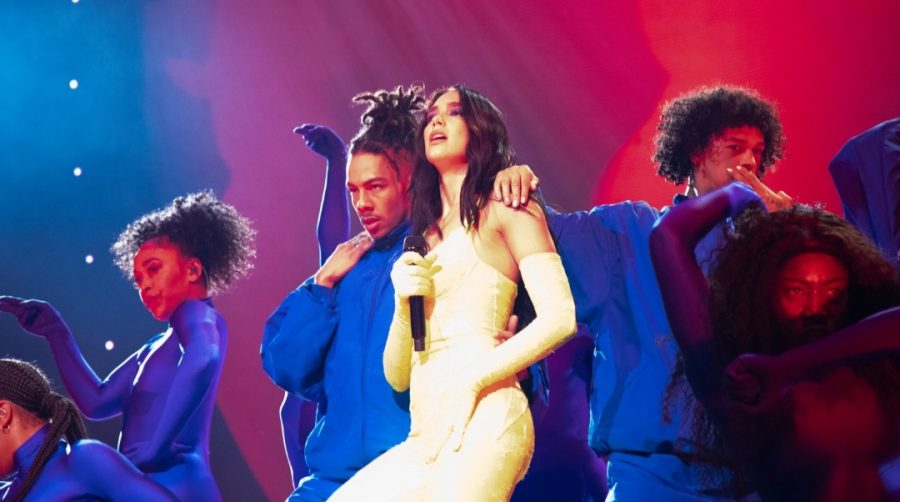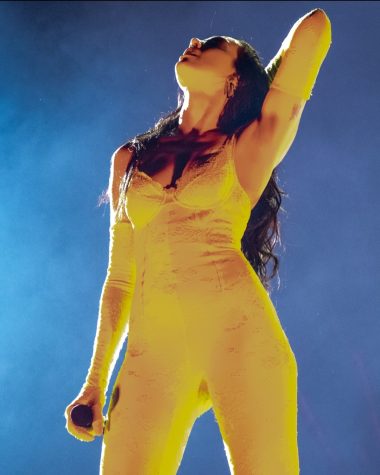 Then, she began to sing "Be the One," which came from her first self-titled album, "Dua Lipa."  
"Detroit! I feel like you guys have a lot in you tonight. I'm gonna need a little favor. I need you guys to sing with me. It's really simple. It goes a little something like this. 'I could be the one.' I told you it was easy. Sing it with me. Let's go!" Lipa said. 
She started to get the crowd to join her in singing along. The fans shouted "I could be the one!" 
"One more time! Louder! Alright, to my right, let me hear you. My left, let's go! Alright now you guys, all together!" said Lipa. 
After the audience sang their part, she would sing along with them. 
"Be the one, be the one, be the one, be the one, be the one, be the one," she sang after them. 
It was one of the coolest experiences from the Future Nostalgia tour. After a few times, she ended the moment by powerfully singing, "Will you be mine?"
Dua Lipa did not have just one wardrobe change.
She also changed into a black cropped jacket, pink bra, and matching pink leggings to sing "Cold Heart," which features Elton John.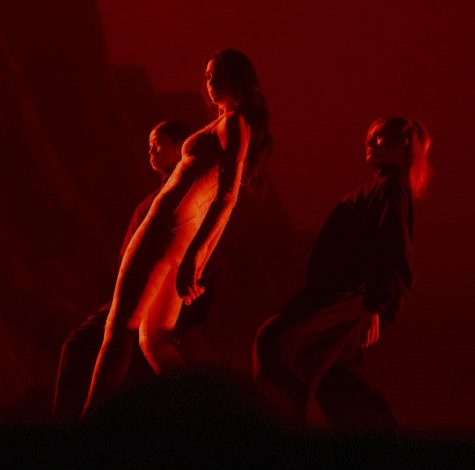 The arena was filled with phone lights and people swaying side to side as Lipa sat with her dancers singing: 
"And I think it's gonna be a long, long time /
'Til touchdown brings me 'round again to find /
I'm not the man they think I am at home /
Oh no, no, no /
And this is what I should have said /
Well I thought it, but I kept it hid."
Then, Elton John's voice was played over the speakers singing: 
"Cold, cold heart /
Hardened by you (oh) /
Some things lookin' better, baby /
Just passin' through (no, no, no, no, no)."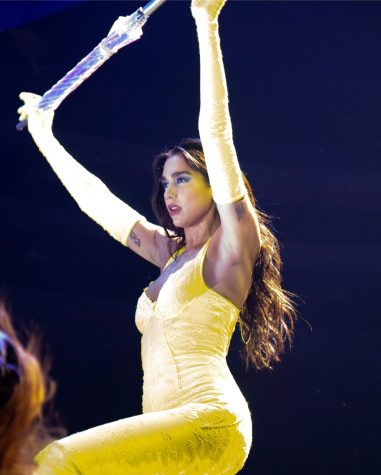 Soon after, most of the arena got on their feet as she left the stage to prepare for the last songs of the night. A platform appeared from the ceiling that was essentially levitating. How fitting for her next song. Lipa appeared on the platform wearing a one-piece glittery black outfit and began to sing one of her biggest songs, "Levitating." The platform began to levitate over the fans that were on the main floor. The whole crowd sang along excitedly. 
The final song of the night was "Don't Start Now." She started the performance doing a twisting dance she didin 2018 which became a meme for quite a while. Fans screamed with joy and laughed as she grinned while doing her old twist dance routine. It appears that Lipa has a good sense of humor about herself and her fans. Some of the fans in the front row held signs that were shaped like marshmallows, Peeps, with "Dula Peep" on the front. Many people mispronounce Dua Lipa's name quite often, hence the humorous signs.
During her last song she thanked each and every one of her dancers, band members and crew for putting on a great show. Most of the audience was still on their feet as balloons and colorful confetti blasted from all sides of the arena.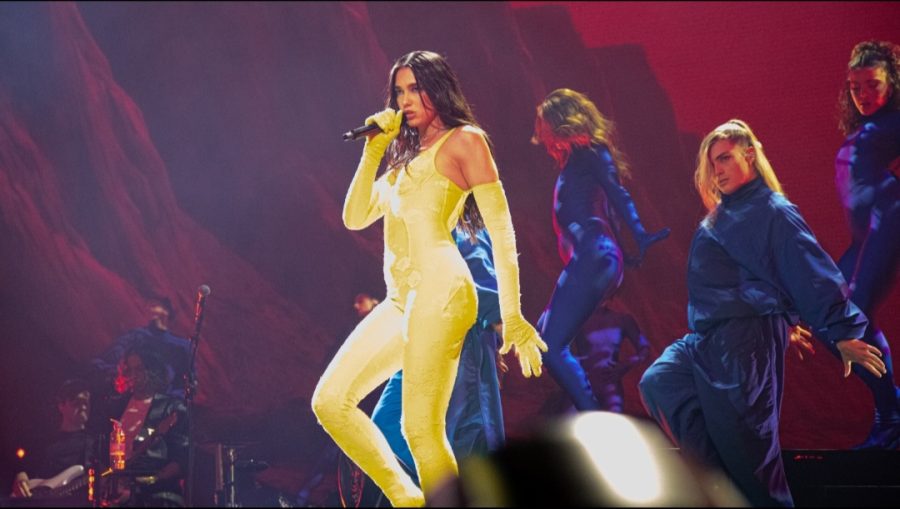 Dua Lipa put on quite an impressive and fun show for her fans. There was never a dull moment since most people were either dancing or singing along. Thank you Dua Lipa, for performing in Detroit and giving your fans a fun experience on your Future Nostalgia tour.