We Watch It For The Music | Spider-Man: Into the Spider-Verse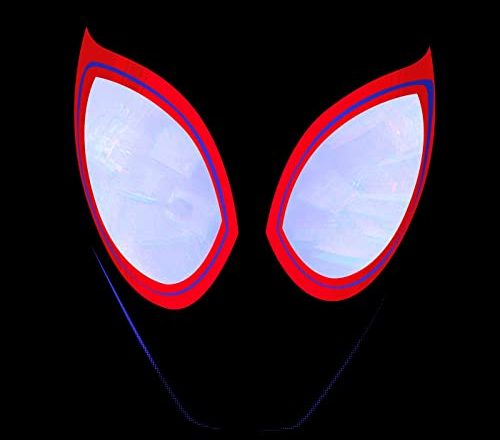 On December 26, 2018, a close friend and I floated into a movie theater looking for something to kill the post-Christmas pre-New Year's blues. For the next hour and 56 minutes, we fried our brains in the front row, taking in an audio-visual spectacle of unprecedented proportion before blasting the soundtrack the entire car ride home.
Spider-Man: Into the Spider-Verse is one of those rare, truly fantastic animated movies that really elevates the medium. Besides just being a stellar display of animation and a worthy addition to the ever-growing gallery of superhero films, it's noteworthy for the Afro-Latino representation embodied by main character Miles Morales. Black excellence surrounds the legacy of this film, rooted in its characters and reflected by what is, in my opinion, one of the best original soundtracks for a movie in the last decade.
Before I discuss the songs in depth, it's worth noting what a hell writing this review has been for me. Every song is good. All of them. Picking and choosing which ones to mention and for how long was nigh impossible. Take for example DJ Khalil's "Elevate," a powerful guitar backed rap track with Denzel Curry, Cordae, SwaVay and Trevor Rich all featuring. It plays at the credits sequence. Unbelievable. One of my favorite numbers, an absolutely electric piece, and it isn't even in the movie proper. Credits songs are usually crappy pop covers of one of the original singles in the movie! Needless to say, the bar is high, but I digress.
The soundtrack's roster is, in a word, stacked. Predominantly featuring Black artists, names like Ski Mask the Slump God, Juice WRLD and Vince Staples barely even begin to cover the vast superstardom appearing on the tracklist. Yet one of the lesser known artists has a special place in my heart with his song "Memories." The floaty, upbeat melody from Thutmose plays near the start of the movie as Miles walks through his home neighborhood in Brooklyn on the way to a new preparatory school. It's a great backdrop to introduce the character and his situation, a bittersweet number about reflection which sets the tone for the movie. 
Accompanying "Memories" is Aminé's equally optimistic "Invincible." To me, this is peak walking music, nice and light with a very groovy bassline to boot. Confident, hopeful and worthy of the old "bro, don't skip this one" adage. The rhythm is infectiously uplifting, while the lyrics drop some truth about the state of Black representation on the silver screen:
"All my people gather 'round, I'm here to inspire /
If you runnin' on E, I'll put the fire in your lighter /
Black Hollywood never started and it's over /
People only care when you're Denzel or Oprah."
Another vibrant number is "Familia" by Nicki Minaj and Anuel AA, featuring Bantu. Admittedly, I'm not a frequent listener of Minaj's but something about "Familia" really bumps. It's an awesome Latin infusion for the soundtrack, denoting both Miles' heritage and the movie's emphasis on family. I particularly liked the first verse, sung entirely in Spanish by AA.
Rounding out the upbeat tracks category is the project's most commercially successful song, Post Malone and Swae Lee's "Sunflower." This was the track that most people knew before even getting in the theater, and probably the most memorable on the way out due to its virality. The hazy, pop/rap anthem is a unique strain, an easy listen with satisfying vocals and resoundingly funky instrumentals. Lee is the highlight for sure, displaying some surprising range in the chorus.
Yet Spider-Verse's soundtrack is hardly all good times and optimistic bops. The movie has some real lows, particularly when "Scared of the Dark" plays in the midst of Peter Parker's death. Lil Wayne and Ty Dolla $ign's evocative recording features XXXTENTACION posthumously, and the three collectively compose a crushingly emotional track for an animated movie. On the flipside of this coin is Juice WRLD's "Hide" featuring Seezyn. Also a posthumous release, "Hide" is a poignant and measured tune which really adds to the emotional ups and downs throughout the film. Honestly, for an animated superhero movie rated PG, the songs can get unexpectedly deep. Sheesh.
That's all to say nothing of Beau Young Prince's "Let Go." A piano-led rap ballad, it draws inspiration from Miles' search for identity and confidence at his nadir, but honestly it's a great song outside the context of the film's plot. For anyone who appreciates a more melancholy, deliberate rap sound, this one's for you.
For all that, the sound I consider to be most signature for the soundtrack is the raw, energetic hype tracks its artists generated. So much to talk about here; Vince Staples' "Home" is a good starting point. I remember hearing a clip of this song in a teaser trailer a year before the movie was even in theaters, getting obsessed with the trenchy guitar shrilling behind Staples' opening verse. Intense, fervent and urgent, "Home" is a kickass track combining rap lyricism, rock backings and even an orchestral component.
Next up to bat is Duckwrth and Shaboozey's "Start a Riot." Aggressive and fast, this number is one of those delightfully angry pieces that puts a stupid grin on your face from the first notes. Deep horns blare in the background as bass drop after bass drop pumps you up throughout. Then there's "Save the Day" by Ski Mask the Slump God & Jacquees featuring Coi Leray & LouGotCash. Another catchy track, this one cool and collected, all about the innate swagger that comes with being Spider-Man. Most definitely a good pre-workout buildup jam.
And finally, the song you can't believe I haven't brought up yet: Blackway and Black Caviar's "What's Up Danger." This song just rips. Emerging towards the end of the film, our hero has earned the mantle of Spider-Man and now expertly navigates the roofs and streets of New York which tantalizingly builds to a freefall dive off a skyscraper. The song, all about tempting fate and fearlessness in the face of peril, is everything the movie had been leading to until that point. The track rises and rises its tempo and instrumentation, repeatedly outdoing its own intensity. Finally it crescendos with the explosive display of badassery we see on the screen. Strings burst into the sound over the lyrics, which can only be described as perfectly befitting a climax. "What's Up Danger" is the apex of not just the soundtrack, but the movie itself.
Spider-Verse is a listen-through album any given day. Anyone would be hard pressed to find an original soundtrack at the tier where it resides, covering as much emotion and depth as it does. The average quality of every song on the list is so high it almost overwhelms, and I encourage everyone to revisit this album to truly appreciate some excellent music backing an excellent movie. The sequel, Across the Spider-Verse is set to release this October, with Shameik Moore, Jake Johnson and Hailee Steinfeld reprising their voice roles from the first movie. Musically, the sequel has some huge shoes to fill, but my confidence is about as high as my expectations.