Concert Review | Elton John Crocodile Rockin' in Detroit
On Wednesday, Feb. 9 Elton John performed at Little Caesars Arena for the last time. He is currently on his final Farewell Yellow Brick Road tour, so he made one last stop in Detroit, Michigan. Little Caesars Arena was packed full of enthusiastic fans. People showed up in sparkly jackets, huge sunglasses and feathery scarves. John kicked off the show with "Bennie and the Jets," which made the crowd roar with excitement. John wore his signature sunglasses with a bedazzled white jacket. 
"Thank you, I'm so grateful that you've been hanging onto your tickets. I'm very appreciative. I believe it has been over 760 days. Now, I'm all the way here in Detroit!" Elton John said. 
John had to postpone numerous tour dates due to the COVID-19 pandemic, but is making up for lost time. 
Elton John played many of his hit songs including, "I Guess That's Why They Call It the Blues," "Burn Down the Mission," "Don't Let the Sun Go Down on Me," "Candle in the Wind."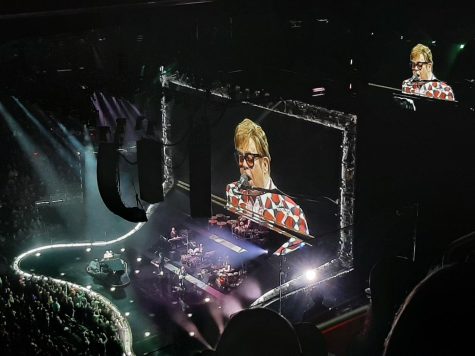 John told the audience what it was like coming to America when his career was just starting. "I went to Los Angeles and I played at a club called the Troubadour Club. It was such a joy to come to America in the first place because, being British, that is where all the great music came from anyway. The album that I had out was my second album. It was called 'Elton John' and it started to take off. And so the first country that really embraced my music was America and I felt so happy about that. This next song was the first single from that album. Before I put my version out, Aretha Franklin came out. Can you imagine how I felt, and how Bernie [Taupin] felt, by having the Queen of Soul record one of our songs so early into our careers? And little did I know I would meet her and record with her." Then, he played "Border Song." 
He talked about seeing her perform live. "It was a night that everyone who was there will never forget. She just tore it down. She was so ill and I love her so much. I still do. I have so much respect for her because she's Detroit. So much greatness has come out of this city." 
Fans surely felt touched by that statement, having given a nod to Aretha Franklin. 
Elton John made sure to include songs like "Tiny Dancer," "The Bitch is Back," "Saturday Night's Alright for Fighting," and "I'm Still Standing." So many of his fans sang along, especially to "Crocodile Rock." In fact, Elton John and his band stopped playing their instruments for a few moments to hear the crowd sing the chorus. It was remarkable.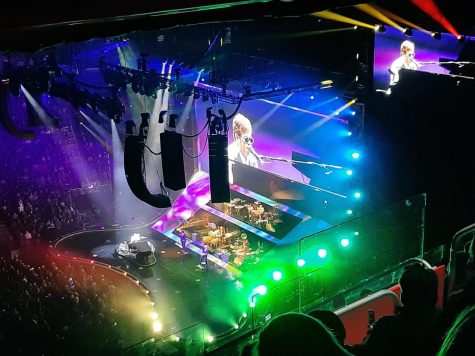 Another amazing moment during the show happened while he performed "Rocketman." John added a long piano solo which was truly incredible to watch. He played so long and hard that he had to lay his head on his piano after playing. His hands are still magic at age 74. 
He gave credit to his bandmates as well, including a drummer that has been with him since the '70s. John expressed the differences in touring during a pandemic and not being able to interact one-on-one with his crew. But he was willing to do anything to perform for his fans.The pandemic didn't stop him from putting on an amazing show. 
Throughout the show his piano would glide on the ground, allowing fans a closer look of him from each side of the stage. He stood and waved to his fans as well. He also had colorful special effects projected onto the large screens, confetti, and wardrobe changes, including a red bedazzled jacket, robe, and his infamous track suit with his name on the back. 
Elton John even gave an encore. After he sang "Cold Heart" he said, "I can't thank Dua Lipa enough. She's such a wonderful girl. I love her so much. That was my newest hit. This is my first hit, which came out 52 years ago." Then, John played one of his most famous songs, "Your Song."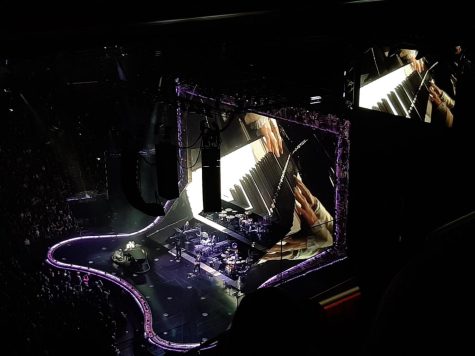 Towards the end of his show John said, "Bernie and myself tried to make it as fledgeling songwriters and all the disappointments we came across, all the doors that shut in our faces, but we still kept going. Eventually, as you have seen, we have succeeded." Elton John's statement hopefully will inspire fans to never give up and to go for their dreams. 
As the fans cheered him on, he said, "Thank you so much. What a way to go out in Detroit. Thank you. I first came here in 1970 on November the 27th at the East Town Theater where I did two shows and it was fantastic. I played probably everywhere that there is to play in Detroit. This is my 25th concert. This is where I was waiting to release "Bennie and the Jets" from my Goodbye Yellow Brick Road album. It went to number one on the R&B charts in Detroit. For a little white boy from England, to be number one on the R&B charts, it was just, I couldn't believe it. It came out and it was a huge hit. It became a theme song for the Detroit Pistons for a while as well, so I have a good thanks from you. I want to thank you because there are so many memories. When I think about all the years that I've been playing, I can't thank America enough as I have said earlier. It's just the most wonderful place to come and play music. All I can say is that I have you in my heart and in my soul. I wish you happiness, peace, love and anything else that comes your way that brings you joy." Then he played his final song, "Goodbye Yellow Brick Road."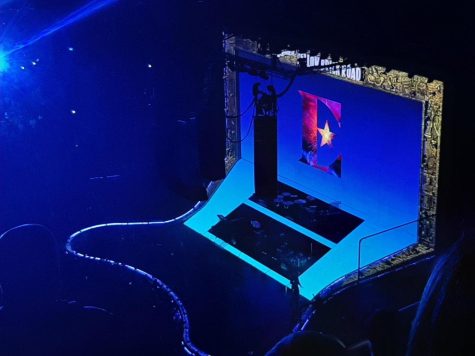 Clips and images from his career appeared on the large screen. It was a bittersweet to see his past performances, knowing this is his final tour. Many fans swayed side-to-side as he played his final song in Detroit. After his last song, he got up and walked onto a platform which glided him out. He went through the screen where a cartoon version of him appeared, walking on the yellow brick road into what appeared to be heaven.  
Elton John has certainly come a long way in his career. John, like many other talented performers, has had struggles and had to deal with them in the spotlight. But all Elton has proven to the world is that he's still standing and will go down in history as nothing but legendary.