Spartans look to snap two-game skid as they host Northwestern on Sunday
EAST LANSING, Mich – The Michigan State Spartans are set to return home to the Breslin Center to take on the Northwestern Wildcats on Sunday, Jan. 16. MSU is currently on a bit of a slide, losing their last two games to Purdue and Ohio State.
This will be the first time this season that Michigan State will face Northwestern after their earlier scheduled meeting was postponed due to COVID-19 concerns within the Wildcats program. Last season, the Spartans and Wildcats played each other once, in the Breslin Center, where the Wildcats squeaked out a 63-60 win.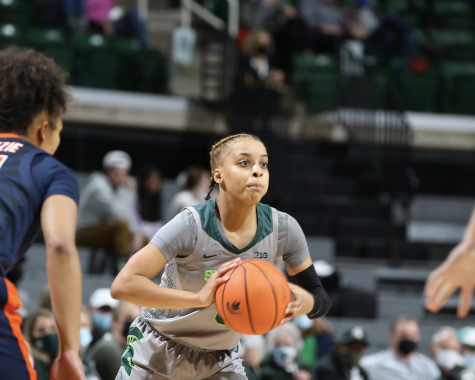 The Spartans are looking for their first win against Northwestern since the first round of the 2018-19 Big Ten tournament. Since that game, MSU has dropped three games in a row to the Wildcats.
Northwestern comes into this matchup with a 10-4 overall record (2-1 in Big Ten), which is good enough for fifth place in the conference. In comparison, the Spartans currently sit in 10th place with an 8-8 overall record (2-3 in conference).
The Wildcats are led by senior guard Veronica Burton, who averages 18 points, 5.6 rebounds and 5.9 assists per game this season. She is shooting 41% from the field and 36% from three, a team high.
Other contributors include three first-year players: Caileigh Walsh, Melannie Daley and Jillian Brown, who each average over 20 minutes and seven points a game.
To counter, Michigan State is going to need another good outing from star senior guard Nia Clouden, who comes into this game averaging 21.4 points per game on the season. That is the 10th-best mark in the nation and the third-best mark in the Big Ten.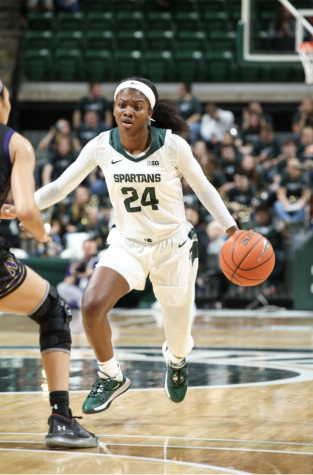 After MSU's 69-59 home loss to Purdue on Jan. 9, head coach Suzy Merchant said after the game that Clouden wearing down from bearing the brunt of the offense has been a concern of hers. Overall, she only shot 2-for-13 from the field en route to scoring seven points.
"I've been worried about this a little bit. It's hard to sustain that (production) for long periods of time," Merchant said. "I thought she picked the ball up early instead of just dragging that out and getting it to the next girl. They were collapsing her on dribbles, so I think some of her things coming down the stretch was frustration."
Freshman forward Matilda Ekh may be beginning to fill that secondary scoring role after she scored a career-high 27 points in the 89-83 loss to Ohio State on Wednesday. If Ekh can help provide a one-two punch for the Spartans alongside Clouden, the Spartans may be able to snap their recent two-game skid.
Michigan State comes into this game well-tested this season following earlier home games against Notre Dame and Nebraska, neutral court contests against Florida Gulf Coast and West Virginia and its last game on the road in Columbus against Ohio State. The Spartans will need to lean on that experience as they are getting closer and closer to full strength after battling some injuries within the program over the last several days.
The Spartans and Wildcats are scheduled for a 2 p.m. tip from the Breslin Center on Sunday afternoon.