High Winds and Train Leave East Lansing Residents without Power
EAST LANSING – With increasing winds from the tornadoes in states such as Kentucky and Tennessee, East Lansing is experiencing high winds that carried over.
Around 11:21 this morning, a train heading eastbound railed through power lines that had lowered during the high wind advisory. The winds were up to over 60 mph.
"With the combination of high winds and other factors, it caused a power pole to be knocked down on the tracks," said Special Benson from the East Lansing Police Department, "The train picked up wire and dragged it for quite a long time. The roads form Grand River to Mt.Hope's poles were ripped out of the ground causing a lot of destruction. About one-third to almost half of the power in East Lansing was disconnected."
"For some people the power will be back on in the next hour or two. Others could be a few days" said Jack Huftailing from the Board of Water and Light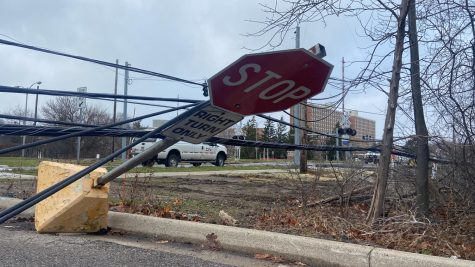 Damage could be seen along Hagadorn Rd. Power lines were intertwined with the trees and alongside the roads. The Hannah Plaza sign can be seen damaged from the fallen wires.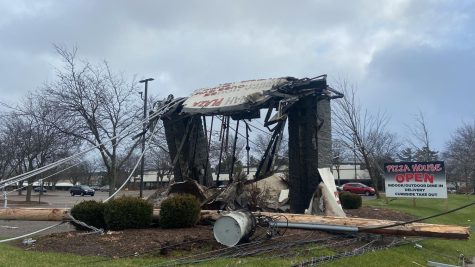 Residents from surrounding apartment complexes could be seen leaving, trying to find a place with power and warmth.
"This morning I was finishing up homework, and the power started going on and off. I left to find a place to finish my work, and the exits that I usually take were blocked due to lines being in the way. There was a lot of traffic, and it took 30 minutes to go less than half a mile" said Sophomore and resident of the Lodges of East Lansing, Jenna Reich.
Lansing Police Department directed the traffic, helping people steer clear of the damage. There  are road closures on Hagadorn, Mt.Hope and Grand River Ave. Police are directed traffic as far as North Kalamazoo Lane.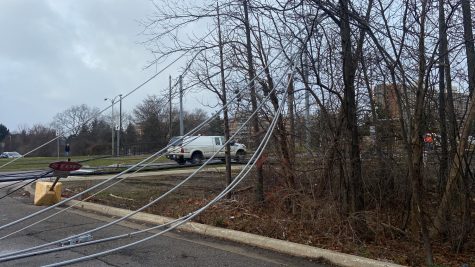 This incident left several thousand East Lansing residents without power, according to Lansing's Board of Water and Light website. 
Benson says that BWL will be working throughout the night and into the morning to clear as much debris and damage as they can.