Preview: Michigan State Men's Basketball faces undefeated Butler in Big Ten-Big East Showdown
The Michigan State men's basketball team will be looking for its second win in a row against the Butler Bulldogs in a non-conference road matchup on Wednesday at 7 p.m. as part of the annual Gavitt Tipoff Games. 
MSU head coach Tom Izzo and his Spartans have never traveled to Hinkle Fieldhouse to play the Bulldogs, it will be MSU's first road game featuring a live crowd since March 8, 2020.
"We're excited about going down there," head coach Tom Izzo said after Monday's practice. "I'm looking forward to the challenge and seeing how we do on the road." 
After the opening loss to No. 3 Kansas on Nov. 9, Michigan State (1-1, 0-0 B1G) evened up their record with a blowout victory in their home-opener against Western Michigan, 90-46 on Nov. 12. 
Butler, meanwhile, finished the 2020-21 season with a 10-15 overall record that saw it go 8-12 in the Big East, including two Top-10 wins over Creighton and Villanova.
Against the Broncos, the Spartans shot 51.5% from the field and just over 20% from 3-point range. With 50 points in the paint and 25 off the break, MSU looked in mid-season form.
Senior captain Gabe Brown led all scorers with 17 points and seven rebounds; he also connected on all seven free throws he attempted.
"Gabe (Brown) has really improved," Izzo said. "He is genuinely excited to be a captain, hit some shots, and play defense."
The Spartan forwards were active on the glass with senior Joey Hauser cashing in for a double-double with 12 points and 12 rebounds. Senior Marcus Bingham Jr. also notched 12 points and eight rebounds to dominate the paint for MSU.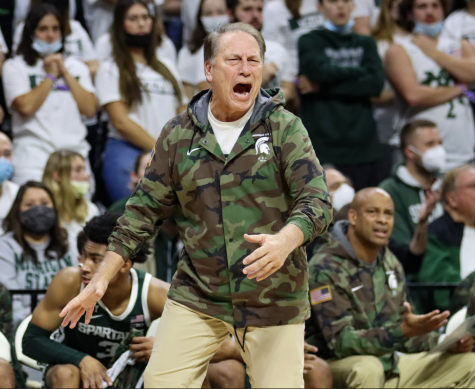 Despite turning the ball over 13 times, the Spartan defense held strong as they clamped down on the Bronco offense, who shot just 26% from the field and an abysmal 17% from beyond the arc. 
"It's improving," Izzo said, referring to the team's defense. "We got a way to go here."
MSU has had their early season turnover struggles with 29 in just two games. Keeping that number under 10 will pay major dividends against a talented opponent.
"I'd like to kick it out a little bit more, instead of kicking it in," Izzo said. "That's where our turnovers happen."
Butler (3-0) has started the year hot, winning all three games by double digits. Even without any signature wins to begin the season, this Bulldog team brings many veterans onto the court, including senior guards Jair Bolden and Bo Hodges. 
"Butler's got a lot of people back, he (Butler head coach LaVall Jordan) does a great job coaching them," Izzo emphasizes. "We got our work cut out."
The Bulldogs three wins have come against IUPUI (56-47), Central Arkansas (85-53) and Troy (70-59). LaVall Jordan, the longtime former Michigan assistant under John Beilein, is 72-55 during his tenure at Butler and 34-40 in Big East play.
After being suspended for the first three games of the season, Butler starting point guard Aaron Thompson will make his first appearance of the year. Last season, Thompson averaged 10.5 points and just under five assists per game for the Bulldogs. 
Michigan State has an abundance of top-talent threats of their own, both young and old. The development of Hauser and his limitation of turnovers this year has been crucial for the Spartans through two games. 
Freshmen Max Christie and Jaden Akins have shown blossoming potential in their first few games. Christie is averaging 7.5 points per game and Akins shot 4-for-5 from the field last week against WMU.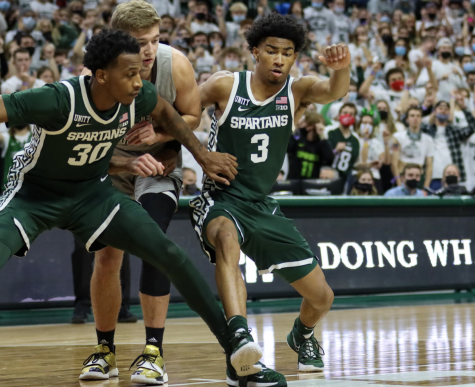 "Jaden (Akins) has been getting better each and every day, and Max (Christie) will get a lot better as the year goes on." Izzo said. "He's (Akins) has similar skills to Charlie Bell, a great mid-range game and can shoot a three."
Izzo also acknowledged the excitement that sophomore A.J. Hoggard brings to the team with his impactful play early on. 
"He's a downhill threat," Izzo said of Hoggard. "He's got strength and he's a good finisher."
Overall, Izzo is encouraged with the current development projection of his team.
"It's gonna take a little time with them, but we are heading in the right direction." Izzo said.
  Cav's Keys:
1.  Limit turnovers | Following 29 turnovers in two games, the Spartans will need to take care of the ball against a solid Big East team.
2. Capitalize in transition | Fast break points may be the difference for an MSU victory. Finishing at the rim and hitting the open three in   transition would help to quell the Butler crowd and provide needed energy in a hostile environment.
3. Play with focus and confidence | Akins, Christie and Pierre Brooks have not played in a road game with crazed-college fans rooting against  them, and they will have to handle the moment. 
The Spartans showed a lot of good things in their 90-46 win over Western Michigan and that momentum will carry them to their first true road victory of the season. Butler has struggled at times against three subpar opponents and that trend will catch up with them tonight.
PREDICTION: MSU 75, BUTLER 68