A Post-Breakup Jam For Girlbosses Everywhere | "I Love You But I Love Me More" by MARINA (feat. Beach Bunny)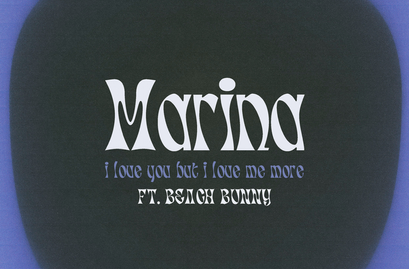 As the seasonal depression kicks in, my two favorite sad pop artists picked the perfect time to collaborate. MARINA's newest studio album Ancient Dreams In A Modern Land released in early June, but this remix only graced the world's ears as of Oct. 20. This release also coincides with Beach Bunny's ongoing tour. MARINA's post-breakup, dream pop banger articulates everything I needed to hear when I was 18: Put yourself first, no matter how often they say they love you. Am I happy now? Yes, one hundred percent. Am I going to let myself be sad to feel the emotion of this song? Yes, one hundred percent.
"I Love You But I Love Me More" is the eighth track off of MARINA's newest album, Ancient Dreams In A Modern Land. MARINA's hauntingly beautiful vocals mesh so perfectly with those of Beach Bunny frontwoman, Lili Trifilio. Beach Bunny's indie pop punk sound is the perfect addition to the track. Trifilio's vocal range has always impressed me, so it was nice to hear them utilize more of their range in this track. This collab is everything I didn't know I wanted. It's like cotton candy grapes. Cotton candy and grapes are sweet and tasty on their own, but whoever thought to combine the two was a genius. Did it need to happen? No, but where would society be without them?
The song is about breaking up for the sake of self-preservation, a very real topic for much of their combined audiences. Beach Bunny's verse in particular hits the subject hard. She sings about putting herself through a relationship where she could see the problem, but remained optimistic until there was nothing left to be optimistic about:
"Sometimes I felt I was a part of your plan /
You're holding me while holding somebody else's hand /
I thought we were eternal, I try and hit restart /
I watch you take and take and take until I fell apart, Oh-oh-oh-oh."
Those who've been in this type of situation before should definitely check this track out. It's dreamily cathartic and reminds us all to love ourselves. Put this tune on while doing your skincare routine and remember that no one is worth a stress-induced breakout.