PREVIEW: Michigan State hockey seeks upset in weekend series against No. 3 Michigan
East Lansing — With Spartan fans still buzzing from the football team's recent win over the Wolverines, the Michigan State Spartans hockey team looks to ride the wave of momentum into this weekend's home and home series with their crosstown rivals, No. 3-ranked Michigan Wolverines. 
MSU battles the Wolverines on Friday Nov. 5 and Saturday, Nov. 6. in its first home and home series since January.
The Spartans are looking to bounce back from a split in Columbus against Ohio State last weekend. 
In a tight first game, Michigan State (4-3-1, 1-1 B1G)  prevailed with a 2-1 victory behind a season-best 41 saves from senior goaltender Drew Deridder and two goals each for juniors Erik Middendorf and Josh Nodler. 
The Spartans did have their struggles in Game 2 of the road series, dropping the contest 5-1. They were outshot by the Buckeyes 34-20 and converted just once in three power play chances.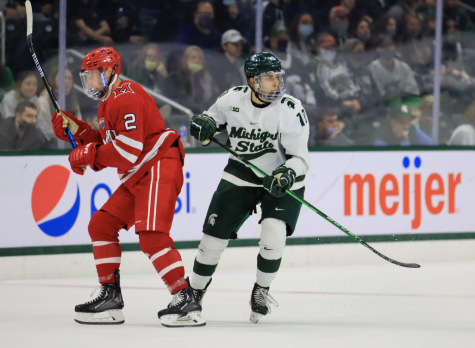 No. 3 Michigan (6-2, 1-1 B1G) won four in a row to start the year while taking down top-10 opponents No. 1 Minnesota State and No. 5 Minnesota Duluth. After earning a top-five national ranking after Week 1, the Wolverines are 2-2 in their last four games but still rank third in the country. 
U-of-M dropped its latest contest last Friday, to Wisconsin, 4-2. The Badgers struck first, scoring in the first three minutes, then again late in the second period on an open-net chance. 
Wolverine sophomore Kent Johnson netted his fourth goal and freshman Mackie Samoskevich scored his second. U-of-M net-minder Erik Portillo also made 18 saves on 21 shots in the loss. 
The offensive unit for MSU has been consistent this year, averaging 2.1 goals per game. In each of MSU's four wins, it has held its opponents to just one goal.
If the Spartans and senior goaltender Drew Deridder can minimize the goal-scoring chances, an upset in Ann Arbor could be likely before returning to East Lansing for Game 2.
Spartan coach Danton Cole is 5-10-3 all-time against U of M as the program's head coach. He looks to propel his team to a massive win on the road in a hostile environment.
You could almost say that MSU hockey is eyeing a Paul Bunyan Trophy of its own this weekend.
Puck drop is set for 7:30 p.m. on Friday in Ann Arbor, and the two teams will travel to East Lansing for Game 2 on Saturday, also set for 7:30 p.m. Catch all the action on Big Ten Network.