Spartan hockey splits weekend series with the Buckeyes
Zac Slowik, News Editorial Assistant
November 2, 2021
EAST LANSING- The Michigan State Spartans hockey team traveled to Columbus this weekend to take on the Ohio State Buckeyes. This was the first in-conference series for each team, a series they would end up splitting.
On Friday night, the Spartans would take the lead early with a Josh Nodler goal just five minutes into the game. Michigan State would not be able to hold the lead for long, as the Buckeyes answered with a goal of their own just 10 minutes later. It was all tied up at 1-1 at the end of the first period.
The first half of the second was all Ohio State, who out shot the Spartans by 20 at one point. But late in the second period, Spartan Erik Middendorf found the back of the net, taking the lead for the Spartans. That lead would be held for the remainder of the game, with the Spartans taking Game 1 of the weekend series.
The second game of the series was dominated by the Buckeyes. They jumped out to an early lead with a short-handed goal coming just two minutes into the game. The lead would be held through most of the second. Then, Nodler would score his second goal of the weekend, evening the game up, 1-1.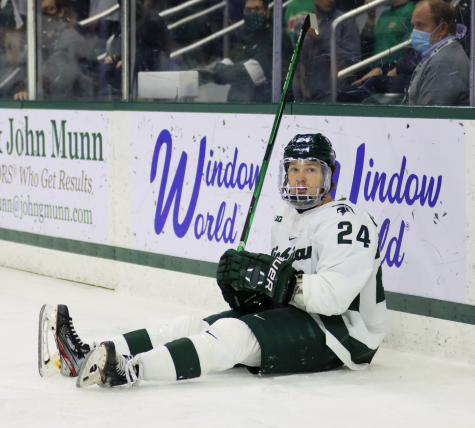 The tie would be quickly taken away just five minutes later. The Buckeyes entered the third period up 2-1, a lead they would continue to add to throughout the period. Ohio State went on to score three unanswered goals to close the game out 5-1 in favor of the Buckeyes. They ended the weekend series at one game a piece.
With the Spartans split of their first Big Ten series, they find themselves tied for second place in conference standings. Michigan State will face a big test this weekend when they face off with in-state rival Michigan in Ann Arbor on Friday and Saturday. Puck drop is at 7:30 p.m. both nights.