On Tyson Walker and A.J. Hoggard: opponents, teammates, friends
EAST LANSING — The Cocoa Beach, FL Dairy Queen employee in the summer of 2010 probably didn't know that two future Division I college basketball players had just walked into their shop, but it happened. 
A.J. Hoggard and Tyson Walker had just finished an AAU basketball game at the National Championship in Orlando. The two are teammates now, but this game 11 years ago was different, they were opponents. 
Hoggard in fourth grade and Walker in fifth, the two have tried to accurately recount the results of that game, but the jury is still out. When Walker found out Hoggard said his team won the game he had nothing more to say than: "He's lying, he's lying." 
The two "east-coast point guards," as they have referred to themselves, hail from similar backgrounds and have been friends for a long time. After seeing him at nationals, Walker says he bumped into Hoggard everywhere. "I saw him a lot of times after that."
Hoggard comes from Coatesville, PA and Walker from Westbury, N.Y. It's about a three-and-a-half hour drive between the two cities, but with the duo playing numerous AAU tournaments, they found themselves crossing paths quite a bit. 
"We're crafty, we're tough, very good at finishing, and we just like to win," said Walker in reference to what an east-coast point guard really is. The proof is in the pudding for these two. 
At Big Ten Media Days in Indianapolis in early October, Michigan State head coach Tom Izzo talked about the struggles his team endured at the point guard spot. "We were trying to fit round pegs into square holes," said Izzo. One of the round pegs was obviously former Spartan Rocket Watts (who transferred to Mississippi State after last season) who is a great ball handler but not a true point guard. The other peg was Hoggard. 
A scrappy, slightly overweight freshman that wasn't quite ready for substantial minutes yet, Hoggard was forced to try and remedy Michigan State's shortcomings at the one spot. 
While Hoggard didn't fix the offense, he looked like a player Izzo might be able to rely on in the future. Composed, relaxed, the moment was never too big, Hoggard even looked confident running the offense at times. As far as that description Walker gave? Hoggard fit it to a "T." He threw his body around, played scrappy defense and while he didn't score much, Hoggard showed flashes of that ability to finish at the rim.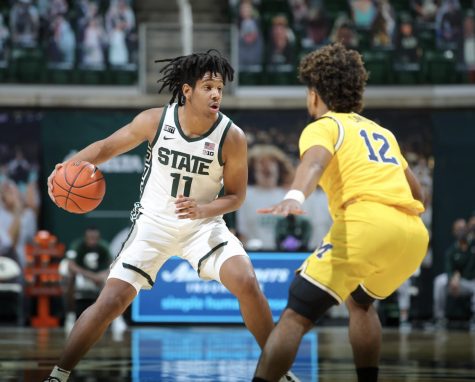 Izzo has spoken highly of Hoggard's progress in the off-season, mentioning his 20-lb weight loss, his success running the break and his shooting ability. This season is a chance for Hoggard to take advantage of the opportunity to be a leader in Izzo's offense. As for Walker, he's trying to learn a new system. 
Walker came to East Lansing as a transfer from Northeastern where he averaged 18.8 points, 4.8 assists and won the CAA Defensive Player of the Year award. 
Michigan State struggled defensively and running the fast break last season, two things Izzo prides this program on.  Izzo describes Walker as a "true point guard" with great hands defensively and an ability to create for himself and others. It's likely that Walker will make immediate strides for this team in the defensive category, but he's still adjusting to the fast pace of Michigan State's offense. 
"Getting the outlet and pushing the ball as fast as I can is the hardest thing. Everywhere I played I'm used to kind of just walking the ball up so sometimes I forget (to push it)," said Walker.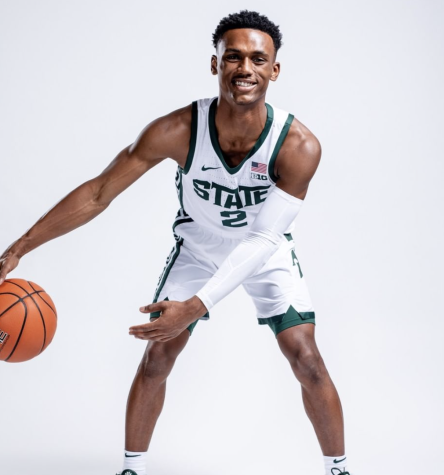 When Hoggard learned that Walker wanted to transfer from Northeastern and that Michigan State was a school on his list of possible destinations, he immediately picked up the phone and gave Walker a call. 
"I was just talking to him about what he was thinking about it… giving him some insight that he probably wouldn't have gotten in other places," said Hoggard. 
Walker made it sound like a pretty easy decision after talking to Hoggard on the phone, "He told me, 'if you come here, I'm with you' and that was it."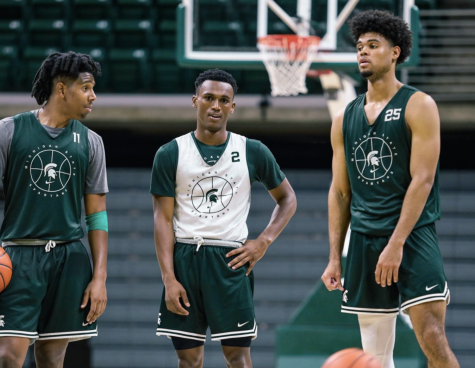 Hoggard isn't the only one with that last name who has helped Walker before either. 
"(A.J. 's) dad was actually the first person to tell me to reclassify because I was young for my grade, so ever since then I've been close with him and we played multiple times after that," said Walker when talking about the first time he met Hoggard. 
Growing up as opponents, Walker and Hoggard have always maintained a friendship that has only grown since they've gotten together on campus. 
"He's a cool guy off the court, great guy to be around, fun to hang around," Hoggard said of Walker. "Being with him on and off the court everyday now is just fun because we get to see a side of each other we didn't get to see."
Despite them being teammates now, Walker and Hoggad are still competing for the starting point guard spot, but they don't look at it that way. Both maintain that their competition between each other is only to make the other a better player. "It doesn't even feel like we're really competing, we just go out there everyday and play," said Walker. 
Izzo has talked about (and almost even admitted) the possibility of having Hoggard and Walker on the floor at the same time. The two are not opposed at all, even excited about it. "I think it will work because of how close we are off the court, it's some connection that we have that's gonna work," said Hoggard. "He can attack, he can create, he can shoot it. I can attack, it will be good to have two ball hunters out there and I think it's gonna work." 
Michigan State desperately needs to solidify the point guard position this season. It was the catalyst, in some way, for nearly all of the Spartans' shortcomings. Hoggard and Walker are two fantastic candidates to help lead this team on both sides of the ball, and their dynamic together looks like it's only going to help this team. 
"We like to play (Call of Duty) Warzone, go to Tropical Smoothie, and Cold Stone. A.J. doesn't always get something but I like it," said Walker. Both have certainly changed since the time they were young middle schoolers, as players and as people. But one thing hasn't changed and that's their friendship. Just two hoopers who bond over ice cream. 
Follow Brendan Schabath on Twitter at @Bschabath3.