Spartans survive Hoosiers 20-15 after poor offensive performance
Bloomington, Ind. — It was far from pretty, but No. 10 Michigan State once again found a way to win in its 20-15 triumph over Indiana. The victory was a revenge statement by the Spartans, as they regained the Old Brass Spittoon, improving to a Big Ten East best 7-0 record.
MSU simply played its worst first half so far this season. The Spartans had a total of two first downs, with their only points coming from a pick-six. 
An emphasis on the ground was MSU's focus on its first possession, but the normally reliable Kenneth Walker was stuffed in the MSU backfield on third down for a two-yard loss, allowing a surprising three-and-out.
Indiana answered with a marching drive down the field that displayed Tuttle's passing ability early. After allowing two third-down conversions, the Spartans finally put their foot down, as Noah Harvey sacked Tuttle for a loss of 4 yards, forcing the IU fourth down. Hoosier kicker Charles Campbell would drain the 24-yard field goal, giving his team an early 3-0 lead.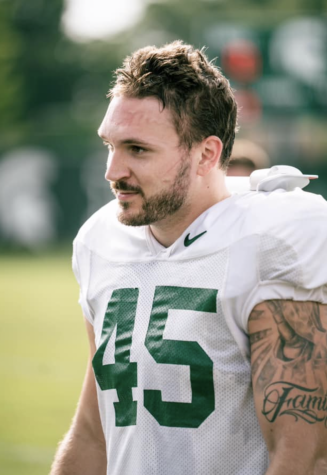 MSU's powerful offense had the opportunity to answer the opponent's score with one of its own, just as it had done last week against Rutgers, but a dropped pass by both Jayden Reed and Jalen Nailor forced another Spartan punt.
Just as it started to seem as though IU had MSU stumped, Spartan linebacker Cal Haladay picked off Tuttle's pass and returned it for a 30-yard TD, putting MSU up 6-3. Matt Coghlin made the extra point, giving the Spartans a 4-point lead.
MSU would carry the momentum onto the defensive side of the ball, holding the Hoosiers to a three and out on its responding drive.
They retaliated immediately, though, as Ryder Anderson and Micah McFadden sacked Spartan quarterback Payton Thorne for a loss of 11 yards.
MSU would hold IU to a six-play drive that concluded in the initial minutes of the second quarter. The Hoosiers did, however, inch close enough to drill a 44-yard field goal to trim the MSU lead to one.
The Spartans didn't have much luck on their following drive earning just one first down before having to punt shortly after. 
A long, 12-yard subsequent drive by IU entailed a number of attacks against the MSU defense, but the Spartans ultimately held the Hoosiers to another field goal. IU regained the lead, 9-7.
Both defenses held their ground for the rest of the half. The Hoosiers would take the 2-point lead into halftime. 
MSU had five penalties and only 57 total yards in the first half. The Hoosiers, on the other hand, headed into the locker room with a total of 217 yards.
IU came out with a strong offensive possession to open up the third quarter, but MSU made a point to not allow the Hoosiers to attain early second-half momentum, forcing them to punt after a seven-play drive for 48 yards.
MSU's first possession of the half was ignited by a 23-yard reception by Reed. The drive last nine plays, but the IU defense had a stubborn mindset of its own, as it held the Spartans to another field goal. The field goal would be made by Coghlin from 51 yards out, tying his career-high that he achieved against Michigan last season.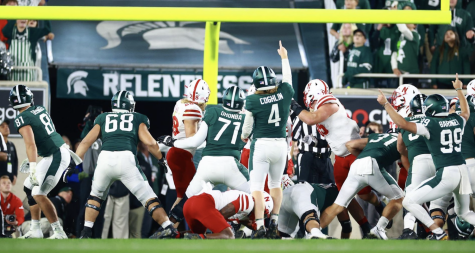 The Spartan defense continued to punch, limiting IU to another punt. 
MSU looked as though it was ready to finally start to pull away when it got the ball back, gaining 22 yards in two plays. But on third down with seven yards to go on the Hoosiers' 40-yard line, Thorne threw an interception to IU's Josh Sanguinetti. The Hoosier offense would start on its own 27-yard line.
Four plays of short gains moved IU closer and closer towards Spartan territory. On second down with nine yards to go for the Hoosier offense, Tuttle was picked off by MSU safety Darius Snow, which set the Spartans up right back in opponent territory.
On the second play of the MSU drive, a trick play that had Thorne on the receiving end resulted in a 15-yard exceptional catch for the QB. The pass came from tight end Tyler Hunt.
"That's going to have to go up there with the few of the catches I had in recess back in elementary school," Thorne said. "He [Hunt] put a great ball down there for me, and I was able to come down with it, so it was a fun play."
Three plays later, it was Thorne's turn to find Hunt, who was wide open as he scored on a 12-yard TD reception. MSU led 17-9 with 1:49 left in the quarter. 
Thorne recorded just 126 passing yards on the day.
The final quarter of the contest opened with a solid drive by the Hoosier offense that ultimately concluded with a 1-yard rushing TD by IU running back Stephen Carr. The Spartan defense then came up big with a crucial stop on the Hoosiers' 2-point conversion that would have tied the game.
When MSU desperately needed an offensive play to go its way, it was Reed who stepped up, completing a 28-yard over-the-shoulder catch on third down.
Reed finished the game with 70 receiving yards on four receptions.
The Hoosier defense was persistent, though, holding the Spartans to another field goal. Coghlin sent the 49-yard attempt through the uprights, extending the MSU lead to a 5-point advantage.
The remainder of the contest would be a defensive battle, as each team would force a three and out on the next two drives. 
With over five and a half minutes to go in the game, IU marched from its own six-yard line to its 28, converting on two third down plays. When opportunity presented itself for a third conversion on third down, Spartan cornerback Chester Kimbrough caused a sack-fumble, which he then recovered. MSU was set up on the IU 23-yard line.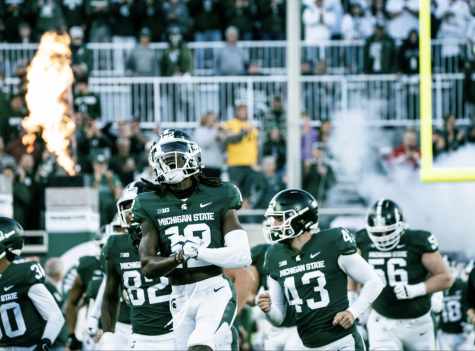 The Spartans were just a few positive plays away from solidifying the game. But on the second play of the possession, Thorne threw a pass to the back right corner of the end zone that was picked off by Hoosier defensive back Noah Pierre.
Fortunately for MSU, the defense shut down IU's offense one last time, leaving it to Thorne and the Spartan offense to run out the clock after two strong runs from Walker.
"This was a good win for us on the road in a very tough environment," said MSU coach Mel Tucker. "Indiana's a very well coached football team … we were expecting them to be at their very best — actually better than what we've seen on tape because we knew that their coaches would have those guys ready to play.
We knew that we would have to match that with intensity and exceed that in order to get the win on the road. I was very proud of our squad and our coaching staff and our entire organization the way everyone held it together and continued to chop wood and really just throughout the game, just kept pushing."
MSU goes into its bye week with a perfect record before facing rival Michigan at home on Oct. 30.