Takeaways from Wednesday's MSU Football media availability
Zac Slowik, News Editorial Assistant
September 22, 2021
EAST LANSING — After a dominant performance against the Miami Hurricanes in South Beach, Michigan State begins to prepare for Nebraska. This will be just the second home game for the Spartans in the first four weeks. On Wednesday the football team invited the media to come to talk to some players and coaches about last week's performance and what to expect in this week's matchup. 
While limited, the team offered a wide range of players as well as offensive coordinator and quarterbacks coach Jay Johnson. Johnson spoke of how important the little things are in the game of football. He stated, "we've taken many strides but we still have many strides to go."
Both Johnson and graduate student Matt Allen touched on the importance of the depth of the offensive line. Allen spoke of how it is a rare thing to see, watching 10 guys rotated throughout the unit, but gives all credit to offensive line coach Chris Kapilovic. Allen talked about how he makes sure each lineman is ready to play at a high level with high intensity at all times. He was also quick to shout out the rest of the offensive linemen for all of the hard work they put in.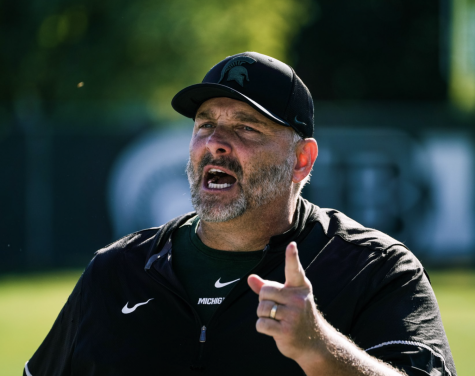 Another player who frequently talked about others was senior captain satey Xavier Henderson. He spoke of how leaders from his early years in Green and White "shaped him into the ballplayer he is today." But one player he spoke of stood out from all, current Indianapolis Colts safety Khari Willis. Henderson talked about how Willis taught him out to treat his body correctly off the field, which Henderson gives credit to for his play on the field. Henderson was also joined by Alabama transfer Marqui Lowery. Henderson spoke of how they have started to bond on and off the field.
The closest bond on the team goes to wide receiver Jayden Reed and starting quarterback Payton Thorne. Reed spoke of how each week Thorne is becoming a better leader, stating that it's nothing new for him, as they played together in high school, but now everyone can see it. Reed also spoke of transfer running back Kenneth Walker III. 
"The first day I met him, I knew he was that guy," Reed said of Walker's athletic ability on the field. He followed that with how he impresses him every single day, saying Walker is "not human."
All of the players and coaches are extremely excited to play under the lights at the Woodshed Saturday, as the 3-0 Michigan State Spartans take on the 2-2 Nebraska Cornhuskers.
Zac Slowik is a News Editorial Assistant for WDBM. Follow him on Twitter at @slowik77.