Concert Review | Arts, Beats & Eats with Neon Trees
Did you make any plans this past Labor Day weekend? With COVID-19 restrictions being uplifted across the U.S., people are starting to make more and more plans for fun, including this past weekend at the Arts, Beats & Eats festival in Royal Oak. The festival took place Friday, Sept. 3 through Monday, Sept. 6 and had many activities for attendees. 
We weren't able to hold the festival last year due to the pandemic, but this year we wanted to rise to the occasion, event producer Jon Witz said in a statement released to The Detroit News. 
There were food trucks, fair rides and lots of live performances. Each night had a variety of musical guests. Saturday night's performers were the bands Starship and Neon Trees.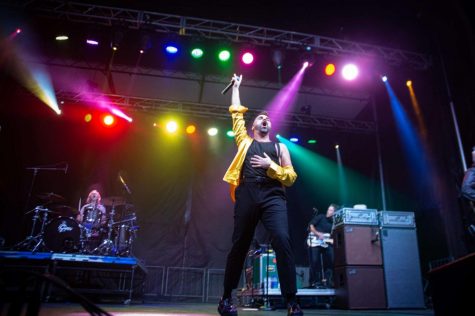 Despite the food and carnival rides that were high in demand, it appeared that female photographers were short in supply. Molly Walker, a female photographer at the event, told a member of Impact's visual media team that it is rare to see other female photographers working events like this. 
"It's not often that you see girls in the pit," Walker said. "I've photographed these guys a lot. Plus, other artists like Twenty One Pilots, WALK THE MOON, Ice-T, and a lot really."
Neon Trees opened the show with "Moving in the Dark" from their album Picture Show. It was not long until they performed "Animal," one of their more popular songs. Fans were jumping excitedly and screaming the lyrics. 
Lead singer Tyler Glenn also made time for costume changes in between sets. He sported a purple jacket, a gold jacket, sunglasses and other unique accessories. He entertained the crowd by dancing on his toes and stood on the rail to hold the fans' hands.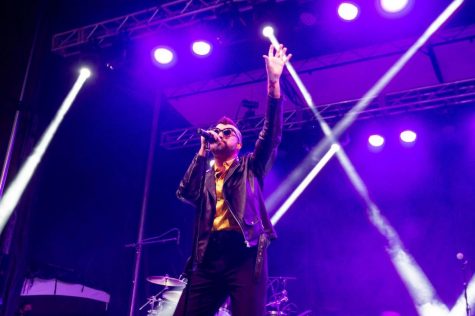 The band played multiple songs off their new album titled, I Can Feel You Forgetting Me, including, "New Best Friend," "Skeleton Boy," and "Used to Like." They played songs from their previous albums such as, "Don't You Want Me," "Songs I Can't Listen To" and their biggest hit, "Everybody Talks." Glenn and the rest of the band stopped performing during the song and let the crowd sing it on their own. The crowd went crazy when Glenn and the rest of the band stopped performing during the song to let the crowd sing it on their own. Neon Trees is a multi-platinum band that is a mix of indie, dance, and catchy pop, according to AllMusic.com. The songs they played were definitely pop-infused and had everyone on their feet.
Glenn made time throughout the show to talk to fans about the struggles they could be going through and reassured them that he struggles a lot too. In fact, in 2014 he made the courageous decision to come out publicly as a gay mormon in Rolling Stone magazine. 
"A lot of my youth is referenced in my songs. You're so emotional as a teenager and are trying to find yourself. I still feel like most of my life has been me trying to find myself," Glenn told Rolling Stone.
But, that night he wanted everyone to focus on enjoying themselves. 
"This song is dedicated to anyone that wants to dance and forget all of 2020," Glenn announced.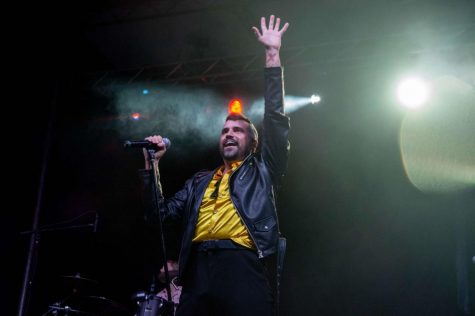 One of the highlights of the night was when he sang part of "Somewhere Over the Rainbow." Glenn, like many others, was glad to be back at a concert for the first time in over a year. 
"I just want to see more smiles. I want to see your faces lighten up and your cheekbones get a little rosy. Come on," Glenn shouted. 
Lots of faces were lit up while singing and dancing. You could say Neon Trees took a bite out of everyone's heart that night.