Spartans bounce back from heartbreaker, top Oakland 3-1
Adam Bakr, Men's Soccer Beat Reporter
September 4, 2021
EAST LANSING — The Michigan State men's soccer team bounced back from its late, deflating loss against Akron with a 3-1 win over the Oakland Golden Grizzlies at DeMartin Soccer Stadium on Friday night. 
The game got off to a rocky start for Michigan State. On a play straight out of Stoke City's playbook, Oakland keeper Alessio Carbone's long goal kick was met by Chase Inscho, but his defensive header went straight up and to Dylan Borczak. Borczak chipped a perfect one-touched volleyed pass into the space left by Inscho coming out for the header and in behind Luke Morrell to find Mikey Ketteman. Ketteman would chest it down and beat Hunter Morse with his second touch to open the scoring within the first 10 minutes. 
"We started off very well and gave up a goal out of the blue," said Michigan State head coach Damon Rensing."For us to go a goal and to keep pushing and keep our composure and other than that moment have a complete performance was good."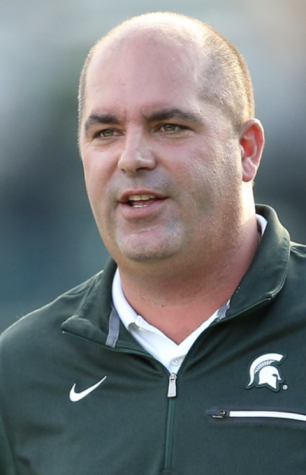 The Spartans were not down for long, and midway through the first half, they had completely turned the game on its head with two goals in three minutes. The first came from Will Perkins after a great team move that had a finish to match it. Perkins picked up the ball at his right-back spot, carried it into Oakland's half before playing a give and go with Louis Sala. From there he played a delayed one-two with Gianni Ferri, who turned outside to both open space for Perkins to run into and give him time to get into a shooting position before playing it back. Perkins ran onto it and chipped it over Carbone, who was barely even off his line, and into the top right corner to level the score. 
Soon after, Farai Mutatu opened his account for the season and gave Michigan State the lead. Jack Beck picked up the ball in midfield and played a one-two with Nick Stone on the left wing before playing the ball into Mutatu. Showing strong hold-up play, Mutatu held off his defender and turned onto his right foot with one touch, and found the bottom corner with a curling effort from outside of the box. 
"I felt the defender behind my back and thought I could have space to shoot and turn," said Mutatu "You don't score if you don't shoot so I just made sure to put it on target." 
To go with the goal, a pair of quality team celebrations followed. First, a reference to South Africa's team celebration from the 2010 FIFA World Cup opening game after ​​Siphiwe Tshabalala scored, done with the help of Perkins and Morell. Then a Dragon Ball Z fusion celebration with the man who assisted his goal followed. 
"We've been planning on that one for a while so it was good to do it," Mutatu said.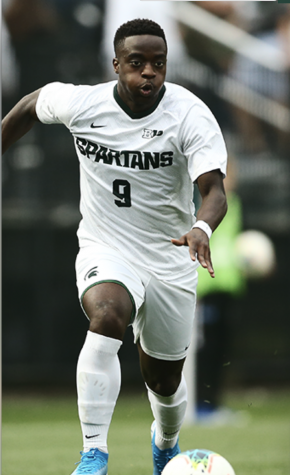 From there both teams had an opportunity to add a goal. Oakland had a chance to level the score as Borczak was sent through on goal with the Michigan State defense stretched, but miskicked his effort and saw it bounce wide harmlessly. 
Soon after, Ferri had a chance to extend Michigan State's lead and add another goal contribution to his name. Sala found Ferri in behind with a long ball over the top, and as his marker was recovering to block the shot, Ferri took him out of the picture with a nice fake, but as he put himself at a tighter angle he put a tame effort wide of the far post. 
The chances would quiet down after, and Michigan State led Oakland 2-1 at the break. 
Michigan State had chances early in the second half, although none of them were clear-cut opportunities. The biggest one of note was Sala's freekick from just outside of the box, which was saved by Carbone despite him nearly over diving on the effort as it was more central than he appeared to expect. 
Oakland nearly caught Michigan State napping after a long spell of Spartan dominance. Mutatu was dispossessed in the midfield and Borczak had a chance to slip Ketteman in behind once again. This time, however, Inscho was across quickly to block the effort. 
With 20 minutes to go, Ferri had another big chance to add a third. Oakland committed numbers forward for a set-piece opportunity, but Morse claimed the cross and tried initiating the counter with a punt to Ferri. His initial ball was blocked, but it fell to Sala and he played Ferri through for a two-on-one with Babiak. Ferri opted to go alone, and despite shrugging off one defender the second forced him too wide to get a shot off and he had to settle with a goal kick.
The theme of the second half became Ferri's dribbling, as he was consistently too much for a lone Golden Grizzly defender to handle, but the end product did not quite come off for him again after the early assist. 
"I think very highly of Gianni," Mutatu said. "He's a tremendous player as you can see. On the ball, he's a special player. He's grown a ton and his confidence is rising." 
Oakland tried pushing for an equalizer but was unable to carve out any real chances. As it started leaving numbers forward and rushing its play, the Grizzlies opened up for Michigan State to put the game to bed.
Beck had space to shoot one from the edge and put his effort just wide. From the resulting goal kick, Oakland turned over possession immediately. Michael Miller combined with Mutatu before the former cut onto his right foot. It looked like he was shaping up for a curling effort, but played Sala through instead with a well-weighted pass. Carbone got a hand to Sala's effort, but could not stop him from putting the game to bed in the 86th minute. 
"At 2-1, soccer is a crazy sport and things can be in doubt down to the last minute, " Rensing said. "For us to keep pushing and to get that third goal was big."
Sala nearly added his second and the Spartans fourth with a freekick right after. It was in a similar position to his first effort. Contrary to his first freekick, this time he went for a knuckling effort to the goalie's side and was denied by the crossbar. 
The result puts Michigan State at 2-1 on the season. The Spartans will be back in action on Monday, with Bowling Green coming to East Lansing for the final game of a four-game homestand.