Four takeaways from MSU's time at Big Ten Media Days
INDIANAPOLIS — Big Ten Media Days officially concluded today, and Michigan State football left a number of notes to take away.
Mel Tucker talks mentor Nick Saban
Michigan State coach Mel Tucker began his coaching journey under one of college football's winningest coaches, Nick Saban. Tucker said the Alabama coach "laid the foundation" for him.
"Coach Saban — I've known him since I was 17," Tucker said. "He recruited me when he was the head coach at Toledo where my dad played."
Saban hired Tucker to join the MSU coaching staff as a graduate assistant for two seasons (1997 to 1998).
"I learned how to coach, I learned how to recruit," Tucker said. "He told me the first day, 'Listen, the best players don't necessarily make the best coaches; often times, the best players are not the best coaches. You have to learn how to coach, you have to learn how to recruit. If you pay attention, you'll do fine.' 
So I listened to everything that he said, I wrote everything down, I was a sponge. He's a great teacher, a great motivator and great developer of not just players, but also of coaches."
Xavier Henderson is using experience to help new members of the roster
MSU has seven defensive starters returning this season, including senior safety Xavier Henderson. 
Henderson has started in 20 consecutive games at safety. He said his experience is beneficial when it comes to helping the freshmen and transfers.
"I think they kind of respect that," Henderson said. "We'll turn on some game film, and they see me out there, and so they kind of listen to me. I try not to get on them too much because it's about finding your own way, and I try to just guide them, not tell them what to do, but guide them. 
I don't want to steer them wrong, so I try to help them out as best I can."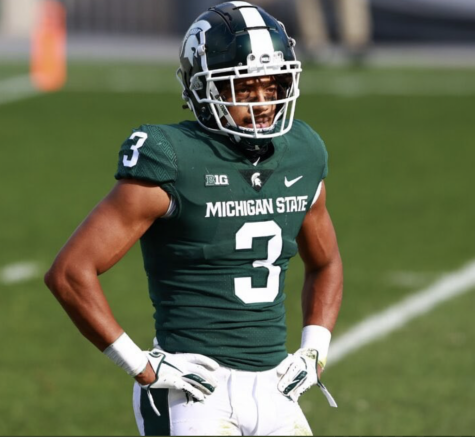 Drew Beesley is eyeing first-team All-Big Ten honors
Spartan defensive end Drew Beesley is entering his final season with the Green and White. He started in all seven games last season, recording a career-high 27 tackles.
Beesley said one of his personal goals for this coming season was to make the All-Big Ten first team.
"It's the same goals for me, the expectations are still high, and I feel like I'm confident I can succeed," Beesley said.
The three-year letterman came close last season when he achieved honorable mention honors from the coaches and media. He said the accolade gave him a bit of a chip on his shoulder.
"I've always had a chip on my shoulder ever since I started playing football, and that's driven me to trying to achieve higher goals and expectations," Beesley said.
Jalen Nailor and Anthony Russo are developing a connection
Transfer quarterback Anthony Russo will be competing for the QB1 spot during fall camp. In the meantime, he has already begun building relationships with receivers like redshirt junior Jalen Nailor.
"We've just been trying to get in as much as we can," Nailor said. "After workouts, we'll get some routes in, just trying to pick each other's brains, just trying to learn from each other and just trying to help him calm down with the offense and just have him playing confident."
He added, "He's going to come in and bring everything that he's learned in the past years and bring this to this organization, and it's going to make a big impact for us for sure."