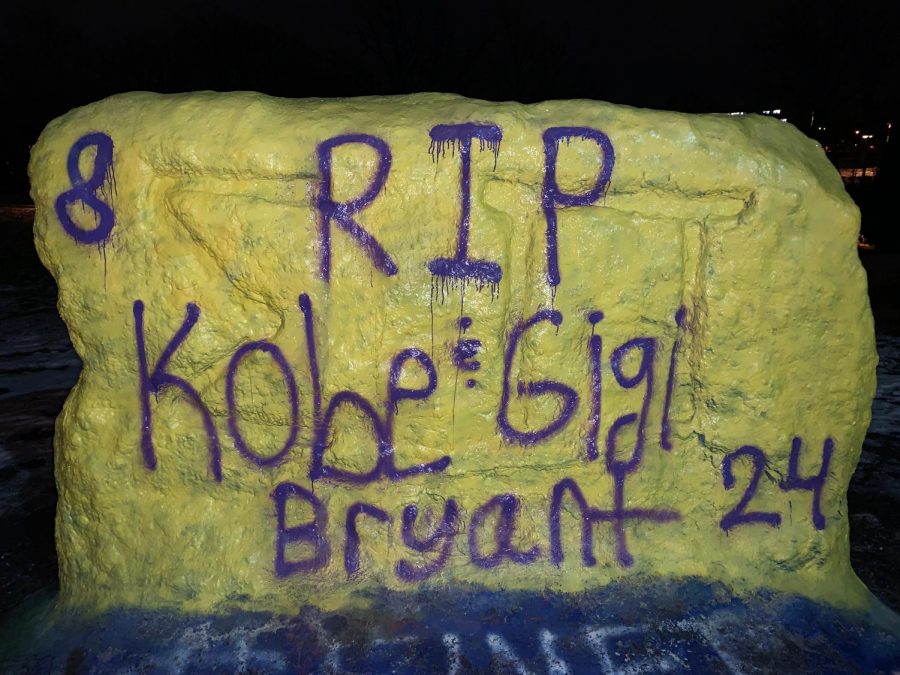 Kobe Bryant: A legacy, fatherhood and more than just sports
Kobe Bryant meant so much to so many and in the wake of tragedy, reminds us of what we have.
January 29, 2020
I first picked up a basketball when I was 14 years old. A little late in most cases, I wasn't a basketball player growing up. I was introduced to the sport, after years of soccer and distance running led me to the hardwood.
My friends taught me the game; no one in my immediate family ever played. Not soon after, I attempted to learn about every aspect of it. I love the game of basketball. 
It is a big reason why I cover athletics at Michigan State today.
Soon after I discovered a newfound interest for the game, I discovered Kobe Bryant. By then he was no longer No. 8, but the No. 24 who was beating the Boston Celtics in the 2010 NBA Finals, then shooting free throws with a torn Achilles. 
Bryant emulated what a competitor is at the heart of sports. An unbreakable will to be the best at his craft, admirable in not just sports but the professional world, too. 
On Sunday, Bryant, 41, and his daughter Gianna, 13, were killed in a helicopter crash in Calabasas, California. Seven others died in the crash, seven others whose families will mourn for eternity the loss of their loved ones. 
Seven others, who alongside Bryant and Gianna, were taken too soon from those who cared for them.
I thought about that a lot on Sunday. My loved ones, what would I do if I was to be taken — seemingly so swiftly and unfairly — from those who cared for me? What would be left unsaid?
This isn't about just the game of basketball and sports in general. 
It is bigger than that.
Although Bryant's achievements and upcoming induction to the Naismith Memorial Basketball Hall of Fame were unfathomable. The shooting guard was a top-five player of all time and left the league with more than 33,000 points scored in his career.
His second act, however, was even better in some aspects than the first. He was an example of fatherhood during his post-NBA career, and he championed women's sports like no other athlete of that caliber ever has before. 
The dude won an Oscar, but first he won five NBA Championships.
Being only 21, it was really the first time I had a 'where-were-you' experience when I heard my roommate painfully call out from our living room. I heard him yell from my corner room on the second floor of our house.
"Kobe died," my roommate shouted.
"No way, this can't be true," I thought to myself.
Those words echoed, just as they do for so many that knew Bryant personally. Whether it be the good or the bad, Bryant was a superstar that transcended continental borders. 
For the next 24 hours, jumbled facts, mis-reporting and condolences poured into TV networks and social media feeds everywhere you looked.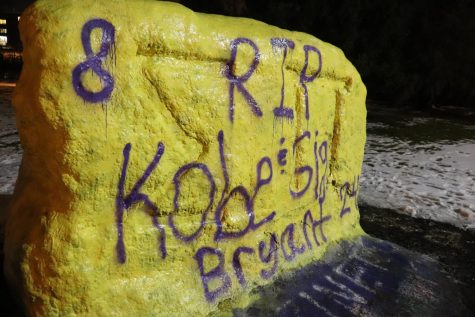 I was sitting at a bar watching Michigan State basketball face Minnesota as the news flashed across the television. One man who had walked in to enjoy the game was met with shock.
Even in this era of information, he had no clue.
The man picked up his phone, calling an old friend or relative and said, "Kobe died man, yeah, Kobe Bryant".
Sunday reminded us that life is always bigger than just a game. Bryant was dominant in every sense of the word on the court — just as polarizing he was off of it. 
Allegations of assault, broken bonds with teammates. 
I sat in my house shocked yesterday when I heard the news. As it became more and more clear that others had perished with Bryant, you felt so god-forsaken bad for all those who experienced a tragic loss with the crash of a helicopter.
The game I had grown to love playing over the last seven years had experienced possibly it's most unexpected and tragic loss. The man who inspired generations of players that came to the NBA, college and high school courts, even the concrete courts of the United States that children imitated his jab-step and murderous fadeaway. 
@michiganstateu students gather tonight to remember and celebrate the passing of Kobe Bryant, his daughter, Gianna, and those involved. Follow @WDBMSports for updates. pic.twitter.com/B6nQKEjZYN

— Gianluca Melloni (@mellonluca) January 29, 2020
His daughter, too, man.
Gianna, dreamt of playing at the University of Connecticut and then the WNBA. She was supposed to carry that torch. 
I, like billions of others never knew the Bryants and the others who died in the crash. But that same hurt for the loss of life is familiar. We all have lost something. 
Death is never easy.
I found myself thinking about my five siblings, a sister I hadn't called, a mother and father who hadn't heard from me in a few days. Moments like these make you realize that you are lucky for what you have, to appreciate that while it's ever so close to being gone.
Just like that.
A quote from William Penn comes to mind.
"Death cannot kill what never dies."
Joe Dandron is a columnist and station manager for Impact89FM. You can contact him at Ma[email protected] and follow him on Twitter @JosephDandronMI.