Michigan State, Michigan battle for bragging rights as MSU heads to the Big House
November 14, 2019
ANN ARBOR, Michigan. — Michigan State is set to travel to its neighbor in Ann Arbor on Saturday for the big rivalry game, as University of Michigan awaits.
The Spartans (4-5, 2-4 Big Ten) go into the game coming off a shocking loss to Illinois last weekend. While No. 14 Michigan (7-2, 4-2 Big Ten) defeated Maryland two weekends ago, and are coming off of its second bye week. Michigan defeated the Spartans last year 21-7 in East Lansing.
A rivalry that divides the state of Michigan, always welcomes national attention.
"This is the biggest game of the year. It's the next one up and we haven't had the season that we wanted so this game will be a lot for us emotionally," said senior defensive linemen Raequan Williams.
That Battle at the Big House
The Michigan offense is led by senior Shea Patterson. He is having an efficient year in the passing game with 12 touchdowns, and only four interceptions. Ronnie Bell and Nico Collins pose threats to the MSU secondary.
Both Michigan receivers have over 400 yards on the season. Collins has three touchdowns on top of that.
"The toughest team is going to win," junior linebacker Antjuan Simmons said.
The Spartan defense will be without senior captain Joe Bachie again, who is suspended indefinitely after failing a drug test. Now, Simmons has stepped in at middle linebacker for Bachie and sophomore Noah Harvey got his first start at linebacker.
Harvey filled up the box scorel in his first start, totaling nine total tackles, 2.5 for loss, 1.5 sacks, three pass breakups, and two quarterback hits.
"I thought Noah played pretty well for his first time out. He had nine tackles. I think he had a sack, maybe a pass break up," MSU head coach Mark Dantonio said.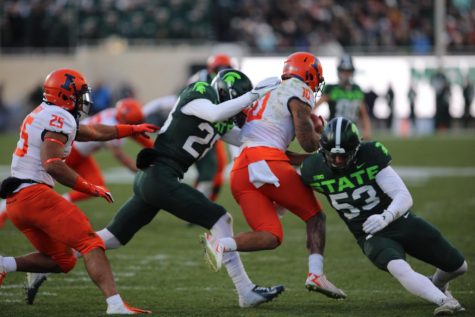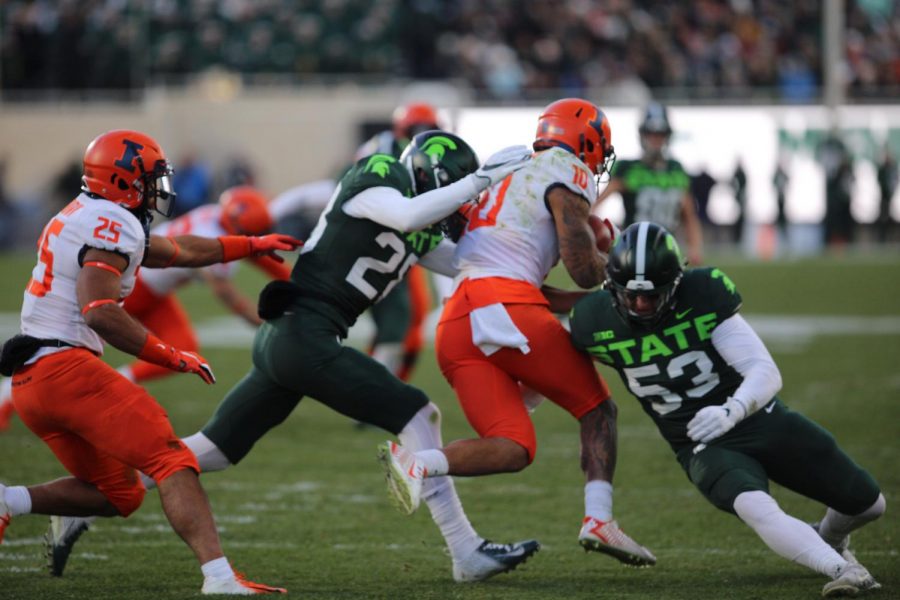 The season that started with the Spartans as a top ranked defense, now finds Michigan in that place. Michigan is in the top ten in the nation in scoring defense allowing just 17.1 points per game. It is fifth in the nation in passing defense, holding opposing quarterbacks to just over 150 yards per game. Finally, the Wolverines boast the seventh best defense in the nation, holding offenses to a total of 266 yards per game.
"I think when you look at them right now, you look at their defense, probably a top 15 defense," Dantonio said.
Brian Lewerke and the Michigan State offense, however, hasn't had trouble moving the ball. Lewerke has thrown for over 2,000 yards on the season, averaging about 223 yards per game. However, Lewerke will be without two top red zone targets.
Wide receiver, Darrell Stewart Jr., as well as tight end Matt Dotson, are not on the depth chart going into the game. Stewart leads the team in receiving yards and touchdowns and will be missed on the field. Meanwhile, Dotson is out for the season after tearing his Achilles against Illinois. Michigan State, as well as Michigan, could rely heavily on the run game this weekend.
Emerging running back matchup
The young running backs on both sides have broken out this season, emerging as top backs. On the Michigan State side, Elijah Collins had the hot hand early in the season and has solidified his role as the number one back.
The redshirt freshman is averaging five yards per carry, with five touchdowns on the season, including two last week. He has eclipsed 100 yards twice this season, rushing for 170 against Illinois and 192 against Western Michigan.
"We ran the ball effectively. Elijah (Collins) gets 170 yards net, that's a big positive," Dantonio said.
On the other side, Zach Charbonnet has had a similar year so far. Charbonnet is averaging 4.8 yards per carry while scoring 11 touchdowns on the season. He finished with over 100 yards twice this season, once against Army, and the other against Illinois.
Along Charbonnet, is Hassan Haskins who has exploded in the second half of the season. Haskins rushed for over 100 yards in two of the past four games, along with scoring two touchdowns in the same stretch. That included a 149 yard game against No. 8 Notre Dame.
These three backs have several more games to play against each other. A good game this weekend between these three could foreshadow an exciting matchup between the two powerhouses in Michigan in the next few years.
Prediction
There have been more highly anticipated matchups between the two rivals. Michigan State, coming off of a heart-breaking loss to Illinois, has struggled to find any sort of momentum since the beginning of October. It has lost four straight and will lose its fifth straight this weekend.
Michigan State is down key players on both sides of the ball, matching up against a potent Michigan offense, with a dual-threat run game. A win against Michigan would be its biggest win of this season, and one of the biggest moments of the season, right there with Dantonio's all-time win record.
Michigan, however, can't look past this game. The Wolverines still have the end of the year matchup against one of the best teams in the country in Ohio State. If Michigan wants to keep pace with the rest of the top Big Ten teams, and keep bragging rights in the state, it won't look past this game, and the Wolverines won't.
Michigan keeps the Paul Bunyan Trophy in Ann Arbor with a 31-20 win against Michigan State.
"Every game makes the year for us right now. Every game is significant. We have three games left guaranteed to us so every game is significant," Dantonio said
Luke Saccone is a senior member of the Football Beat with Impact89FM.