Kendall Bostic announces intent to transfer from MSU
EAST LANSING — The Michigan State Women's Basketball team was dealt a blow for their upcoming season when rising Sophomore Forward Kendall Bostic announced she would be playing out the remainder of her college career at a different school today.
This news comes as a bit of a shock as Bostic was a constant contributor for the Spartans throughout the year. Averaging 4.2 points and 2.9 rebounds, Bostic played in every game for MSU. She had career highs of a 15 point game in her debut against Saint Francis (PA) and a nine-rebound performance against Iowa, in the regular season. Bostic also played exceptionally well against the Hawkeyes in the Big Ten Tournament adding 13 points.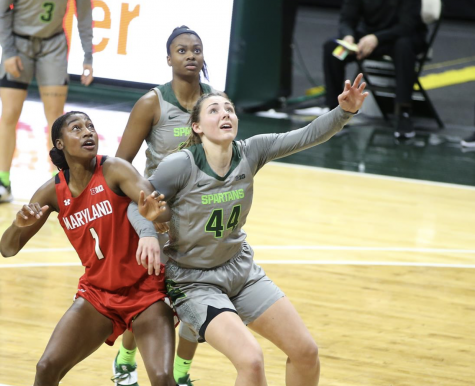 She came into the fold at MSU as a highly touted recruit, with high school accolades such as state tournament MVP, 1st-team All-Indiana, and Co-Player of the year for her home state of Indiana. Ranked as the No. 65 recruit in the country, and No. 16 at her position out of high school, she was one of the best recruits in Michigan State Women's Basketball history. 
In addition to an offer from Michigan State, Bostic also fielded offers from Purdue, Dayton, Minnesota, Iowa, Illinois and Iowa State. However, after the way Bostic performed this year, it would not be a surprise to see home-state and intraconference competitor Indiana offer her a spot on the team as well. Wherever Bostic goes, she will likely get impactful minutes and a great opportunity to perform.