MSU continues to experience roster upheaval at the start of spring practice
EAST LANSING— With the first day of spring practice for Michigan State in the books, some clarity has been provided about who head coach Mel Tucker will be tasked with relying on for the upcoming football season. 
Despite being granted another year of eligibility as part of a blanket waiver issued by the NCAA in the fall of 2020, senior corner Tre Person, offensive tackle Jordan Reid, wide receiver Laress Nelson and tight end Matt Dotson were not listed on the 2021 spring football roster. 
Meanwhile, other seniors, including oft-injured offensive linemen Matt Allen, AJ Arcuri and Luke Campbell, defensive ends Drew Beesley and Jacub Panansiuk, among others, decided to use that free year to return for the upcoming season. As part of the NCAA waiver, the seniors who decided to return will not have their scholarships count toward the team limit of 85.
"I talked to guys like Matt Allen and Luke Campbell who are in the same position I'm in and got their perspective on the situation," Beesley said. "I asked them 'why would you want to come back?' " and they were like, "why wouldn't we want to come back?"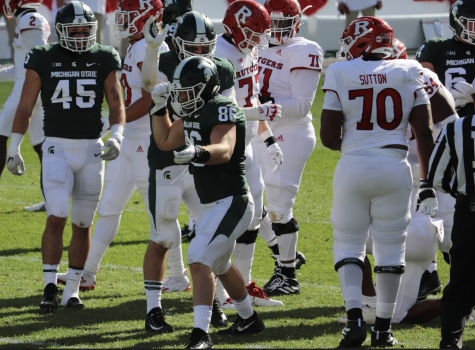 For someone like Beesley, who is pursuing a master's degree in sports leadership, the return to school to improve his draft stock was too good of an opportunity to pass up. For others, like Reid and Dotson, different circumstances ultimately drove their decision-making. 
"Every player has to make a decision that he thinks is best for him," coach Tucker said. "In the first year, there is going to be some movement, some attrition."
Reid and Dotson combined to play in 74 games over their MSU tenure. Reid also opted-out of the 2020 season, while Dotson missed three games due to injuries.
In total, the Spartans had six senior players decide to return for the 2021 season, along with 11 scholarship transfer players, including linebacker Itayvion Brown, who committed to MSU earlier on Tuesday.  On the other end of the spectrum, 16 players, including former starting quarterback Rocky Lombardi and offensive tackle Devontae Dobbs, decided to pursue other options.
Some of the transfers, including former Temple quarterback Anthony Russo and Wake Forest running back Kenneth Walker III may be called upon sooner rather than later to help reignite a stagnant MSU offense. Russo, who threw for 44 touchdowns at Temple, and Walker may end up causing other players to leave as spring ball continues. 
Currently, Tucker has added three Division I transfer cornerbacks in Chester Kimbrough, Marqui Lowery Jr. and Khary Crump, two linebackers (Ben VanSumeren, Brown) and two running backs (Harold Joiner and Kenneth Walker). All three positions either struggled with performance or depth issues last season and in the offseason.
"There may be some more attrition, we will have to see," Tucker said. "Typically, after spring ball, there are usually some changes on the roster. "
With several scholarship spots still to fill, Tucker confirmed that MSU will continue to navigate the transfer portal into fall camp in hopes that the NCAA will pass a rule giving each transfer pickup a one-time expectation, which would allow for immediate eligibility.  As of Tuesday, the Spartans currently have three players in the portal, including safety Dominique Long and wide receiver Javez Alexander.
As spring ball continues and roles for different positions are carved out, some degree of roster movement should be expected. The addition of more transfers (or not), in addition to injuries sustained during practice, will play a large role in determining whether the current MSU roster closely resembles the fall roster or not.