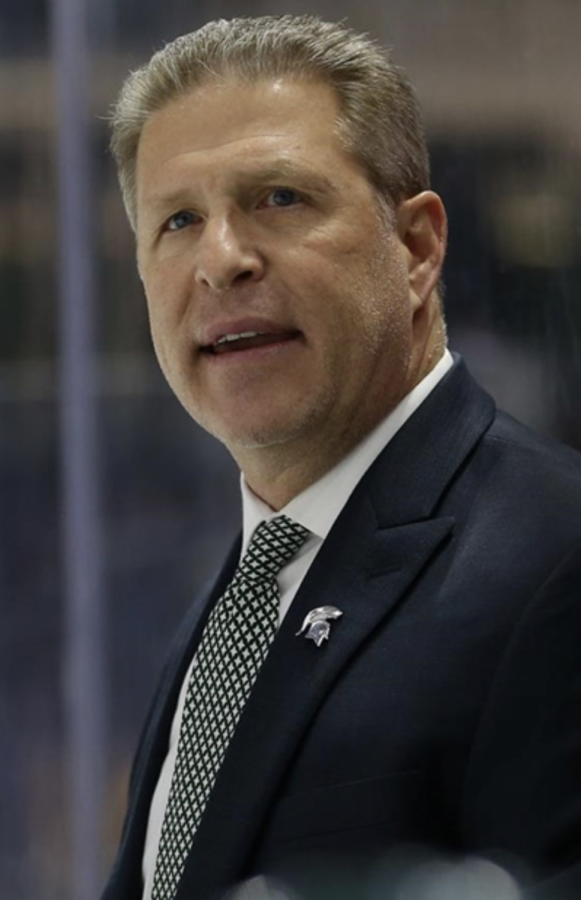 EAST LANSING – Michigan State hosted their senior night in game two against Notre Dame on Saturday afternoon, but the Irish came in and spoiled the special night. Notre Dame earned the series sweep with a 2-0 win in game two, thanks to a big performance from their power play. In the two-game series , Notre Dame outscored MSU 4-0.
"Lost the special teams game tonight," head coach Danton Cole said. "But guys gave us a chance and battled through 'til the end. They gotta take that, enjoy the senior night aspect, get a little rest and get back to work on Monday."
The eight Spartan seniors that were honored Saturday afternoon were forwards Brody Stevens, Charlie Combs, Tommy Apap, Jake Smith, Gianluca Esteves, Austin Kamer, Mitchell Lewandowski, and defenseman Tommy Miller.
"We didn't really recruit this class, so they were coming in blind," Cole said. "These guys bought in as a freshman class, and they've worked extremely hard, they're really close…these guys have bought in, and they left their stamp on it…what they've left here is a pretty good legacy."
Apap reflected on his time at Michigan State after the game.
"Being a Spartan has been everything to me," Apap said. "My dad went here, and all of his family and I grew up a Spartan. He almost brainwashed me into it, and I'm so glad he did honestly. It's been an unbelievable experience since I've been here."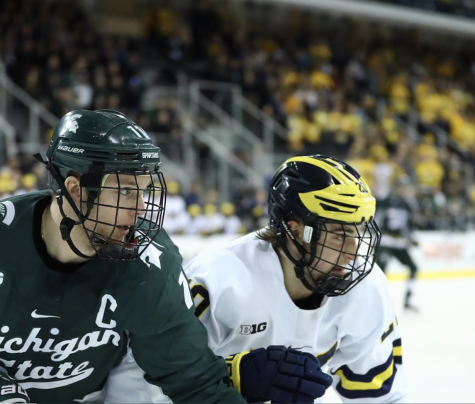 After giving freshman Pierce Charleson his first career start in game one, Michigan State opted to roll with seasoned veteran Drew DeRidder in net for game two; Notre Dame stuck with goalie Dylan St. Cyr after he earned a shutout in game one.
DeRidder was tested early after a Jagger Joshua hit from behind gave Notre Dame a five-minute power play, and the Irish made them pay. Just over eight minutes into the game, Notre Dame capitalized on their power play after a one-timer from Fighting Irish senior Colin Theisen skirted past DeRidder to make it 1-0 Fighting Irish.
After the Joshua penalty, the Spartanscommitted three more penalties, but they were able to go into the intermission down only one. In the first period alone, MSU took four penalties totaling 19 minutes, which allowed Notre Dame to put up 18 shots on net in the opening frame.
Notre Dame's goal put Michigan State in a spot they have struggled mightily in this year. Following game two, Michigan State is now 2-for-14 this season when allowing the first goal and 1-for-11 when trailing after the first period.
The middle period saw Notre Dame play passive and let Michigan State come to them. No goals were scored by either team but Irish forward Colin Theisen,who scored the first goal, was given a game misconduct aftere elbowed Spartan sophomore forward Josh Nodler in the head with 34 seconds left in the second period.
MSU started the third period down 1-0 with 4:36 left of carryover power play time, but the Spartans weren't able to capitalize. Just over halfway into the third, defenseman Christian Krygier took a penalty which sent Notre Dame back to the power play.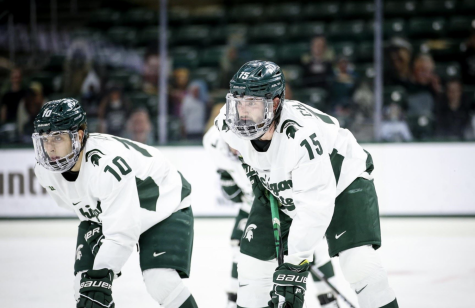 During the ensuing power play, Notre Dame freshman Landon Slaggert got the puck out front and put it past DeRidder to put the Irish up 2-0 with less than nine minutes to go. Forwards Graham Slaggert and Alex Steeves got the assist on the second goal, and with that assist, Steeves is now tied for sixth nationally in points with 28.
Those two power-play goals were more than enough to propel Notre Dame to a 2-0 shutout win and their 12th victory of the season.
Following Saturday's game, Michigan State is now tied for second-to-last nationally on the power play after going 0-for-3 in game two. That brings their season total on the man advantage to 4-for-63, a measly 6.3%.
"I think we need to first of all, mentally get over the fact we aren't scoring," Apap said. "We all know it; we're not scoring enough goals. We didn't score a goal this weekend, so obviously, you're not going to win games like that, and I think it's a bit of a mental hump we gotta get over."
Notre Dame (12-12-2) will return home to host Penn State on March 5-6.
Michigan State (7-15-2) will continue their five-game homestand against Cole Caufield and No. 5 Wisconsin on March 5-6. The Spartans were swept by the Badgers on Jan. 29-30 and outscored 10-1.