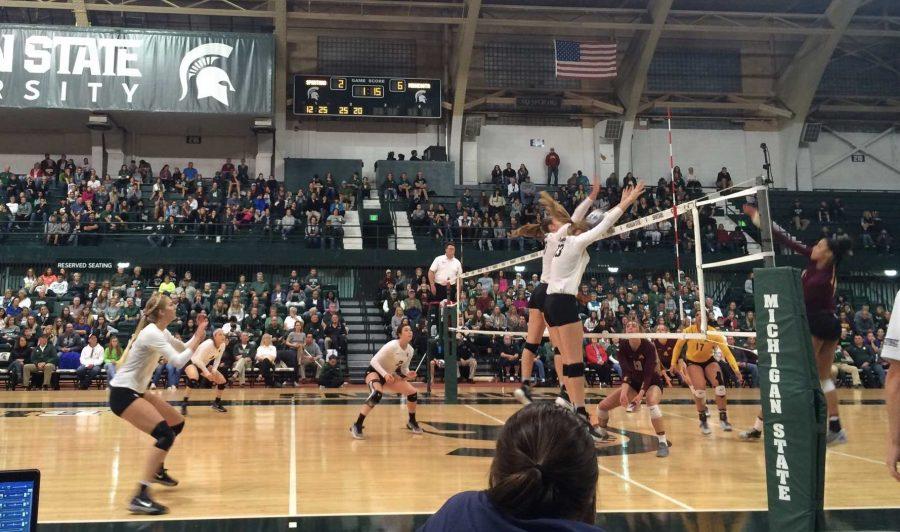 EAST LANSING — Earlier this week, MSU coach Cathy George mentioned something that worried her about Wednesday's match with Michigan, which was rescheduled on short notice.
"It's a really quick turnaround," George said Tuesday. "You only have one day to prepare for these guys and make adjustments in areas we might need."
"I think it was a little bit of a disadvantage," setter Celia Cullen said. "Obviously we've played more, so they got a little more from us."
The Wolverines came away with the match victory, 25-22, 25-20, 28-26, 25-19 against the Spartans.
There were times during the match when you would be forgiven for thinking it was Michigan who looked unprepared. The Spartans played lights-out in set two and most of set three, winning the former and running up a seven-point lead in the latter. They took advantage of the Wolverines' mistakes, especially their 14 service errors.
The match was a battle of excellent outside hitters on both sides. Sophomore Biamba Kabengele led the Spartans with 17 kills off the bench, pummeling Michigan's back row, while freshman Sarah Franklin added another 15. For the Wolverines, junior Paige Jones led in kills with 16 while freshman Jess Mruzik added 11. 
"I thought [Kabengele] scored really well," George said. "She's a tremendous attacker and she did a really nice job of putting the ball to the floor. She was being terminal for us and she was going up against some great blockers."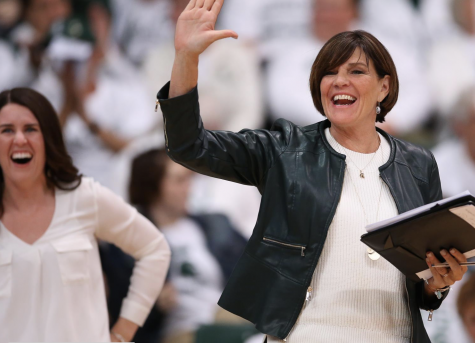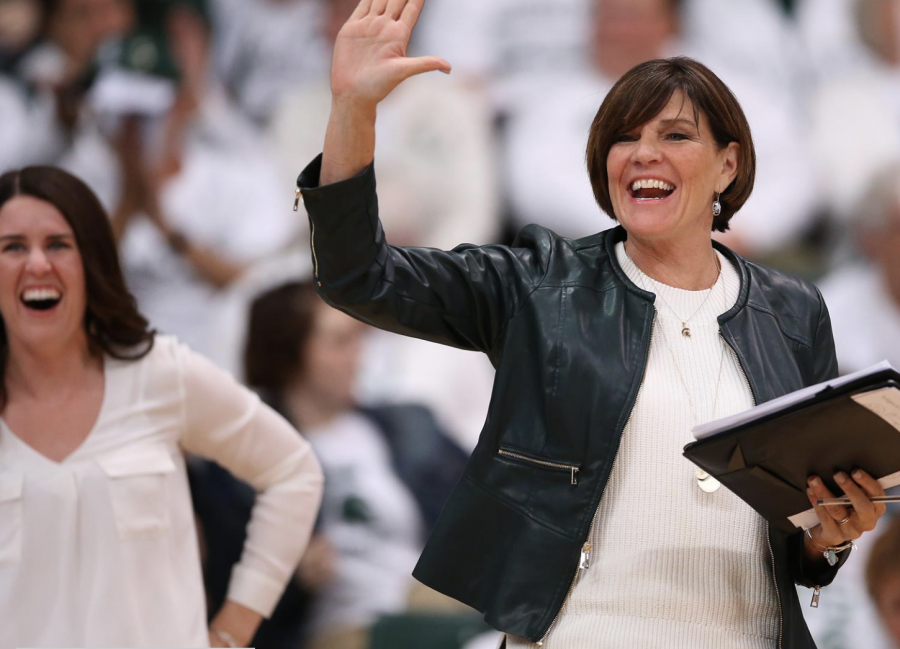 This game was decided for Michigan due to the play of those blockers. Kayla Bair, Jess Robinson and May Pertofsky contributed four, five and three blocks respectively. Pertofsky also served as a third offensive weapon, contributing 13 kills and two aces. 
The Wolverines' dominance at the net was strongest late in the match, when the Spartans seemed unable to get their own middles involved in the offense. Naya Gros and Rebecka Poljan combined for just seven kills. The Spartans' other outside hitters saw little action as well. Alyssa Chronowski started but played sparingly once Kabengele got hot, while Cecilee Max-Brown contributed a couple late kills but sat for most of the match.
"We're working on pressing over on our block, really being disciplined on our blocking," Cullen said. "I think at the end it fell apart a little bit on everyone in the front row."
Cullen played an excellent match for the Spartans, putting up 37 assists and three kills, including a memorable play where she accidentally sent the ball over the net too early and a surprised Robinson mishandled it. She outdueled the Wolverines' own freshman setter, Scottee Johnson, and connected well with Franklin and Kabengele.
The Spartans have another short week to prepare for No. 1 Wisconsin. The Badgers come to East Lansing for games on Feb. 20 at 2:30 p.m. and Feb. 21 at 3:30 p.m.
Follow Ian Drummond on Twitter at @idrumma.