Schabath: Through 10 Games, here's where MSU stands and what this game against Rutgers can prove
EAST LANSING — After a three-game losing skid and a narrow win against a mediocre Nebraska team, it would appear Michigan State has found its groove this season… in the same way that a bowling ball finds its groove in the gutter. 
However, after the road victory against the Cornhuskers, MSU finds itself in a position to get back on track with a big upcoming matchup against No. 15 Rutgers.
MSU was outscored by a total of 48 points in its three conference losses to Northwestern, Wisconsin and Minnesota. In all three of these lopsided affairs, the Spartans didn't show any semblance of a historic Tom Izzo basketball team. "Defend, Rebound, Run." That's been this team's supposed mantra all season. Izzo has said it time and time again. Yet, MSU ranks sixth in the Big Ten in blocked shots, 11th in steals, fifth in rebounding margin and fifth in pace of play. 
This team has a myriad of issues, and while some positive steps were taken in the Nebraska game towards solving these issues, nothing happened to promote a drastic boost of confidence. The lack of a true point guard and a leader is perhaps the most glaring pitfall of MSU's offense.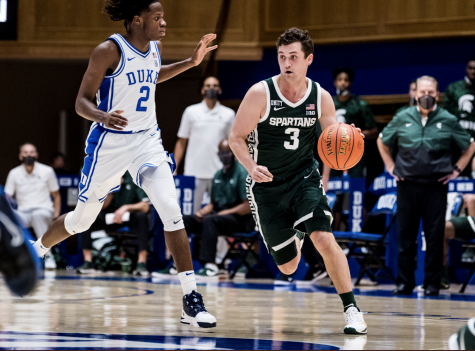 Rocket Watts started the season at the one spot for Izzo and seemed to improve his passing substantially. Watts finished last season with just 45 assists, but through the first nine games this season, he's already amassed 39 assists as the Spartans' point guard. However, the offense has not flowed the same as it did under the previous regime with Cassius Winston at the helm. 
MSU has struggled to move the ball against a zone defense, they've taken bad shots late in the shot clock, and their transition offense has suffered as well. Due to his struggles and discomfort running the point, Watts asked Izzo to move him back to his more natural position of shooting guard in hopes that he could find his scoring groove again. 
Enter A.J. Hoggard. The freshman from Coatesville, Pennsylvania, hadn't seen significant minutes this season other than garbage time against Minnesota, but he got the start at Nebraska and played well. 
Hoggard finished with four points, five assists, and just one turnover and showed an acute knowledge and understanding of the game. He has some work to do on the defensive side of the floor in getting faster and stronger, but he was undeterred by the big stage and showed poise in the win over the Cornhuskers.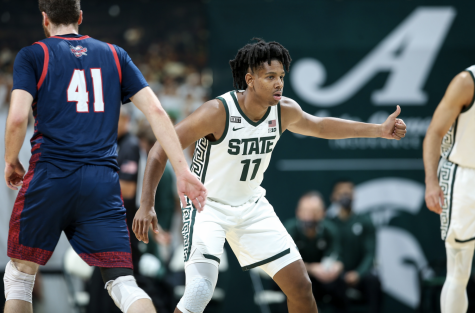 Losing Winston and Xavier Tillman meant more than just losing your best offensive and defensive players for Izzo. MSU also lost two of the best players in the country at taking over games when their team needed it the most. The loss of that clutch identity has been starkly apparent in MSU's last four games.
When MSU needed a bucket or a playmaker, they looked to Winston, and when they needed a defensive stop, all eyes shifted to Tillman. Now it's more or less a bunch of guys looking at each other.
Aaron Henry stepped up big in the Spartans' win over Nebraska, taking over the game offensively with a career-high 27 points, but that's only his fourth game this season as MSU's leading scorer. The other three games came against Notre Dame, Northwestern and Minnesota, in which Henry managed to score 14 points and 11 points twice. 
If MSU wants to succeed moving forward and get back to battling with the best teams in the Big Ten, it needs a leader like Henry to take over games when no one else can. Henry is good enough on both sides of the ball to be that leader offensively and defensively for the Spartans, he just has to want it. He really has to want it defensively.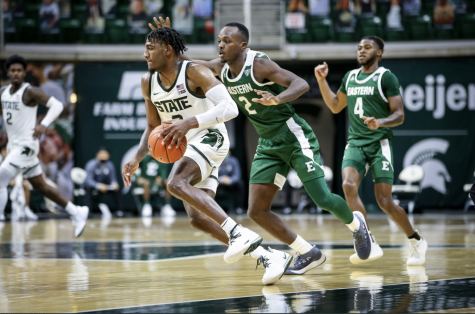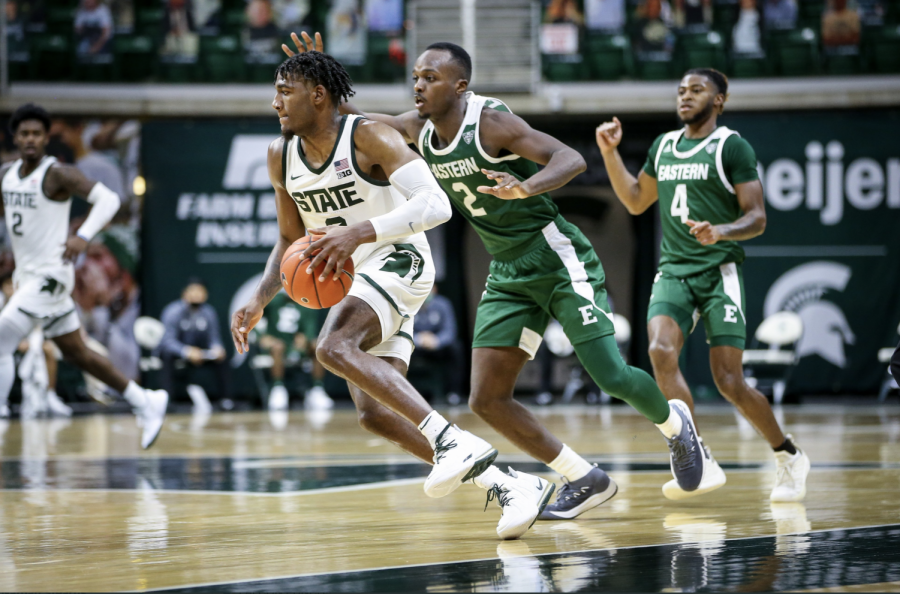 MSU has struggled immensely defensively, the likes of which an Izzo-coached team has not seen in quite some time. The Spartans rank 80th in the country in adjusted defensive efficiency according to Ken Pomeroy, good enough for 13th in the Big Ten.
MSU has not been ranked this poorly defensively since 2006 in which the Spartans finished 8-8 in the Big Ten and lost in the first round of the NCAA tournament as a 6th seed to George Mason. 
The Spartans also have yet to prove their ability in stopping their opponents' best scorer from taking over the game. The list of players to put up astounding numbers against the Spartan defense is much longer than it needs to be through just 10 games, nevertheless, players like Detroit Mercy guard Antoine Davis and Oakland guard Rashad Williams have torched the Spartan defense. 
Davis scored 24 points against MSU; Williams went off for 36 points. Things got worse in conference play, Northwestern guard Boo Buie scored 30 points against the Spartans, Wisconsin guard D'Mitrik Trice exploded for 29 points, and Nebraska guard Teddy Allen burned MSU for 23 points, including 19 second-half points.
Izzo has prided his defense on being tough, hard-nosed, and one of the best in the Big Ten year in and year out. This defense looks nothing like that. Now is this a small, 10-game sample size? Yes. Could this be a large overreaction in early January? Yes.
Still, even in their wins, this Michigan State team has not instilled enough confidence yet as a group to show that it can claw its way back to the top of the Big Ten and make a run for a fourth consecutive Big Ten regular-season championship, but it has a huge chance at redemption against Rutgers on Tuesday. 
Rutgers star Ron Harper Jr. is making a name for himself nationally as one of the best guards in the country. He comes into this game averaging 22.1 points per game and seven rebounds. MSU desperately needs to shut him down.
It isn't just Harper that can rack up points in a hurry either; both Jacob Young and Montez Mathis are averaging over 15 points a game. All three players are shooting over 40% from deep on the season. 
Henry needs to step up and be the lockdown defender he's shown to be, and Watts needs to find his rhythm offensively if MSU wants to come away with a win.
The Spartans can prove themselves up for the challenge in fighting back to contention in the Big Ten by knocking off the best Rutgers team in decades. Let me be clear, one win will not save this team's season, and a lack of consistency has plagued this team since the year started.
With that being said, a win against a ranked Rutgers team while displaying improved perimeter defense, strong rebounding and crisp offensive sets could help put the Spartans back on the right track.
Brendan Schabath is a men's basketball beat reporter for WDBM Sports. Follow him on Twitter at @Bschabath3.