End of Hiatus | Greta Van Fleet Review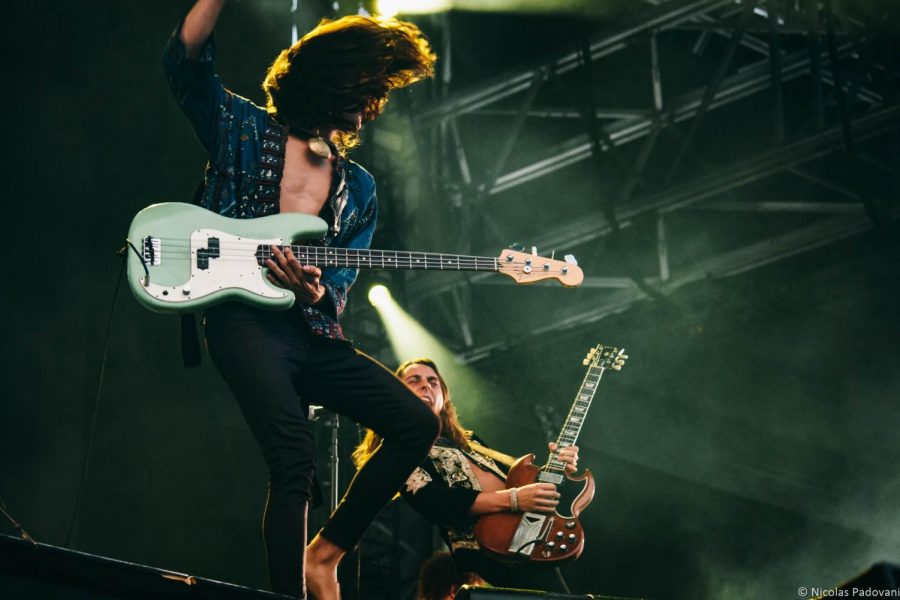 If you were one of the many fans anxiously awaiting new music from Greta Van Fleet, October of this year would finally leave your wishes fulfilled. In a year chock-full of elections, riots, a pandemic and wildfires, the Michigan-grown rock band ended a 398-day hiatus with the release of two new singles and the announcement of their sophomore studio album, The Battle at Garden's Gate, coming April of 2021. 
There's no questioning the anticipation swirling around this album's release, from both fans and critics alike. The band shocked the scene of the rock industry with the release of their 2017 debut From the Fires—a double EP filled to the brim with swaggering, blues-based rock and roll, and have since been one of the most polarizing groups on today's radio dial. 
Heralded by some as the saviors of rock and roll and denounced by others as nothing more than carbon-copy wannabes, Greta Van Fleet has struggled to escape from the vast shadow of Led Zeppelin from which they constantly draw comparison. This was unequivocally clear with the release of their first full-length studio album, Anthem of the Peaceful Army, which could possibly be best described as nothing more than an attempt to distance themselves as far as possible from their fellow hard rock predecessors. In what appeared to be the turning over of a new leaf, the band abandoned their blues riffs and raunchy lyrics in favor of darker, more mysterious explorations with messages of environmental consciousness and peace.  
The reception of the album was mixed at best, and with the jury still out on Greta Van Fleet's place in the makeup of today's rock and roll landscape, the onslaught of new material does little to settle the apprehensive mind. 
To be fair, the band's first single released in October of this year, "My Way, Soon," shows a side of Greta Van Fleet we are unaccustomed to seeing. Opening with an aggressive riff in a major key and supplemented by a grooving drum-bass rhythm section, the song is a refreshing reminder of the immense talent possessed by these young musicians, and serves as an uplifting anthem reminiscent of better days. However, with the onset of the opening lyrics of the tune, this excitement is quickly diminished: 
"I see many people/ 
There are so many people/ 
Some are much younger people/ 
And some are so old." 
It's not clear exactly which children's book they stole this nursery rhyme from, but if their sole goal in this project was to do the opposite of what Led Zeppelin would, it's fairly safe to say they succeeded. 
The early morning hours of December 4 were then a fitting time to release the album's second single, "Age of Machine," ensuring that any listeners would be in a deep and contemplative state. Running at nearly 7 minutes long, the dark, mysterious track would fit right alongside many of the listings on AOTPA, with guitar work bearing strong resemblance to songs "Brave New World" and "Watching Over," not to mention a play on the preceding album's opening track, "Age of Man." 
Opening with a moody, arpeggiated crescendo and quivering wails, the song culminates with a soaring solo before crashing into a final chorus and thematic outro. In contrast to "My Way, Soon," the lyrics here are of the opposite extreme, filled with inscrutable messages of philosophical musings and religious references—a far cry from the days of "Highway Tune" to say the least. 
Couple this with the announcement of the upcoming album's title, The Battle at Garden's Gate (which could fit quite nicely with any Lord of the Rings brainchild hatched from the mind of J.R.R. Tolkien himself), and it would appear that Greta Van Fleet plans to carry on with the trajectory they set forth in the making of their previous album. This, perhaps, is a somber revelation for anyone hopeful for a return to the 70s-style rock by which they achieved their status, but also a welcome one by others willing to watch the band carry on in the new direction. 
While it may be too soon to throw in the towel on the boys from Frankenmuth just yet, it's hard to imagine them being the same long-awaited messiahs we at one time were sure they were. Regardless, there are still two singles to be released ahead of the album in April ("Heat Above" and "Broken Bells"), and if we're lucky, just maybe, Greta Van Fleet will give us a taste of the rock and roll we so desperately crave. Now, all we have to do is try and make it through the rest of 2020 alive to find out.