MSU CB Julian Barnett enters the transfer portal
EAST LANSING — Michigan State cornerback Julian Barnett has entered the transfer portal, according to multiple reports. 
Barnett, who played wide receiver last season, has struggled to carve out a consistent role in the secondary, as corners Angelo Grose, Davion Williams and Chris Jackson, in addition to mainstays Kalon Gervin and Shakur Brown, have all received significant playing time this season.  
Barnett was recruited as a wide receiver out of Belleville High School (Belleville, Mich.). He was recruited heavily along with teammate Devontae Dobbs. Both were highly-touted four-star recruits out of high school. Barnett was rated by 247Sports.com as the No. 3 overall player in Michigan, as well as the No. 57 player in the country.
His composite rating of 0.9724 placed him within reach of being a five-star recruit. Barnett also played five positions (cornerback, wide receiver, running back, safety and linebacker) during his time at Belleville.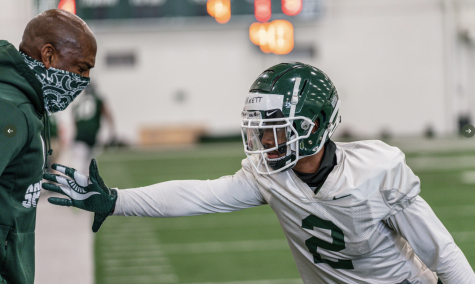 Barnett made the switch from corner during his freshman season in college. Last season, he caught 13 passes for 182 yards while playing in all 13 games. He also had three kick returns for 36 yards.
While Barnett could still withdraw his name from the transfer portal and return to MSU, it seems likely that he will try to find a new home. He will be a hot commodity, as he was offered by perennial powerhouses like Alabama, Auburn, Clemson, Georgia, Michigan, Notre Dame, Ohio State and Oregon.
Barnett also held offers from Iowa, Arizona, Arkansas, Central Michigan, Illinois, Iowa State, Kentucky, Missouri, Syracuse, Temple and Toledo.