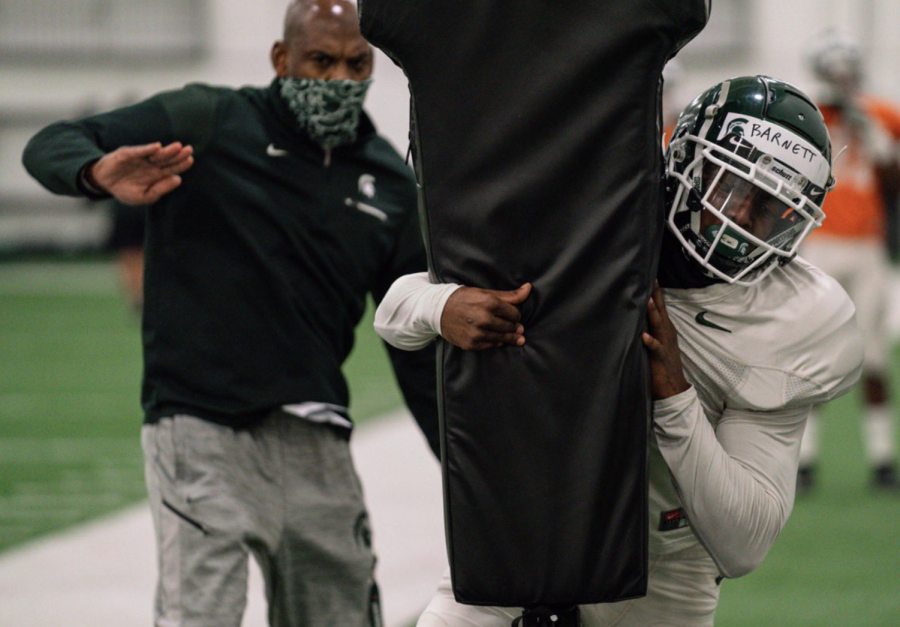 EAST LANSING- Michigan State (2-3) will be in search of their second consecutive top-10 win as they welcome No. 4 Ohio State (4-0) to Spartan Stadium this Saturday.
MSU is coming off of an impressive 29-20 win over No. 14 Northwestern. The Wildcats, who were ranked at No. 8 when the Spartans played them last week, turned the ball over four times en route to their first loss of the season. The ranked win was the second of the season for Mel Tucker and MSU, who knocked off No. 13 Michigan in week two. 
Ohio State did not play last week after being forced to cancel their game against Illinois because of numerous positive COVID-19 tests. Head Coach Ryan Day will not be on the sidelines this week as he continues to recover from COVID-19.
Keys to the game for MSU
If Michigan State has any chance of contending with OSU, they will need to hold onto the ball and limit the costly mistakes. The Spartans have turned the ball over one total time in their two wins; they have combined for 14 turnovers in the three games that they have lost.
The vertical passing game must also be an emphasis for MSU. Ohio State has shown the tendency to give up long plays, and Rocky Lombardi has shown the capability to connect for deep passes when given the time. One of his two touchdown passes against Northwestern went to Jalen Nailor for 75 yards. Nailor, Jayden Reed and freshman wideout Ricky White will all need to have exceptional performances if MSU wants to have a chance to steal the game late.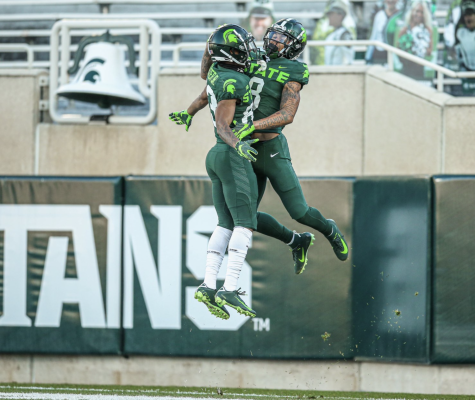 MSU will also need to run the ball like they did against Northwestern in order to knock off the Buckeyes. Spartan running back Connor Heyward ran for 96 yards on 24 carries, while Lombardi chipped in with 65 rushing yards on 10 carries.  Overall, MSU ran for nearly 200 yards on a Northwestern defense that only allowed 12.5 points per game. MSU will need to stay ahead of the chains and generate consistent success on the ground against a stout Buckeye front seven. 
Keys to the game for OSU
The Buckeye offensive attack starts with quarterback Justin Fields, receiver Garrett Wilson and running back Master Teague. Fields, who has thrown for 1,208 yards as well as 13 touchdowns to three interceptions, succeeds by getting the ball out to his playmakers in space with pinpoint accuracy. 
Garrett Wilson, who is No.3  in the Big Ten in receiving yards (513), will most likely be matched up with Spartan corner Shakur Brown. Brown is tied for first in the nation with five interceptions; this matchup will go a long way in deciding who wins on Saturday. 
Olave is No.8 in the conference in receiving yards (389) and has scored four touchdowns on the season.
Teague is No. 6 in the conference with 380 rushing yards and six rushing touchdowns. If OSU can establish an early rhythm between Fields, Olave and Wilson, as well as Teague, it will be a long game for the Spartans. 
The Buckeyes' defense is led by the linebacking duo of Tuck Borland and Baron Browning, as well as corner Shaun Wade and defensive tackle Tommy Togiai. Both players are versatile sideline-to-sideline linebackers who can cover halfbacks out in space and make strong decisions in stopping the opponents running game. 
Wade is a potential early round NFL Draft pick; he is an extremely versatile and skilled secondary player. Wade was named to the third team All-Big Ten team in 2019 and will likely be matched up with either Jalen Nailor and Jayden Reed.
Togiai leads the Buckeyes with three sacks; he could make the Spartan rushing attack non-existent if Matt Carrick, JD Duplain and Nick Samac are unable to effectively get movement up front.
My Prediction:
Ohio State: 38
Michigan State: 17
Regardless of the uncertainty surrounding this Ohio State team, they are remarkably more skilled than the Spartans at almost every skill position. I cannot see MSU being able to keep up offensively with a team that averages over 45 points per game. Justin Fields will most likely end up being a top-two or three pick in the draft, and he, along with Willson and Olave, should be able to have a lot of success against a Spartan secondary that has been forced to rotate in young players like Angelo Grose and Davion Williams because of injuries.
I do think that MSU will score a long passing touchdown against a middling OSU secondary, but unfortunately, it won't be enough. Ohio State is just too talented and too skilled for MSU to beat.