Tucker preaches the importance of respect and civility to team amidst election
EAST LANSING — It's a statement that has been uttered a million different times over the past several weeks: go vote.
"No matter who you vote for, I would encourage you to vote if you haven't already done so," MSU coach Mel Tucker said during his weekly media availability session. "Also pray that as Americans post-election, we find a way to be less partisan and come together as a country and develop more humanity and civility for one another."
The NCAA canceled all team activities for all sports around the country on Tuesday so student-athletes would have the opportunity to vote without scheduling conflicts due to their sport. As a result of this schedule change, Michigan State had a light walkthrough in preparation for Iowa on Sunday morning following the win over Michigan. 
The team is scheduled to arrive in Iowa City on Friday morning. 
Encouraging respect and civic engagement 
With over 100 players on the team, all coming from different backgrounds and cultures, political differences are bound to come up in conversation. However, Tucker has created an environment where each player, regardless of political preference, can feel accepted and safe. He has also preached the importance of civic engagement to the team.
"Everything that we have done with our players in terms of civic engagement has been non-partisan," Tucker said. "We talked about education, communication and resources… through that education (a series of guest speakers), the topic of respect and compassion and empathy, those words and those terms come up quite a bit."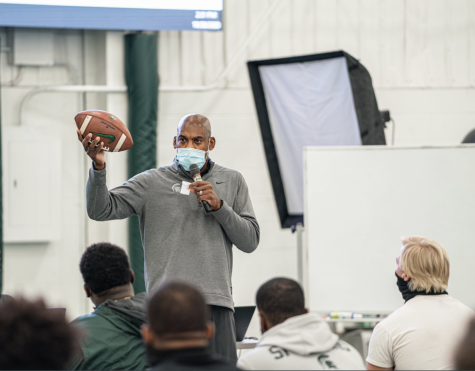 Tucker also said that the players and coaches have been able to have "real" conversations since each player was given the opportunity to share why they believe what they do. The precept of understanding someone else's background and circumstances has been a primary point of emphasis for the team.
"If you look at the demographics of our locker room and how it's composed, we have diversity in our organization," Tucker said. "Being able to have compassion and empathy and respect for people's views, whatever they may be, I think that's critically important to having a functional organization that can thrive and use diversity as an advantage and not something that is necessarily polarizing." 
Building a sustainable culture
This whole overarching idea of tolerance feeds into Tucker's vision of building a team culture that is based on honesty, integrity, discipline and doing all the little things right. His vision started in the offseason with the hiring of several new position coaches. 
"When putting a staff together, first and foremost, I wanted to make sure that we had coaches of high character that were very team-oriented and unselfish and understood the importance of buying into something that's bigger than themselves," Tucker said. "All of our coaches are like that, so that really helps me as the head coach set the tone for the culture and ask my staff to help convey that message to the players."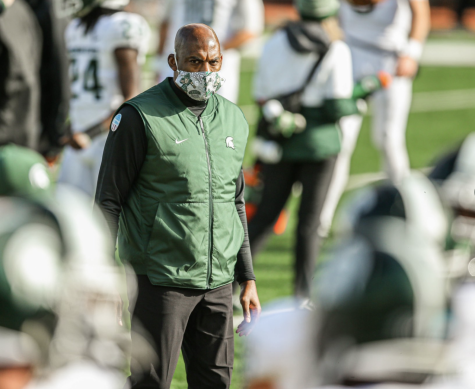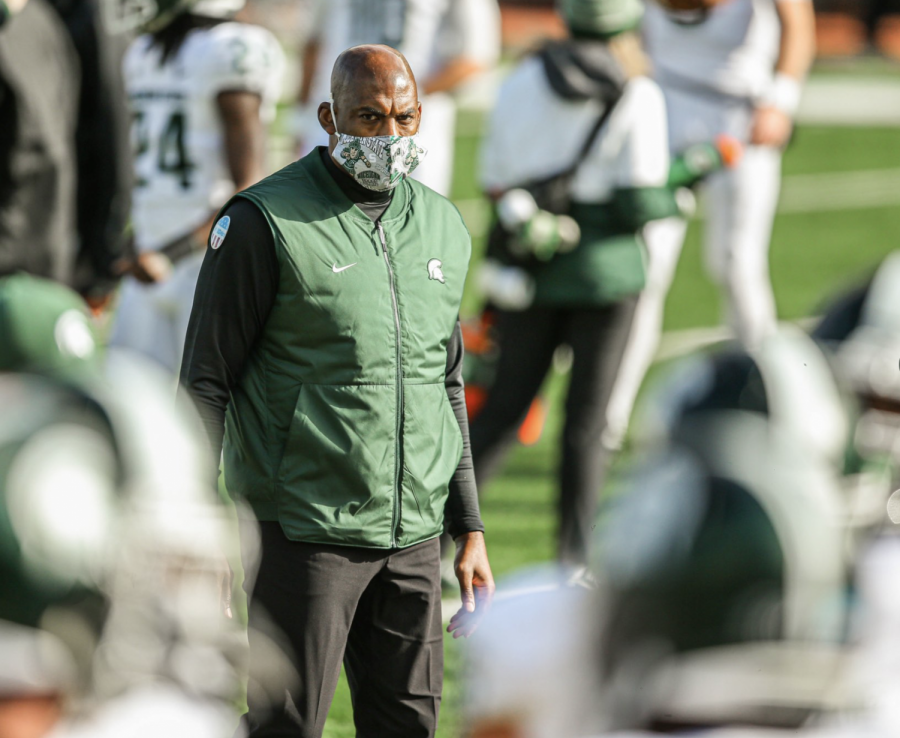 Tucker also said that he, along with the rest of his staff, placed an emphasis on connecting with the players and getting to know them personally. 
"Our language, the words we use and things we say are very consistent," Tucker said. "There is substance behind those words. Culture is not just slogans or signage on the walls, it's how we live and how we work and how we treat each other day in and day out and how we go about our business." 
Anyone who had any doubts about the kind of "culture" that Tucker is implementing had those concerns alleviated with the Spartans' astonishing victory over the Michigan Wolverines on Saturday.
"The buy-in has been there with our players, but you are always hammering culture and always looking to get better and sell your program," Tucker said. "Recruiting is not just recruiting high school players; I was told a long time ago that you have to recruit your own players every day."
Regardless of what happens on Election Day, Tucker and his staff, along with the entire MSU football team, will board a plane for Iowa on Friday as normal because the identity of the program supersedes any potential partisan divide within the locker room.