Examining which players must step up against Michigan
EAST LANSING- By all accounts, Saturday is supposed to be a bloodbath. 
The usual aura that engulfs both fanbases seems to be lacking a bit this season. Everyone—Michigan State and Michigan fans alike— are expecting Saturday's game to get out of hand quickly. Even Vegas—who has the Wolverines laying 24.5 points against the Spartans—thinks that Michigan will cruise to a comfortable victory.
However, rivalry games are weird. Although all signs point toward a Michigan smackdown, crazier events have transpired this year. One career day from Rocky Lombardi, along with a once-in-a-blue-moon defensive effort, could perhaps allow the Spartans to shock the Big Ten. If that is going to happen, here are five players that MUST have outstanding games:
1. Kevin Jarvis and AJ Arcuri
I decided to lump both Jarvis and Arcuri—the two starting Spartan offensive tackles—in the same boat because the reasoning for them needing to play well remains the same. It would be unfair to attribute the Spartans' paltry rushing effort against Rutgers to those two exclusively, but they indeed played a substantial part. On the game, Michigan State ran for a grand total of 50 yards on 39 carries. Elijah Collins was nowhere to be found, and CJ Onyechi, Julius Turner, and the rest of the Rutgers front four ran into the backfield with ease.
This week, Jarvis and Arcuri will be tasked with holding down future NFL talent Kwity Paye and rising star Aiden Hutchinson. Paye had two sacks in the Wolverines' impressive wire-to-wire spanking of Minnesota to go along with three tackles for loss.
Simply put, if MSU allows Paye and Hutchinson to penetrate the backfield with ease, this game will be over before it starts. However, if Jarvis and Arcuri can keep Lombardi upright and pave some holes against a Michigan rushing defense that allowed Minnesota running back Mohamed Ibrahim to rush for 140 yards, things could get quite interesting at the Big House. 
2. Rocky Lombardi
It goes without saying that Michigan State had several lousy individual performances against Rutgers; Rocky Lombardi did not fall into this category. Lombardi—who only completed 44% of his passes in his three starts two seasons ago— showed much better pocket awareness and route recognition than many expected.
The Spartan gunslinger racked up 319 passing yards along with three passing touchdowns; he also completed 31 of his 43 attempted passes. Lombardi showed that, when called upon, he can engineer a passing attack that is predicated on dumping the ball off underneath or in the flat to Jayden Reed, Jalen Nailor and Jordan Simmons. He also had a nice touch on several of the dig routes toward the sideline.
Since the rushing attack for the Spartans might be nonexistent against Michigan, Lombardi will need to test an inexperienced Michigan secondary that lost corner Lavert Hill and safety Josh Metellus to the NFL, as well as corner Ambry Thomas, who decided to opt-out for the 2020 season.
If Lombardi can continue to build off of his encouraging performance from a week ago, the Spartans might have a puncher's chance late in Ann Arbor.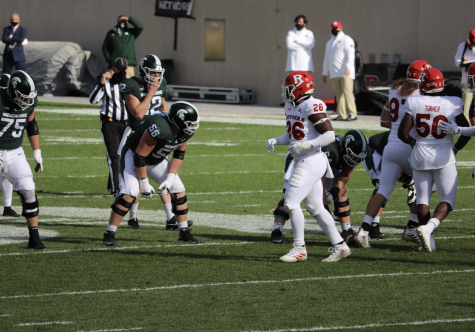 3. Jayden Reed and Jailen Nailor
Like Lombardi, Reed did some really nice things last week. Although he had two costly fumbles in the first half, the Western Michigan transfer had an excellent second half and was a primary reason why MSU held on for as long as they did. Reed—who managed 129 receiving yards on 11 catches, as well as two receiving touchdowns— showed his ability to make plays in the flat as he made Rutgers defensive back Christien Izien whiff in the open field en route to a 50-yard score in the latter stages of the first quarter. 
Reed consistently got himself available with crisp route-running and physicality off of the line of scrimmage.  He and Jailen Nailor (who had six catches for 84 yards and a score) both showed the ability to make plays in space and accumulate yards after the catch when called upon.
Both players will need to clean up the miscommunication that defined the first Lombardi interception against Rutgers (Nailor) and keep the ball off the turf (Reed). Provided that Lombardi has time to throw the ball, the Spartan' receiving duo should have the chance to have some success on the outside against inexperienced corners Vincent Gray and Makari Paige.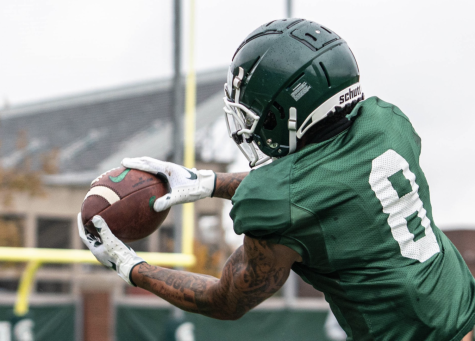 4. Naquan Jones and Jacob Slade
The interior tandem of Naquan Jones and Jacob Slade played quite well against a Rutgers team that sought to run the ball on seemingly every down. Isaiah Pacheco—who ran for 729 yards on 169 carries a year ago—was only held to 61 yards on 19 carries last Saturday. Although he did rush for two touchdowns, the Spartan' defense was put in several unfavorable spots after several ill-advised turnovers, so the blame does not rest with them.
The Wolverines offensive line replaced four starting offensive lineman (all of whom were drafted) and didn't seem to miss a step as the duo of Hassan Haskins and Zach Charbonnet both broke 65-plus yard runs for touchdowns against Minnesota.  Michigan succeeded on offense against the Gophers in large part because they averaged 8.3 yards per run against an overpowered Gopher front-seven.
Both Jones and Slade hold the experience advantage over newbies Chuck Filiaga, Andrew Vastardis, Andrew Stueber and Ryan Hayes. It will be a long day for Michigan State if they can't force Joe Milton to beat them through the air.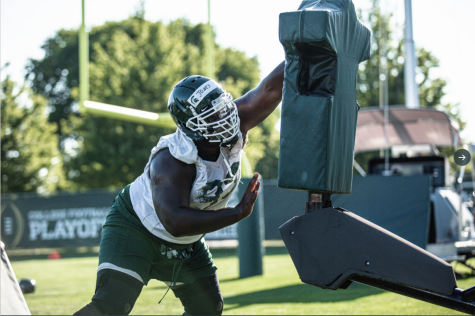 5. Shakur Brown and Kalon Gervin
This duo, along with Chris Jackson, must keep Ronnie Bell and the rest of an inexperienced receiving core in check if MSU has any hope of winning on Saturday. Too often against Rutgers, both Brown and Gervin were out of position and playing too softly in coverage against Bo Melton and Aron Cruickshank. Although Noah Vedral didn't burn the Spartan' corners on a lengthy play, he didn't need to. A combination of a short field and bouts of rushing prowess ensured that Vedral wasn't required to beat MSU through the air.
Frankly, Melton and Cruickshank are a better receiving duo than Michigan features with Ronnie Bell and Mike Sainristil, but Joe Milton—who possesses a cannon for an arm,—is more than capable of making sure Bell and company are put in the best possible situation to succeed. MSU will need to employ a "bend, but don't break" defense against Michigan if they are going to notch the upset.
Michigan kicker Jake Moody went 0-for-3 in his field-goal attempts against the Gophers, so the entire Spartan defense—especially Brown and Gervin—must get the Wolverines off the field on third down and not get beat over the top.