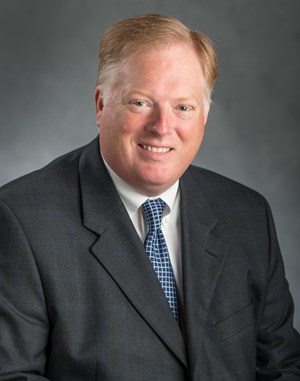 EAST LANSING — After the Big Ten announced the return of fall football Wednesday morning, Michigan State Athletic Director Bill Beekman met with reporters Wednesday afternoon to discuss the season moving forward. Here are some takeaways from his remarks:
1. The only reason the season is happening is because of rapid antigen testing
Beekman bluntly stated that the reason the Big Ten was able to schedule a fall season was the "availability of a low-cost antigen test that can yield accurate results in as little as 15-30 minutes." That's why we're here. Beekman's bluntness continued: "If we're responsible and take all the proper precautions, we'll be able to play. If we don't, we won't." It's refreshing to hear someone in a place of power in college athletics speak the truth!
2. If the season happens, the MSU Athletic Department will be fine financially
Beekman said that without football happening, the MSU Athletic Department was looking at a loss of about $30 million. With football happening without fans, Beekman said they're looking "around break-even territory." That's a much brighter outlook than the financial doom and gloom that was discussed in June and July if football season didn't happen. Beekman also said that other sports also being permitted to play factored into him saying MSU is around break-even territory. The NCAA has already postponed the championships to the spring in men's and women's soccer, volleyball, and field hockey. Based on what Beekman said today, at this point in time, it seems like MSU plans to play those sports at some point this school year.
3. Reports of MSU not wanting to play even if the Big Ten did were just plain wrong
When asked about whether or not MSU considered not playing if the Big Ten went ahead with the season, Beekman called reports that they were on the fence "bizarre." He said that MSU has been committed to playing since the beginning if it could be done in a safe way. Ever since the medical information has provided a safe path to play, Beekman said that MSU has been in a "why not play" mode. So that's the end of that.
4. December 19 won't necessarily be 2 vs. 2
Other than the Big Ten Championship Game, the other games that will take place on Dec. 19 won't necessarily be in the exact order of the way the teams finish the regular season. An MSU spokesman on the Zoom call said the Big Ten will try to avoid rematches in that ninth week of the season in order to create more unique matchups. It's likely that in Mel Tucker's first year, Michigan State will not be participating in the Big Ten Championship Game. So that means the Spartans could play any number of West Division opponents in that "week nine" game. Beekman also mentioned that there are "options on the table" for playing some of the late-season games indoors as opposed to the regular outdoor campuses. December in Michigan isn't exactly balmy, and with no fans, there's really no competitive advantage to playing in an empty home stadium other than the familiarity of the home stadium. It was rumored this plan was coming into place if the league was going to play in January. It would not surprise me at all to see some of these late-season games moved to the domed stadiums in the midwest, including Indianapolis, Detroit, Minneapolis or even St. Louis.
5. Mel Tucker and staff are ready to go
Every time Beekman meets with the media, he heaps praise onto Mel Tucker and his staff for the progress made with the team under difficult circumstances. Beekman mentioned a donor Zoom event that happened Tuesday evening, when everyone was pretty sure the Big Ten was going to reinstate a fall football season. He said there was a "buzz" with the donors and the new staff, and that he's very pleased with the progress he's seen with Tucker and his team in the limited practice time they've had. It can only be a positive sign when the big boss is constantly going out of his way to praise the staff, right? MSU fans can only hope that what Beekman says is true.
Eric Bach is the Sports Broadcast Director and football reporter for WDBM. Follow him on Twitter, @ebach21.