Spartans look to get back on track vs. Nittany Lions
Nathan Stearns, Women's Basketball/Field Hockey Beat Reporter
January 7, 2020
On Oct. 21, Michigan State was placed in the top three in both the Big Ten Coaches poll and the 2019 Media Poll. One could assume that these high expectations were the result of conference-wide respect and admiration for both Shay Colley and Victoria Gaines. 
Without these two integral pieces, it would beg to reason that the Spartans' season projections would have been significantly altered.  
The Spartans currently find themselves in the midst of a rough spell and will be looking to improve to .500 in conference play when they travel to Happy Valley this Thursday and square off against a Penn State squad that is currently winless (0-3) in Big Ten play.
Nagging injuries to Shay Colley and Victoria Gaines have contributed to a recent rough stretch for the Spartans that has seen them drop four out of their last five games.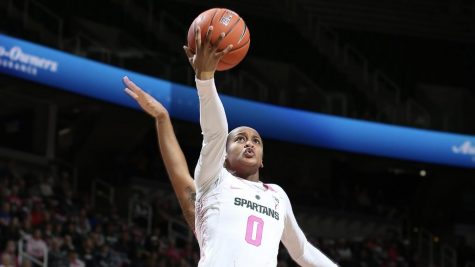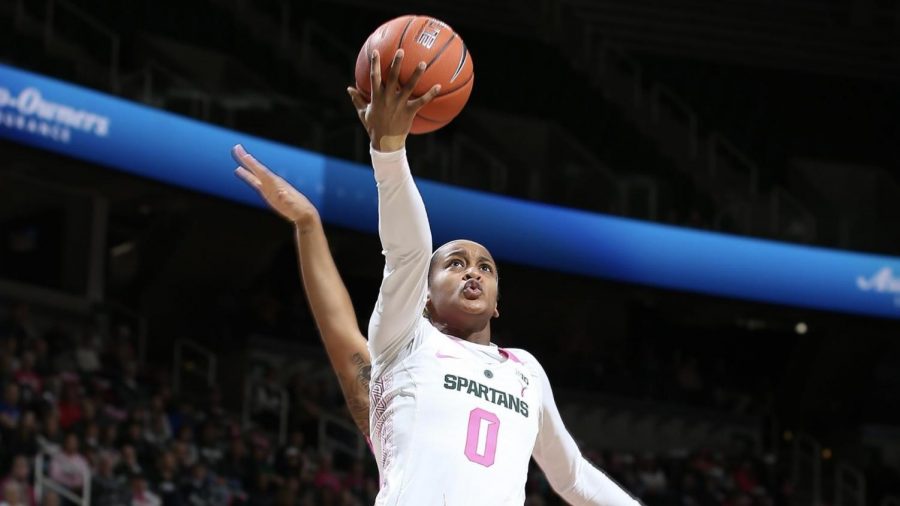 The fourth quarter has been especially problematic for MSU as of late. Look no further than Sunday's matchup between Michigan and MSU. The 4th quarter of that contest saw Michigan outscore the Green and White 26-10. 
The Spartans were within four points at the end of the third, but were thrashed by Wolverine big Naz Hillman and perimeter sharpshooter Amy Dilk in the final frame. 
What had been a close game throughout the majority of the contest was suddenly a 20-point failure, because of one bad stretch of play.  
Unlike the Spartans, who started off the season with a sterling 6-1 record, the Nittany Lions have had a season to forget up to this point as evidenced by their 6-8 overall mark. 
Ugly losses to La Salle, Rider, George Mason and Long Beach State only further illustrate the overall theme of the season for PSU.
Former Marquette head coach Carolyn Krieger was tabbed to resurrect a program that hasn't reached the NCAA tournament in five years. She inherits a talented yet inexperienced squad who lost leading scorer Teniya Page to graduation. 
Page averaged almost 20 points-per-game for Penn State last season. No other player averaged in double figures. 
Siyer Frazier and Kamaria McDaniel were the second and third leading scorers for PSU last season, averaging 9.9 and 9.7 PPG respectively.  
This upper class duo is combining for almost half of the total points scored per game for Penn State.
The status of Colley and Gaines is unknown for Thursday. Both players have struggled with nagging lower leg injuries that has held them out of multiple games over the past month.
If neither player is available, expect to see Moira Joiner and a platoon of Taiyier Parks and Kayla Belles eat up most of the minutes vacated by Colley and Gaines.
Things haven't gone according to plan for MSU lately. Thursday night serves as a chance to get back on the right track against a winless conference foe. 
With an 8-6 overall season record, Thursday's conference tilt serves as a must-win game for the Green and White.
Contact Nathan Stearns at [email protected] Follow him on Twitter at @NathanStearns11.