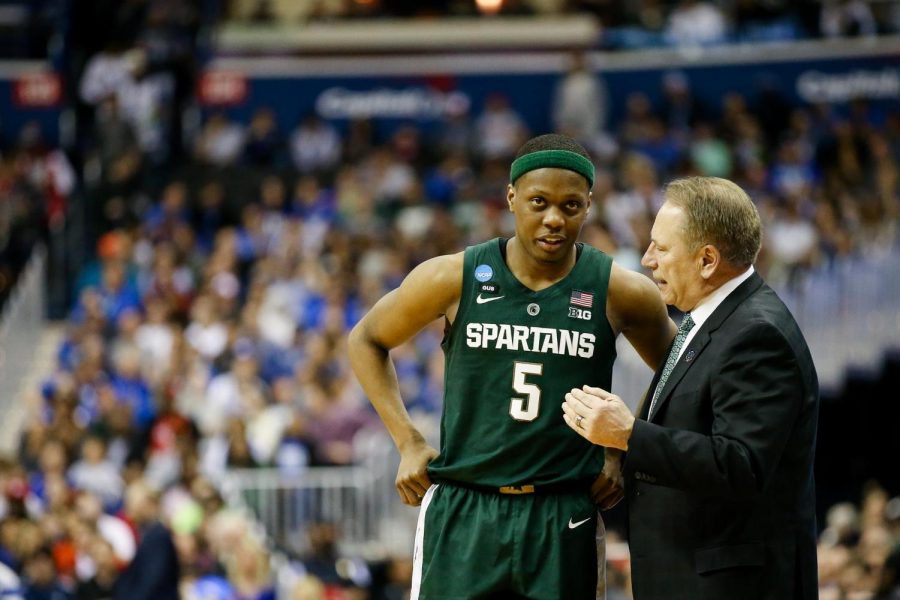 EVANSTON, Ill. – The Spartans played their first road game of Big Ten play Wednesday night, taking on Northwestern in a battle to stay the last unbeaten team in the conference. Though the Wildcats hung around, MSU outlasted several second half runs to win 77-72.
The Spartans were led by senior guard Cassius Winston, who had 21 points and 6 assists. Junior center Xavier Tillman had 15 points and 10 rebounds, while sophomore wing Gabe Brown had his first career double-double with 11 points and 10 rebounds.
"Cassius was unbelievable early, in the middle, some in the late," said head coach Tom Izzo. 
Freshman guard Boo Buie was the spark for Northwestern, and a big reason the Wildcats stayed in the game until the final minute. Coming off the bench to spell starter Pat Spencer, Buie got hot in the second half, putting up 21 points, many off of spectacular deep threes.
But what defined this game for the Spartans was their sloppiness with the ball. They committed 16 turnovers to Northwestern's 8, which led to 24 points for the Wildcats. Though MSU was more efficient scoring, those easy points kept Northwestern in the game long after it should have been over.
Izzo was disappointed in the amount of points the Spartans allowed off those turnovers..
"24 points off turnovers…you're not gonna be any good if you keep doing that," he said.
There were spots of good play in the first half. MSU opened the game on an 8-0 run. Winston opened the game with two crisp threes, the second of which was considerably behind the line. On the next play, Marcus Bingham, Jr. caught a pass under the basket and was fouled, making both free throws.
MSU's shot the ball significantly better  Wednesday, a point of concern for the coaching staff going into the game. After a team-wide shooting slump from beyond the arc, the Spartans shot 43% from deep. Gabe Brown was a highlight, going 3-for-4 from deep after missing all five attempts against Oakland last Saturday.
"We finally shot pretty well from the field…if you take out [Aaron Henry's] 1-for-9, we would've shot 50 percent," said Izzo.
Henry has had an inconsistent start to the season, and Wednesday was a down night for him. He finished with three points and three fouls to go with six turnovers. Early in the second half, he was called for travelling, committed two fouls, and lost the ball in the paint within a two-minute span. 
Izzo stated that he was "glad [Henry] was down on himself so I didn't have to be down on him.
He also highlighted what Henry did right.
"He rebounded the ball and he defended very well."
The Spartans travel back home to take on Eastern Michigan on Saturday at 6 p.m.
Contact Ian Drummond at [email protected] Follow him on Twitter at @idrumma.