'It was time to grow up': Victoria Gaines stepping up in her final year
EAST LANSING  — When one door closes another opens. For a team that has enough experience in the backcourt to spare, it is the depth and development of the young frontcourt that may ultimately determine the overall success of the 2019 Michigan State Spartans. 
The trio of Nia Clouden, Shay Colley and Tarryn McCutcheon will continue to give rival coaches nightmares when trying to gameplan. 
If Nia Hollie and fifth year senior Victoria "Coco" Gaines are adequately able to fill the void left by Jenna Allen, then this season could be one for the ages and for the entire Michigan State community. 
Amongst the hype of a highly ranked recruiting class and media outlets projecting the Spartans to exceed their season success last season, it has been Victoria Gaines who has flown under the radar. 
After being benched from the starting lineup last season but always providing that same stellar interior defense, Gaines remains one of the solemn leaders of this team.
She has not received the attention and observation of the media like her star studded teammates. 
But for someone who prides themselves on being the consummate professional, this development does not bother her in the least. 
When asked to describe her playing style in one word, Gaines described herself as simply a "Giver."
"I'm definitely a giver I think about assists more than points to be honest and that sometimes hurts me," said Gaines. "Because if I am open I don't really shoot. I have to correlate the giving part of me with being aggressive."
If you had to encompass all the values that a captain must be equipped with the ability to put the team before yourself is high on the list.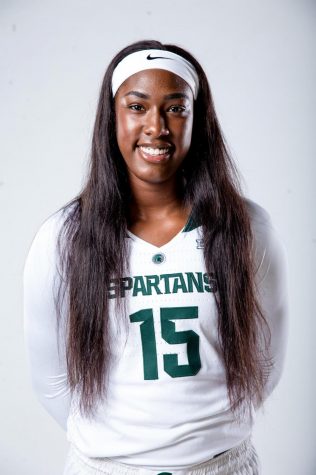 Egos and personal agendas often get in the way of this admirable trait, but throughout the course of the offseason, Gaines has emulated how a captain should act and behave.
"Honestly, I'd rather see my teammates be happy and see them play to their best ability," said Gaines.If I have an extra pass to give to them,I would love to see them get going, because that gets me going."
The struggles of "Coco" from the charity stripe last season have weighed on her heavily and as a captain, she has taken it upon herself to lead by example and fix a flaw that often caused her to be benched in crunch time last season. 
For someone who expects to be excellent in every facet of the game, 51 percent from the line was not acceptable for the Merrillville, Indiana native and she was determined to rectify that issue to improve her overall game.
"I've been working on my free throws, because they've been terrible since ive been here. Everyday after practice, I get up about fifty free throws," said Gaines. "
I try to make thirty in a row, which is my goal. Right now, im just focusing on free throws and finishing around the rim. Layups are going to win us games."
Replacing someone like Jenna Allen extends far beyond her 12.5 points per game and 6.5 rebounds a game that she averaged last season. She was an integral part in helping the Spartans jumped out to a 13-1 start.
The overall healthy locker room culture that she worked to protect and maintain presents a challenge that arguably will take more effort and exertion than any on the field product. 
After all, Jenna Allen served as a human embodiment for the values that the MSU basketball program was built on. 
However, head coach Suzy Merchant explained how Gaines has learned from Allen and is ready to take on a leadership role of her own.
"Coco is the best, because she can play a three, four or five," said Merchant. "Whatever we need her to do, she is going to do and that's what I love about Coco."
Oftentimes, it is the unseen injury that can derail the promising and potential laden careers of young athletes. 
The media often only can see the surface of what an athlete may be going through in their personal and academic lives. 
Gaines, who is no exception to this trend, received praise from her coach for the grittiness and willingness to fight through things that may have gone unseen and uncovered last season.
Tarryn McCutcheon talks about stepping into a leadership and mentor role as MSU welcomes in five freshman. @WDBMSports pic.twitter.com/8RIL6YJtUf

— Nathan Stearns (@NathanStearns11) October 28, 2019
Leading by example, checkm, working and not whining, check, emulating the values of a program that prides itself in execution, toughness and conditioning, check. 
Who better to mentor the young talent than someone who herself had help from those above her? Every step of the way, Gaines has shown why she was named a captain by her teammates. 
When asked about her response to being named a captain, "grow up" was the first thing that came to her mind.
"It was time to grow up," said Gaines. "Being a captain comes with responsibility and that means growing up and leading by example. Things I would've gotten away with when I was younger, I can't get away with now, because the freshmen and sophomores under me are looking at me. I have to be on my A-game."
Not many college coaches would bring in Navy Seal instructors to help with team bonding and chemistry.
While unorthodox, things like this have greatly instilled a familial environment within the Michigan State locker room. 
Leaders like Gaines know that in order to be successful and reach the heights that they are capable of, trust and respect must be at the forefront of everything that this team does.
"This year we tried to focus on building each other up and team bonding, so that is correlates on the court," said Gaines. "Going into the season, me and Taryn and Shay (the captains) really wanted to trust each other. We talked to coach about it and she was all for it."
As previously stated, when you are taking the court with a backcourt that features a preseason All-Big Ten selection and two honorable mention players, it is easy to get swept under the rug and categorized as a role player.
Perhaps Gains will change the narrative to reflect a balanced team that has a fifth year senior leader who everyone says is doing more than she is given credit for.
Perhaps, Victoria Gaines is more valuable than anyone on this team. To quote Suzy Merchant:
 "She's battled so many injuries and endures things every single day that you guys have no idea about," said Merchant. "In fact, she is still running up and down the floor with what she has to deal with. I know it is something that as coaches, we genuinely appreciate and respect her for."
You can follow Nathan Stearns on twitter @NathanStearns11 and contact him at [email protected]