Lewerke steps up big in homecoming victory over Indiana
Trent Balley, Men's Basketball Beat Reporter
September 28, 2019
EAST LANSING, Mich. – For the entire 2019 Michigan State Football season, the Spartans' identity has been defense. This has even primarily held true for most of Mark Dantonio's career in East Lansing.
On Saturday, the Spartans turned the tables on us.
With the otherwise elite defense turning in a less than characteristic performance. And the most outstanding offensive player was none other than quarterback Brian Lewerke. Go figure.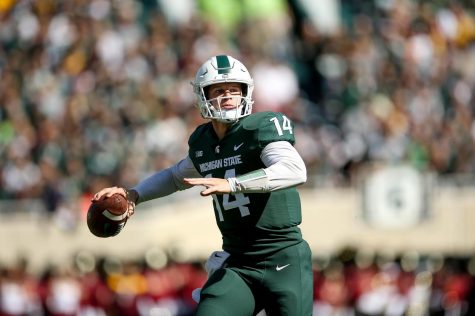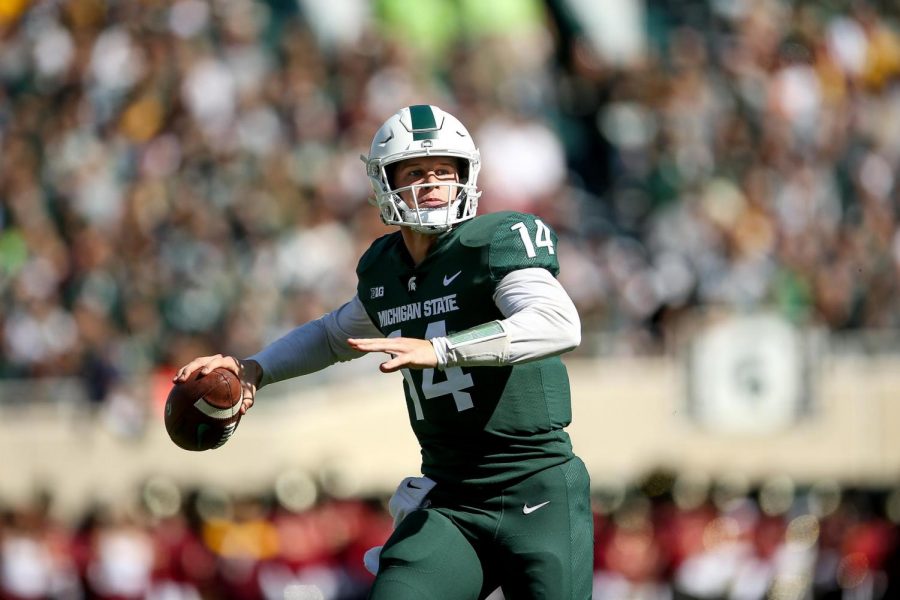 Don't look now, but Lewerke might finally be back in full swing following an injury-riddled 2018 season. That could be jumping the gun, but the senior played his best game since 2017 on Saturday against an Indiana Hoosiers team that entered Spartan Stadium with a 3-1 record. 
Lewerke threw for exactly 300 yards and three touchdowns, paired with 78 rushing yards, including an average of 6.5 yards per carry. The other big x-factor was zero interceptions.
The contest opened up with a missed field goal from Spartans' kicker Matt Coghlin, who's been mysteriously inconsistent as of late. But from that point on, the Michigan State offense stepped up and kept it rolling enough to pull out a homecoming win.
However, as always in NCAA football, nothing was given. Lewerke had to make his fair share of clutch plays en route to victory.
"He played outstanding," said Dantonio of his quarterback. "He made all the plays he needed to make in a football game."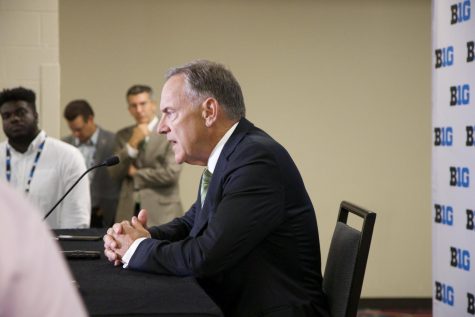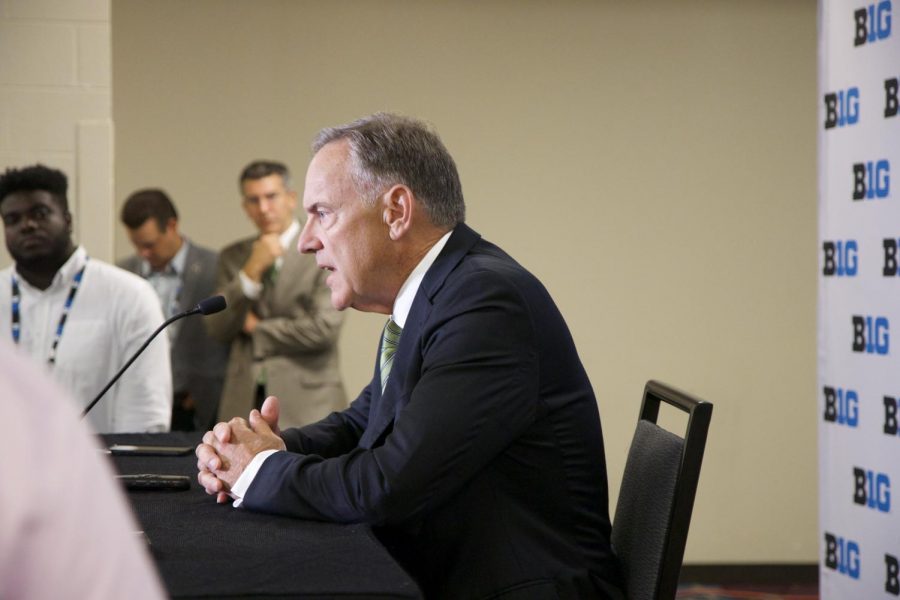 With just over 12 minutes remaining in the fourth quarter, Lewerke led the Spartans on a quick two-play, 20-second touchdown drive, finding tight end Matt Seybert for his third touchdown grab in the last two games. The drive gave Michigan State a 28-24 lead.
Later, with the game tied at 31 apiece and 1:41 left to play, Lewerke completed a 44-yard pass on the run to Darrell Stewart, who finished with five catches for 117 yards and a pair of touchdowns. In his postgame press conference, Lewerke was complimentary of his weapon.
"I trusted Darrell," Lewerke said. "I knew that even if it was a little underthrown, he'd go up and get it."
After the pass to Stewart, Lewerke scrambled for a 30-yard run and wisely slowed himself down in order to not score too quickly. It's a risky idea, but with just over a minute left to play, it proved to be the right one, as the Spartans kneeled a few times before letting Coghlin nail the go-ahead field goal with five seconds to play.
With that being said, Lewerke helped win this game with his arm, his legs and his football IQ. Dantonio and the thousands of Spartan alumni who came to celebrate homecoming can't ask much more of their quarterback. Then again, as a senior, it should be expected.
Aside from the win, Lewerke also found his way into the record books.
The rough 2018 season perhaps masked Lewerke's breakout 2017 season, but with Saturday's performance, he joined Drew Stanton as the only Michigan State quarterbacks in program history to throw for 6,000 yards and rush for 1,000 yards in their college careers.
"I'm pretty good friends with Drew," Lewerke said with a smile. "It's cool to be able to join him… definitely an honor to be able to be in that club."
Dantonio will take the conference win and look ahead to Ohio State next week. Lewerke was excellent on Saturday, but it's going to take much more than quarterback heroics to defeat an undefeated Ohio State team in its home stadium. The Spartans should aim to keep their offensive intensity up and hope to reconcile their defensive identity in the same stroke.
Contact Trent Balley at [email protected] Follow him on Twitter at @tbal91.