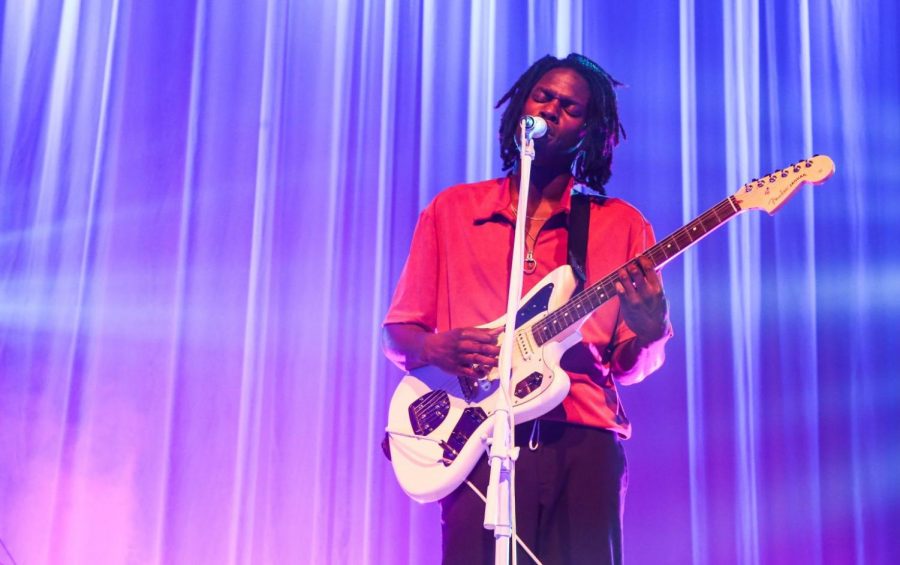 It has not been a good year for Daniel Caesar. 
The Canadian soul and R&B artist was scrutinized recently for comments he made defending YesJulz, a controversial online figure and personal friend of his, who made racist and offensive comments in a freestyle video. Coming to her defense (a bit drunkenly), Caesar asked why everyone was "being so mean to white people," minimizing her comments and calling black people overly sensitive. While he later apologized for the way in which he made these comments, he never seemed remorseful for the comments themselves. In any case, Caesar desperately needed to explain himself.
With the arrival of CASE STUDY 01, Caesar attempts to do exactly that. With a diverse palette of vocals and instrumentation, his second studio album stands in large contrast to his more minimalist debut Freudian. It has quite the guestlist, too, with Brandy, Pharrell Williams, John Mayer, Sean Leon and Jacob Collier all making appearances. While it might never receive the critical acclaim of his debut, CASE STUDY 01 is an admittedly enjoyable album from this young artist.
I'd like to discuss "TOO DEEP TO TURN BACK", a slow ballad that appears later in the album. It's not as catchy as, say, "ENTROPY" or "FRONTAL LOBE MUZIK", but it does tie together the themes expressed there, too. The topic of religion is at the forefront in this track, as Caesar questions his faith and the practice of worship.
Describing his personal struggles, he raps, "I've slept like Jacob, a rock for a pillow / Run swift like Elijah, away from the middle." Despite his qualms with religion, Caesar feels a kinship with these Biblical figures who have overcome similar hardships. This idea is obvious in the chorus, when he and Arianna Reid sing, "Submit to me, come get down on one knee / I'm your savior and I'll give you everything that you need." Is this Caesar or God talking? Maybe it doesn't matter, or maybe it's both; the distinction between the two becomes increasingly blurred.
This seems to allude to his recent controversy, as well. When he says, "Oh Lord Jehovah, what's this I see? / Bourgeoise tryna silence me," I can't help but feel that this is directed towards those in the music community who criticized him for his opinions.
This defiance becomes increasingly grandiose: "Follow me to salvation / Your mind still 'pon plantations / The shepherd, holds information / Gives it out as it's taken." Beyond the biblical metaphors, these lines are reminiscent of the arguments being made by conservative commentators like Candace Owens (who Caesar is apparently fond of), which is that African-Americans are mentally enslaved by the Democratic elite who seek to control how they think and how they vote. In 2017, for example, she posted a YouTube video called, "How to Escape the Democratic Plantation (an easy guide)." Another well-known propagator of these beliefs is, of course, Kanye West, who infamously claimed on TMZ that slavery sounded like a choice. Whether or not Caesar is explicitly making these kind of political statements, it's clear that he feels he knows something that certain people don't.
So what can we make of "TOO DEEP TO TURN BACK"? If anything, it's that Caesar feels confident as a man but is deeply conflicted with his worship. Maybe it's bigger than religion; maybe he has been praising the wrong people or maybe he wants to be praised by others. The latter possibility feels most correct after listening to the entirety of CASE STUDY 01: a melodic, maximalist project made by an artist who's eager to showcase his talent. Wherever he goes next, there's no turning back.
Featured image by Robin L. Marshall/Getty Images; retrieved from Cassius.