Dandron: Former MSU running back LJ Scott steps away from NFL, but why?
After being signed by Browns early this week, Ohio native absent from OTAs
Sometimes potential goes untapped in high school, rarely does it go that way in college and even rarer it goes untapped in the professional rank of a sport like football.
Few times – although it has happened – have athletes with the capabilities that we have seen from LJ Scott in the past, decided to not pursue an opportunity to play in the NFL.
That's exactly what Scott did.
"There was some excitement, it was the lead story in the all the sportscasts and local newspapers here," said Dana Balash, Sports Director at WFMJ-TV in Youngstown, Ohio in a phone interview on Friday. "Then find out late Wednesday afternoon he didn't come to practice, to my understanding he wasn't there and the playbook and iPad were there and that shocked me."
Balash broke the news that Scott had stepped away from the game for the time being in a tweet on Wednesday night. He also had watched Scott play at local Hubbard High until his departure for MSU.
The news broke out of Youngstown that Scott would be leaving the Cleveland Browns only two days after being signed as an undrafted free agent on Monday.
Scott, a four-star recruit out of Hubbard High School in Youngstown, Ohio, was one of the best recruits Mark Dantonio has brought to MSU during his tenure. This was proven after a freshman year in which Scott rushed for 699 yards on the ground and 11 touchdowns.
The famous stretch over the goal line against Iowa in the Big Ten title game that year is what much Spartan faithful think of when you look back at LJ Scott's career.
"This past Monday he sign's with the browns, there was some excitement," said Balash. "You go from a high of him signing especially a local guy, Cleveland is only an hour from Youngstown, to only 48 hours later finding basically he quit football."
We've signed RB L.J. Scott

Details » https://t.co/mHRkEj1uJd pic.twitter.com/qgC0894mm6

— Cleveland Browns (@Browns) May 13, 2019
The Browns announced Thursday that they would be signing running back D'Ernest Johnson and waiving the former MSU star in a subsequent move.
We've signed RB D'Ernest Johnson

Details » https://t.co/efiz6VixGS pic.twitter.com/Jqq5V5owRb

— Cleveland Browns (@Browns) May 16, 2019
Much of what Scott did at MSU after that first year was washed away as the team only won three games in his second season, a year in which the power back ran for 994 rushing yards and eight touchdowns.
The drop off after those first two years was immense and can be blamed on health issues. Yet, it often seemed as though the star back seemed disinterested and ready for the "next level" of football.
The news, albeit surprising, to say the least after the interest Scott garnered following the draft, wasn't so surprising to some. The former Hubbard High School graduate out of Youngstown played the most physical position on the football field. While he has stepped away from the game for now, it is said that he may look into the NFL once again after he clears waivers.
Scott was also arrested at one time and was cited for driving without a license multiple times. This event led to the start of a GoFundMe campaign by some MSU students to buy the running back a bicycle.
I'm not saying that those things point to why he left the NFL. The league is becoming ever more scrutinized due to the rise in CTE studies and concerns, but still, the drop off in production over his four years was surprising to say the least.
Scott rushed for 264 yards on 79 carries in his final year in green and white after mortgaging much of the year to rehabbing an ankle injury that kept him out of the senior bowl.
Scott finished No. 9 all-time at Michigan State in total rushing yards with 2,855 and 12th all-time in rushing scores with 27. Nearly half of those came in his first year.
We are reminded of one Ohio State player, Maurice Clarett. Who came out of Warren G. Harding in Warren, Ohio (he was born in Youngstown) and was eventually dismissed from Ohio State after a tumultuous tenure at the school.
ESPN did a 30-for-30 on Clarett titled "Youngstown Boys" that shined a light on the tough upbringing in the area he grew up in, along with the immense pressure to go to the league that is put on many young athletes in our country.
Clarett was a star back in his freshman season in Columbus, leading the Buckeyes to a national championship in 2003 and in rushing yards that season. That's something that only a handful of players have done.
Growing up cheering for Ohio State, I was reminded of that film and the athlete so many looked up to.
Scott is in no way the same off-field train wreck Clarett was at one time – Clarett even spent time in prison – but the choice he has made to step away from the game was something I found less surprising than some.
It was strange that a player so talented, with such a physical and bruising running style, would leave the game in this way. But maybe it isn't with the physical demands his position commands, especially with the injury issues in college.
Without even playing a snap of preseason ball, let alone actual regular season action.
But the decision, still shocking, just makes me think about Clarett. Whose well-publicized personal life deeply overshadows his successes on the field.
MSU and Youngstown, Ohio, would hate to see that happen once again with another young athlete. It has the feel that Scott will step away from the game for good, although there are reports that state he is mulling his NFL future.
Scott, who left MSU on a much different note than when he arrived, has to hope that his NFL path doesn't go the same way.
"Most important I just hope LJ is OK," said Balash. "It doesn't make sense that he would quit football for something he worked so hard for. It just doesn't make sense to me."
You can follow Joe Dandron on twitter @JosephDandronMI or email him at [email protected]
About the Writer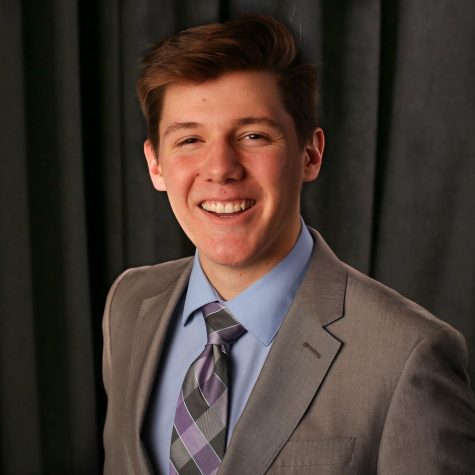 Joe Dandron, Station Manager
Joe is a junior journalism student from Montague, Michigan. Joe serves as the Station Manager for Impact 89FM after spending his sophomore and junior year as Sports Director. Joe covers primarily MSU football, cross country and track and field but fills in covering men's and women's basketball. Joe also broadcasts these sports and has a degree focus in writing, editing, and reporting.  Joe currently works at the Lansing State Journal as a news assistant covering prep sports in the Lansing area and...