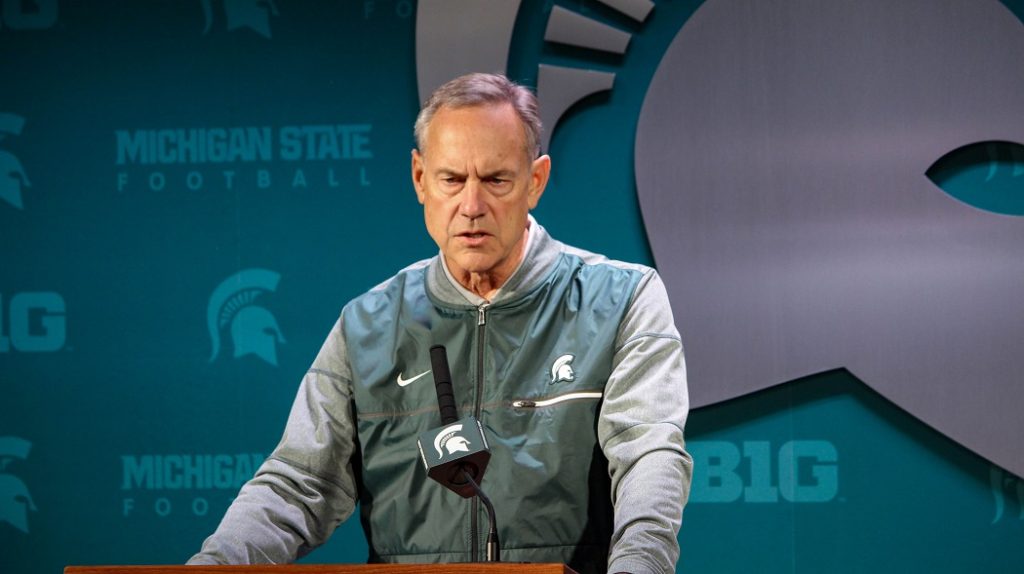 By Sam Britten
EAST LANSING, Mich. — Emotions were in the air at Spartan Stadium as another class of seniors has come and gone from Michigan State. The Spartans (6-5, 4-4) hosted the Rutgers Scarlet Knights (1-10, 0-8) on a rainy 48-degree day. Not much was on the line for either team after Michigan State lost three of their last five, and Rutgers became ineligible for a bowl game after a Week 8 loss against Northwestern.
After both teams went three and out to start the game, Michigan State went with a gutsy decision. Handing off to Connor Heyward on fourth-and-1 from their own 35-yard line, the Rutgers defense made a big stand and pushed Heyward back two yards. Five plays later, quarterback Giovanni Rescigno hit tight end Travis Vokolek at the goal line and Vokolek did the rest. Rutgers took an early 7-0 lead.
After a pair of unsuccessful drives, the Spartan defense again stood strong allowing the offense to take the field from their own 19. Michigan State's offense looked effective for the first time since their win at Maryland, marching down the field with easy five to 7 yard gains. After effective playmaking by Rocky Lombardi, he was able to find tight end Matt Sokol in the end zone to tie the game with 7:04 left in the second quarter.
Michigan State again had to punt around midfield when they got a big break. Safety Xavier Henderson scooped up the punt after the officials reviewed the play to determine a Scarlet Knight had touched the ball.
Michigan State was forced to settle for a field goal until kicker Matt Coghlin stuttered before he was going to kick the ball, and holder Brian Lewerke picked up the ball and heaved it in the end zone. Lewerke was intercepted by Trevor Morris, and the ball was returned to the Rutgers 35. Rutgers would run the clock out to end the half.
Michigan State walked off at halftime with a lackluster 179 yards. Despite a poor offensive showing, Michigan State's defense did what they do best, only allowing 85 total yards of offense, 43 of which were rushing.
Michigan State started their first drive after halftime looking strong. Simple, effective passes from Lombardi continued to move the ball downfield and advance the drive for the Spartans. The drive ended after a Rutgers interception.
Just one play later, Josiah Scott intercepted a pass made by tailback Isaih Pacheco and returned the ball to the Rutgers 34.
Has it been mentioned how important defense has been in this game? Just 347 yards of total offense in this game, and the score was still tied after three quarters.
After Rutgers returned a punt to the Michigan State 25, it was clear that the inevitable was becoming a possibility in East Lansing. The struggling Rutgers offense did just enough to get their kicker, Justin Davidovicz, some extra yardage. Words were spoken by announcers that gave many Spartan fans chills.
"The field goal is good!"
Rutgers led Michigan State 10-7 with 7:52 left to play in regulation. A team that was primed to be Big Ten East champions was being beaten by a team that had yet to beat a Power Five school.
Fortunately for Michigan State, they have Cody White. On the fourth play of the drive, Michigan State went to old reliable and ran a jet sweep with linemen leading the way for wide receiver Cody White.
White went untouched to score a 22-yard rushing touchdown, the first of his career.
Rescigno started the ensuing drive with two 20-yard-plus plays, putting the Scarlet Knights in MSU territory. A few failed runs and an incomplete pass led the Knights facing another potential defeat for the eleventh straight time. Rescigno scrambled in the pocket looking for an open receiver, but he found the wrong colored jersey. Scott came up big-time for Michigan State one more time and intercepted Rescigno for a second time, ending any threat of a comeback. Michigan State ran out the clock and moved on to 7-5 on the season.
Michigan State finishes a regular season most would consider disappointing with a 7-5 record, 5-4 in the Big Ten. They will find out what bowl they are selected to after the conference championships are played. Spartan football will return home on Aug. 31, 2019 when they play the Tulsa Hurricanes for the first game of the 2019 season.