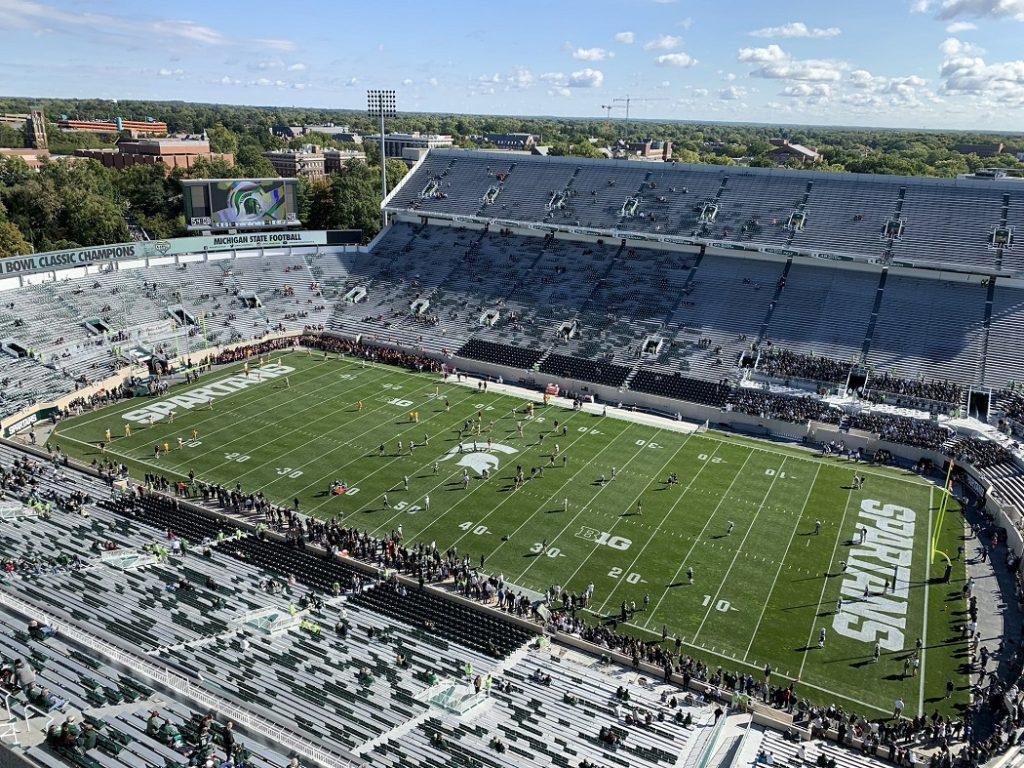 EAST LANSING, Mich. — It was business as usual for Michigan State for three quarters in their final nonconference game of the regular season, as the Spartans trailed just once against Central Michigan. The final score was 31-20 in favor of MSU, who moved to 3-1 heading into Big Ten play. The optics of the game make for pretty easy reading, but that isn't to say that it was a faultless day for Michigan State.
After a dreadful first quarter that saw the MSU offense sputter its way to two punts and a Brian Lewerke interception, there was hope in the middle quarters. Lewerke scored his first two rushing touchdowns of the year in the second quarter, the first a quarterback keeper around the right side for a 3-yard score following a David Dowell interception.
MSU extended their lead via Lewerke at the end of the second quarter, as his scramble on third down ended with a dive across the goal line. The 5-yard touchdown matched Lewerke's single-game high from 2017, where he scored a pair of rushing touchdowns against Western Michigan.
Central Michigan's offense was unable to do much of anything for large stretches against a stout Michigan State defense. After CMU took the lead on the first drive of the game, the Chippewas didn't cross midfield again until the third quarter.
A Matt Coghlin field goal capped off a 17-point second quarter for MSU, who entered the half up 17-3 – but not without some hiccups here and there. The offensive line mixed and matched all game, and LJ Scott was held out of Saturday's contest – perhaps to improve his health ahead of Northwestern, Penn State and Michigan in the coming weeks. Lewerke finished the day 16 for 25 passing with 185 yards and one interception.
Three running backs saw time for MSU, but it was the best performance of freshman La'Darius Jefferson's young career. The Muskegon, Mich. freshmen ran 13 times for 56 yards and his first career touchdown, a 2-yard score in the third quarter that made the score 31-3. Connor Heyward added 48 yards on 15 carries and a touchdown of his own, and Weston Bridges' first six carries of the year went for 18 yards.
CMU added a pair of late touchdowns and a field goal, but MSU was able to run the clock down for their second home win of the year. Their next game is next Saturday in Spartan Stadium, as MSU hosts Northwestern in the university's homecoming game. Kickoff is scheduled for noon.
This post will be further updated.