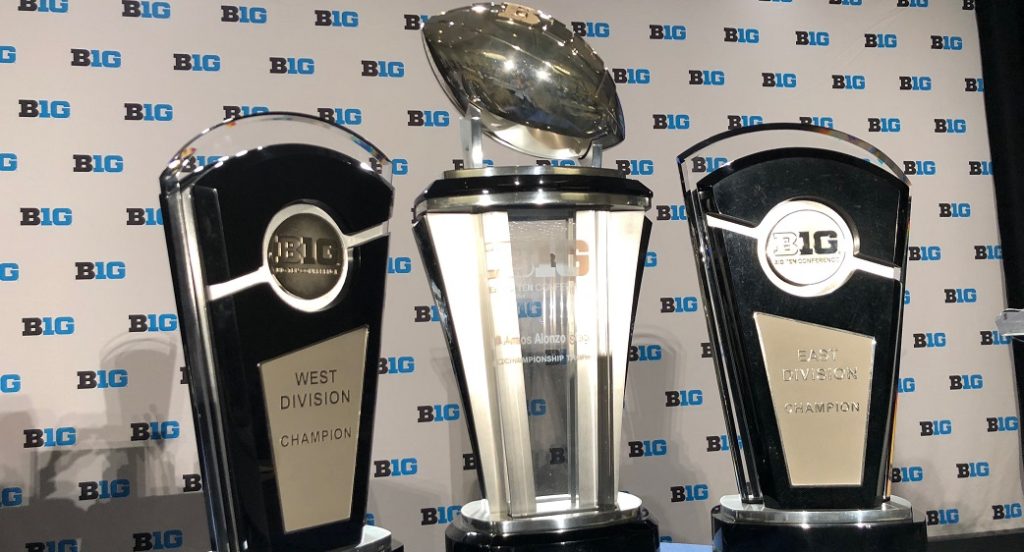 CHICAGO — Some of the biggest personalities and storylines in the entire Big Ten were on display Monday at day one of Big Ten Media Days. 28 coaches and players faced questions from the conference's reporters, and WDBM was the only student radio station to broadcast live on-site from the Chicago Downtown Marriott. Here's what our reporters found out from Monday's availability.
Michigan (8-5 overall, 5-4 Big Ten, 4th in East)
Jim Harbaugh was the only coach on Monday to look more prepared for the sideline than the podium, as the Wolverine head coach was dressed in his trademark hat and khakis. The questions started out hot, as the fourth-year Michigan coach was asked about his record against rivals Michigan State and Ohio State.
"We need to improve," Harbaugh said when asked how much he hears about the 1-5 record against the pair. "And that will lead to success. It will lead to championships. It's that simple."
On WDBM Sports' first live broadcast on Monday morning, running back Karan Higdon had plenty of praise for both sides of the ball.
"You get into a game and everything's slower," Higdon said when asked about facing Rashan Gary and company in practice. "Going against the best each and every day only makes you the best."
For more on Harbaugh's appearance at Media Days, read Joey Ellis's look at the pressures Michigan's head coach will face in 2018.
Kyle Turk (@KyleTurk5)
More from Media Days: Jim Delany: "I don't expect changes" to divisions
Minnesota (5-7 overall, 2-7 Big Ten, 6th in West)
P.J Fleck showed up styling in his sports coat and pocket square excited to get the Golden Gophers' season started. Fleck opened talking about how young his football team and the importance to play beyond their age.
"Our whole model for this year is race to maturity. We define [it] as when doing what you have to do becomes doing what you want to do."
Fleck talked about his takeaways from his first season in Minneapolis.
"Year one is all about learning. Everything is new, no matter what. Everything is new. And year two, you start to master that."
It should be interesting the adjustments the Golden Gophers make as they go into the season hoping to make their first bowl under P.J. Fleck.
Ryan Collins (@RyanCollins524)
Nebraska (4-8 overall, 3-6 Big Ten, 5th in West)
Scott Frost was the only new coach at Media Days, and stole the show in his . Frost talked about the opportunity to take over at his alma mater.
"Nebraska, historically, belongs in the upper echelon of college football. Hasn't really been accomplishing things to that degree for a while. Certainly not to the degree that the people in Nebraska and the people of the university want it to. I'm just excited to start the process of getting Nebraska back where it belongs."
The former Cornhusker quarterback wants to include his former coach Tom Osborne into his program and bring back the traditions Osborne brought to the Cornhuskers.
"I look forward to bouncing ideas off of him and getting advice from him wherever I can." Frost seemed confident that Nebraska will be a contender once his rebuild is complete, "People better get us now."
Lincoln should be buzzing when Frost makes his way out of the tunnel in Memorial Stadium on Aug. 1. For more on Frost's appearance at Media Days, read Collins' feature on the first-year coach.
Ryan Collins
Northwestern (10-3 overall, 7-2 Big Ten, 2nd in West)
Northwestern ended 2017 as one of five teams in the conference with double-digit wins. After starting 2-3, the Wildcats finished the season on the shoulders of Clayton Thorson — which is where the question marks now lie as the fall inches closer. Thorson remains optimistic to return for the start of the season after tearing his ACL in the Music City Bowl.
"I'm feeling like myself again," Thorson said. "Doctors said after three or four months you're going to feel like yourself and we're going to have to hold you back. And that's what I've experienced."
Regardless if Thorson is 100 percent come August, Northwestern coach Pat Fitzgerald enters his 13th season with his focus set for Aug. 30 traveling to Purdue.
"Goals for the opening game is to find a way to win. I've been doing this long enough to keep it simple."
At an institution known for its academics, Fitzgerald has gone 27-12 in the past three seasons and made winning on Saturdays in Evanston an expectation rather than a hope.
Zach Swiecicki (@zachswies)
Penn State (11-2 overall, 7-2 Big Ten, 3rd in East)
Quarterback Trace McSorley comes into 2018 with the second-most passing yards in school history, and was named a unanimous Big Ten preseason honoree, the only player in the conference to earn that distinguishment. While the senior loses his backfield partner and No. 2 NFL draft pick Saquon Barkley, the increased spotlight hasn't fazed him or head coach James Franklin.
"I want Trace involved as much as we possibly can. He and [new offensive coordinator] Ricky Rahne have a tremendous relationship."
How McSorley and Rahne can pick apart opposing defenses is burning an issue as a new-look defense will be. Franklin must replace his entire secondary as well as last year's leading tackler, linebacker Jason Cabinda.
"There's a lot of talk about us losing our secondary that all had opportunities at the NFL. But we have played so many guys in the secondary that a guy like Amani Oruwariye, last year finished second team All-Big Ten, had four interceptions, is stepping into a starting role for us. John Reid, who was a starter for us the year before, is coming back from an injury. We're excited about what he'll be able to do as well. "
Kyle Turk
Purdue (7-6 overall, 4-5 Big Ten, 4th in West)
Jeff Brohm and co. are coming off a total success in his debut season in West Lafayette. They used an emphatic bowl win over Arizona to springboard them on a high note into the 2018 season. In an unorthodox move, Brohm sent quarterbacks Elijah Sindelar and David Blough to Chicago for Big Ten Media Days.
"We're going to let the quarterback position play out. It's hard to say at this point. At this point I'm not opposed to playing two guys if we feel it's a close competition, they can bring value to the team. If one guy emerges, I'm okay. I do think both young men have improved."
Stud linebacker Markus Bailey and defensive tackle Lorenzo Neal should form a formidable returning nucleus, but Brohm will have to find ways to replace production without 10 of its double-digit tackles from a season ago. Hoping for a healthy quarterback situation, the Boilermakers should be a much improved team in 2018 that could very well hit eight or nine years in Brohm's sophomore season.
Joey Ellis (@jellis1016)
Rutgers (4-8 overall, 3-6 Big Ten, 5th in East)
Year three should give Chris Ash and his Scarlet Knights the best chance at boasting a tough, competitive ball club. Ash should have his most talented team since he's been in Piscataway, with a solid running back nucleus in Raheem Blackshear and Boston College grad transfer Jon Hilliman. Hilliman and Blackshear should have great success running behind a primarily veteran offensive line.
"We've got great leadership. We've got a good senior class. Like I mentioned, it's not big in numbers but it's very good in quality, and they provided some outstanding leadership for our football team here this offseason."
After combining for 222 tackles last year, linebackers Trevor Morris and Deonte Roberts return as the team's most productive unit in 2018. If the passing game, which was abysmal last season, can take a significant step forward, Ash should have a talented team that'll battle opponents week in and week out. They're not in the same ballpark as the "Big Four" in the Big Ten East, but they could very well replicate another fifth-place finish in the division, which is progress for Ash and the Scarlet Knights.
Joey Ellis