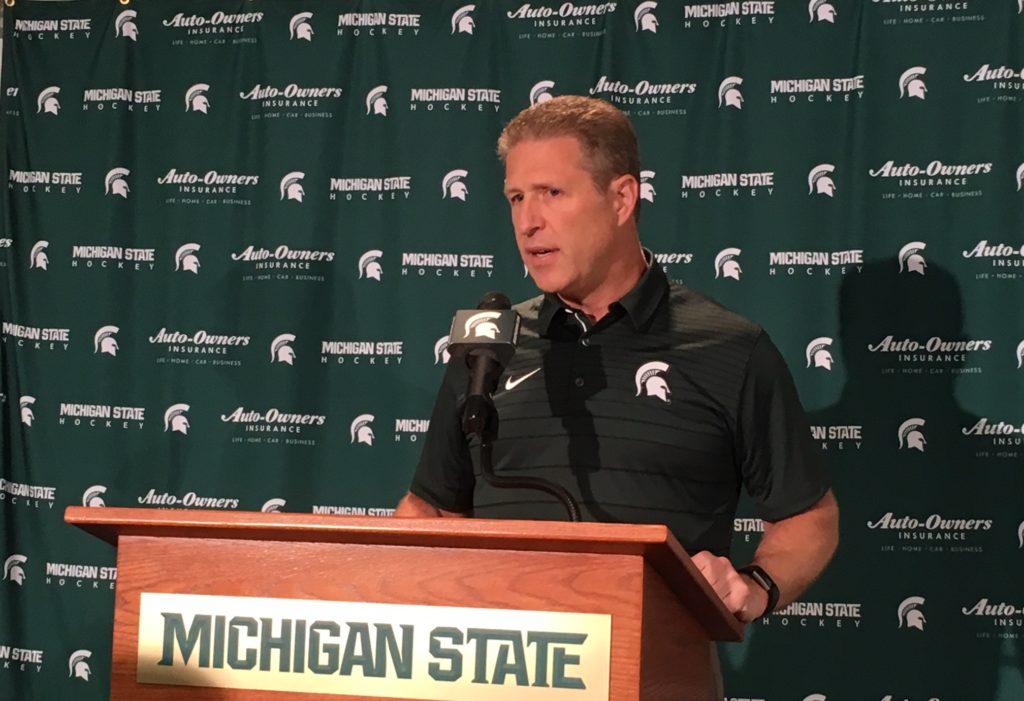 EAST LANSING, Mich. — Danton Cole and the Michigan State hockey team are on a recruiting roll.
In less than 24 hours, Cole has managed to flip three players from some of college hockey's traditional powerhouses to play in East Lansing. The commit spree started on Wednesday when news broke that Cole and Christian Krygier, two defenseman from Novi, Michigan had decided to decommit from the University of Wisconsin and commit to Michigan State. They are the younger brothers of Brock Krygier, a defenseman who played for the Spartans from 2012-2015.
Cole's streak continued on Thursday with the announcement that Adam Goodsir of Okemos, Michigan had committed to MSU. Goodsir, a 6'2", 181-pound forward, was at one time committed to Denver University.
The Krygier twins were originally supposed to enroll at UW next year, but a log-jam of players at the defensive position and academic issues changed their mind.
"The boys felt like they wanted to get into a better position where they might have more opportunity to earn playing time elsewhere than not play at all for most of the first year," Todd Krygier, the twins' father, told the Wisconsin State Journal.
By all indications, the Krygiers will be on campus next fall and will push for immediate playing time on MSU's blueline.
Both twins are 6-foot-2 and 188 pounds. As defensemen, they are more stay-at-home in nature. Cole has only managed 17 points (3 goals, 14 assists) with the Tri-City Storm this season and Christian has managed eight assists on the year so far. That being said, both are in double digits in terms of plus-minus which speaks to their skill on the defensive side of the puck.
Both Cole and Christian have decent pedigrees, being ranked 149th and 216th respectively among North American skaters in the latest NHL Central Scouting list. It stands to reason that at least one or both of the twins may get drafted in the later stages of this year's National Hockey League draft.
In terms of what both can bring to the MSU defensive corps, the answer is simple: depth.
Last year, Michigan State had just one stand out defensive pair in freshman Tommy Miller and senior Carson Gatt. The addition of the Krygier twins, along with offensive-defenseman Dennis Cesana, will allow the Spartan blue line to take a big step forward next season on defense.
Adam Goodsir is a prospect that, should he come to East Lansing next year, would add some much needed depth to Michigan State's offense.
Goodsir is a native to the area around Lansing, having grown up in Okemos and played with the Lansing Capitals and the Oakland Junior Grizzlies before moving on to the North American Hockey League and eventually the United States Hockey League.
Goodsir finished his second season in the USHL this year as the captain of the Tri-City Storm. He had 12 goals and eight assists this season, which was good for eighth in scoring among the Storm. While not necessarily an offensive dynamo, Goodsir can certainly provide much needed depth and experience to MSU's forwards, and with his size and skill could even push for second line minutes as a freshman.
Overall, the three latest recruits by Cole and the Spartans are an upgrade at positions of need. With question marks on both offense and defense behind the top line, the biggest objective for MSU in this class was to add depth and upgrade the positions in terms of size, skill, and speed.
By all accounts, they have done just that.
Assuming that all three players committed this week come to MSU next year, let's take a look at the prospective recruits coming in next season along with their 2017-18 regular season stats.
Forwards:
Wojciech Stachowiak  (Central Illinois Flying Aces–USHL)  9G 10A 19Pts
Mitchell Mattson (Sioux Falls Stampede–USHL)   9G 12A 21Pts
Adam Goodsir (Tri-City Storm–USHL) 12G 8A 20Pts
Defensemen:
Dennis Cesana (Brooks Bandits–AJHL) 14G 61A 75Pts
Cole Krygier  (Lincoln Stars–USHL)  3G 14A 17 Pts
Christian Krygier (Lincoln Stars–USHL) 0G 8A 8Pts
Jordan Wishman (Dubuque Fighting Saints–USHL) 0G 6A 6Pts
Goalie:
Drew DeRidder (USNTDP–USHL) 2.55 GAA .903 SV%
National Letter of Intent signee
Likely 2018 enrollee
Possible 2018 enrollee
Overall, this class looks good for Danton Cole's first full year of recruiting. The two question marks in my mind are Stachowiak and Wishman. Michigan State only graduated one forward last year and have two recruits likely taking that spot. Stachowiak turns 19 in July and could conceivably stay down another year in the USHL. Goodsir turns 20 in August, so I would expect him to come in next year. Mitch Mattson decommited from the University of North Dakota due to playing time so I would also expect to see him in a Spartan uniform in 2018.
Defense is a bit more complicated. Dennis Cesana is the only D-man with an NLI signee and the Krygiers are almost certainly going to be in East Lansing next year. This leaves Jordan Wishman's fate uncertain. A Cole commit, Wishman hasn't had the best production in his first USHL season and was a -2 on the year in plus-minus. The fact that he doesn't turn 20 until November makes him a likely candidate to stay in juniors one more year. Still he could come up to East Lansing with this class but that would certainly mean that one or several walk-on defenseman would have to get cut in order to make room for him.
Finally, goaltending is solid with the coming arrival of Drew DeRidder to replace Ed Minney. There has been some debate as to how much playing time DeRidder will push for next season. I still hold to my belief that DeRidder will start less than half of the games next year as he gets accustomed to the pace of the college game.
For more MSU hockey recruiting updates, keep it tuned to our sports website and Behind the Mask!