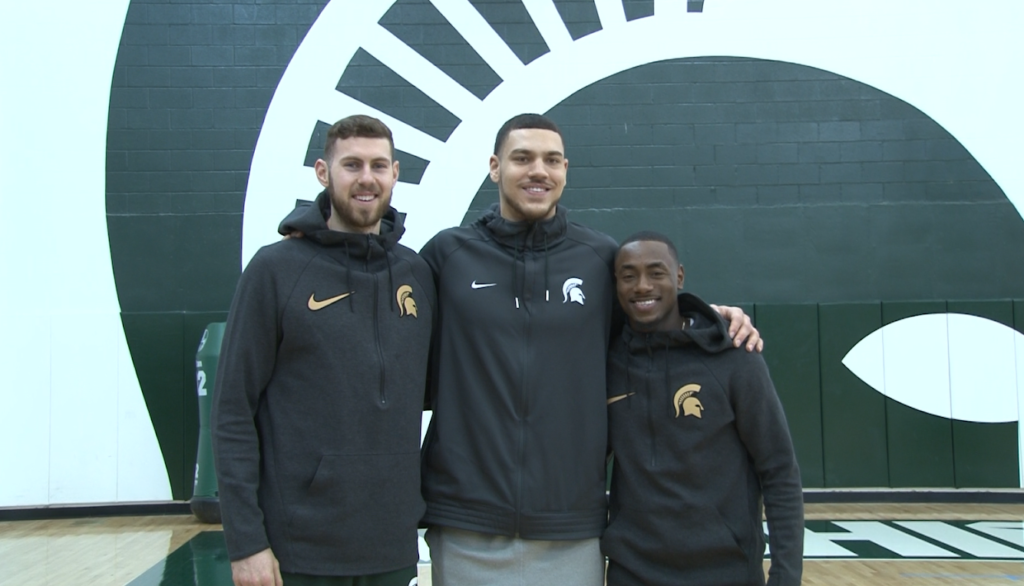 EAST LANSING, Mich. — Tuesday will be more than just another game for Michigan State.
Yes, Illinois (13-15, 3-12) is coming to East Lansing for the penultimate game of the regular season. Yes, for the second week in a row, MSU is ranked No. 2 in the nation and holds national championship aspirations. Yes, it could be the final game played at Jack Breslin Student Events Center for sophomore Miles Bridges and freshman Jaren Jackson Jr.
But it's also Senior Night for three Spartans: Ben Carter, Gavin Schilling and Lourawls "Tum Tum" Nairn Jr. And with a win, MSU will clinch at least a share of the Big Ten regular season title, something nobody on this Spartan roster has experienced in their time at MSU.
Carter, a sixth-year graduate transfer, has been with the team the least among the three seniors. But in his two years donning the green and white, he has developed a newfound respect for head coach Tom Izzo and the atmosphere that MSU basketball exudes.
"I was really happy when I got my sixth year because it gave me more time to spend around this program, this team," Carter said on Monday. "They are a second family to me. To go through what I went through (tearing his ACL on the first day of practice last season) … it's more than basketball here. I'm glad I got to be a part of it."
Carter will graduate with a master's degree in sports administration in May from MSU. He already received an undergraduate degree in public administration from UNLV before transferring to Michigan State.
His jovial teammates, who joke about Carter receiving a doctorate and Ph.D. because of his age, had a huge impact on his decision to play under Izzo.
"When I decided to transfer from UNLV, I had five (visits to schools) scheduled," Carter said. "This was my first stop, and it was actually my last stop as well. I felt it from the very first time I stepped foot on campus. It's been great to come in every day with a smile on your face."
Schilling has seen the highs and lows more than anybody on this Spartan roster. From starting in the Final Four as a sophomore to missing the entire 2016-17 season due to injury, the redshirt senior is anxious for the bittersweet evening.
"It's just special the way the whole program gathers around on Senior Day," Schilling said. "What they do for the seniors, the names outside on the truck, the jerseys. Just coming together as a family on Senior Night. Everyone being able to cherish their last moments on the Breslin Center floor. It's going to be very emotional."
Nairn Jr. is widely regarded as the fan favorite among the senior trio. His story has also been well documented, coming from a slum in the Bahamas to East Lansing. The snow has been a stark difference from the rays of sunshine in the Caribbean for Nairn Jr., but every practice, game and tournament run has been well worth it.
"The best experience since I've been here was winning that game in the Elite Eight (in 2015) and being able to go to the Final Four," Nairn Jr. said of his proudest moment as a Spartan. "Where I come from, in the Bahamas, to play in front of (thousands of) people and start as a freshman is something you can never ever (imagine)."
The senior point guard wears his heart on his sleeve constantly, be it in the game or practice. But this week, his emotions have intensified at the prospect of his final home game for Michigan State.
[su_pullquote align="right"]"Having the opportunity to play for a Big Ten championship on Senior Day is really special. That doesn't happen that often."
–Tom Izzo[/su_pullquote]
"This morning I got teary-eyed just walking past the Bres," he said. "All the memories playing in this gym more than 70 times. All that kind of stuff is running through your head."
"You know it's special because we do it afterwards, most teams do it before. I try not to get emotional, I try to hold back my tears. But it's just a part of me, man. This place has a special place in my heart that I can't even put into words."
Izzo has seen his fair share of Senior Days in his two-plus decades at the helm of the program. However, this class may be among the most unique he's ever coached.
"We lose three completely different seniors," Izzo said. "In my own way I'm going to miss all of them. But having the opportunity to play for a Big Ten championship on Senior Day is really special. That doesn't happen that often … I'm excited about it, it's always a sad day for me … I do appreciate what these guys have given us and what they've done."
The 26-3 record thus far is the best start in program history for MSU. With a win over the Illini, the Big Ten conference regular season title will be at least guaranteed to be shared by the Spartans. The Spartans dispensed of the Fighting Illini in Champaign by a score of 87-74 last month.
But Tuesday is all about the seniors. It's their night, and their only plan is to go out on top.
Tip-off for the game is scheduled for 7 p.m. ET from East Lansing, with television coverage on ESPN.