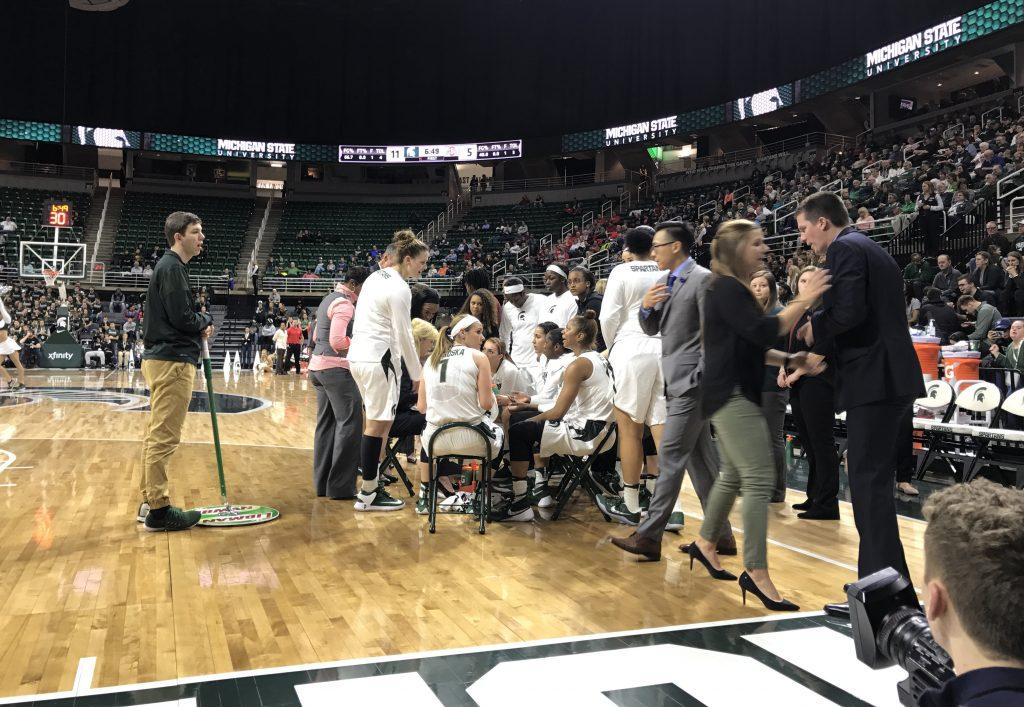 The Michigan State women's basketball team returned to the Breslin Center Saturday afternoon to take on the Rhode Island Rams. Following their 90-59 loss to No. 3 Notre Dame in South Bend, the Spartans were able to return to winning form, defeating the Rams 82-38. With the win, MSU improves to 6-3 on the season. Here are three quick takeaways from Saturday's action.
Guard play is key
On paper, the Spartans have an extremely talented backcourt with redshirt sophomore Shay Colley and sophomore Taryn McCutcheon. However, both guards have struggled this season only averaging 8.1 and 7.3 points respectively. McCutcheon has also been inconsistent with her 3-point shot, she is currently shooting 32 percent from deep a slight decline from last season's 37 percent average.
While they have struggled, both guards had a great outing against Rhode Island. Colley finished with 14 points on 6-for-9 shooting, with eight rebounds and five assists. She also knocked down two three-pointers and collected five steals. McCutcheon was very aggressive, looking for her own shot as she finished with 13 points on 4-for-8 shooting, with five assists against one turnover. McCutcheon's four made shots all came from beyond the arc and she shot 50 percent from deep in the game.
Against Rhode Island, MSU showed just how impressive their backcourt can be and how when they are aggressive it opens up the floor for everyone else.
Cooks was cooking
In the last two games, freshman forward Sidney Cooks has struggled to produce at a high level for the Spartans. Her last two lines against Notre Dame and Western Michigan are respectively: two points and four rebounds in 12 minutes, and eight points and three rebounds in 18 minutes.
The McDonald's All-American has been trying to find her role with the team, and against the Rams, it looked like she's well on her way to finding it. She finished with 17 points and six rebounds while shooting 60 percent from the field. She looked dominant, finishing at the rim and knocking down mid-range jump shots.
This game was an improvement on her last two outings and the Spartans will look for her to use this as a jumping off point for the rest of the season.
The Taya Reimer MSU needs
Similarly to the guards, Reimer has struggled with consistency this season. For example, she scored 11 points and three rebounds against Western Michigan, but in her return to South Bend, she finished with four points and four rebounds.
With the expectations she came into the season with, the inconsistency has been troubling for MSU, but all signs seemed to be pointing upwards against Rhode Island. Off the bench, Reimer finished with 13 points, shooting 3-for-5 from the field and going 7-for-7 at the free throw line.
She looked energized and aggressive at home and the Spartans will look for her to take that energy to Tennessee.  
Up Next
After taking a quick break for finals, the Spartans will travel to Tennessee to take on East Tennessee State on Saturday, Dec. 16 at 7:00 p.m.