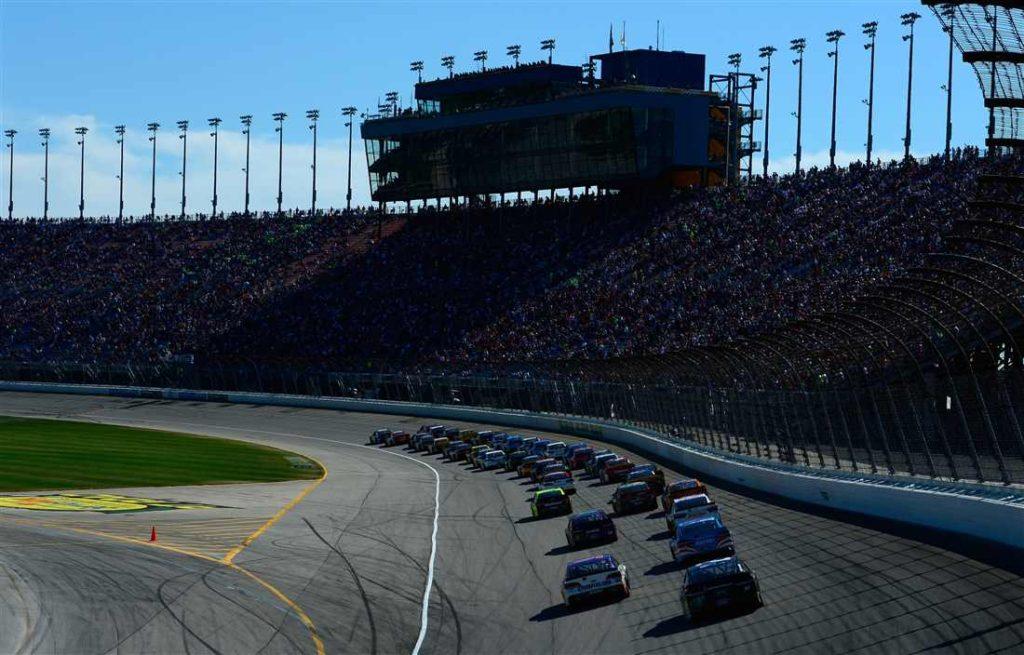 JOLIET, Ill. – Somebody didn't tell Martin Truex Jr. and the No. 78 Furniture Row Racing team that the regular season ended, as they kicked off the playoffs doing what they do best: win.
Who needs 53 playoff points, more than enough to carry him to the next round of the playoffs, when you can dominate and win? That was Martin Truex Jr.'s mindset going into Sunday's Tale of the Turtles 400 from Chicagoland Speedway, and he closed the deal once again.
Oh, and he got slimed. There was a lot of slime. And I mean a lot of slime…
MTJ DOING MTJ THINGS
Martin Truex Jr. might have led only 77 laps on the afternoon, but he was much more dominant than the stat sheet showed. Plus, he had to overcome some adversity that came his way.
While running inside the top five, Truex Jr. was penalized for speeding on lap 39 on a round of green flag pit stops. He was forced to come down the pit lane to do a pass-through penalty and hovered around 15th place until stage one ended. Truex was then able to get back on sequence with the rest of the leaders. Another key: he didn't fall a lap down, which ultimately paid dividends.
The Mayetta, N.J. native slowly and methodically worked his way back into the top 10. Then, on lap 213 of 267, Truex Jr. took the lead from Kevin Harvick and never looked back. He was onto Victory Lane once again, proving to the rest of the playoff field that he wasn't slowing down.
"From our standpoint, really our outlook, our approach doesn't change from what it was in the regular season," Truex said post-race. "We go every single week to try to win both stages and try to win the race, try to get as many of those points as we can in case we have something happen like we did last year at Talladega (blown engine and failed to advance)."
This win was the fifth of the season for the No. 78 bunch and second in a row from the 1.5-mile Joliet tri-oval, meaning Truex Jr. is the first driver to win back-to-back races at Chicagoland since Kevin Harvick did it when the speedway first opened in 2001 and 2002. He also called the season to date a "dream come true," while having "the time of (his life)." Soak it up, MTJ.
THE FIELD
Chase Elliott, Kevin Harvick, Denny Hamlin and Kyle Larson crossed the finish line rounding out the top five, with Brad Keselowski, Joey Logano, Jimmie Johnson, Matt Kenseth and Jamie McMurray, who recovered from a spin, completed the top 10 when the checkered flag flew.
Ryan Blaney finished 11th, with Kyle Busch coming home in 15th, Austin Dillon in 16th, Kurt Busch in 19th, Kasey Kahne in 21st, Ryan Newman in 23rd and Ricky Stenhouse Jr. in 25th, rounding out all 16 playoff contenders.
Out of the whopping 16 pit road penalties handed out throughout the course of the race, seven of them were playoff contenders (Stenhouse twice, Truex, Dillon, Ku. Busch, Ky. Busch and McMurray). You can't beat yourself, folks.
CHASE THE BRIDESMAID
Although he didn't earn his first career Monster Energy NASCAR Cup Series victory, Chase Elliott's second-place run was a bright spot in what has been a shaky stretch for Hendrick Motorsports as an organization heading into the 10-race playoff.
"Yeah, it was a much better day than we've been having is the biggest thing," Elliott said on pit road following his fourth career runner-up finish. "To me, I think we all needed it. We all needed the realization that if we do have the car driving right, if we do have the right pit stops on pit road, restarts go good, we can run with those guys. We didn't have anything for Martin (Truex Jr.) today by any means, but I thought we made the most of what we had. I thought we were about better than everyone else, and to me that's something to be proud of."
The Dawsonville, Ga. native also led 42 laps in the 400-mile affair. He took the top spot from Kevin Harvick exiting pit road on a sequence of green flag pit stops and wound up leading more than 10 laps for the first time since the second month of the 2017 season.
BAD LUCK ROWDY
Kyle Busch led 85 of the first 87 laps and won stage one, garnering another playoff point for him and his No. 18 Joe Gibbs Racing team. But it was shortly after when his day went downhill in a hurry.
Busch lost the top spot on a restart to Kevin Harvick just after the start of stage two. Shortly thereafter, he developed a vibration in his Toyota and couldn't ride it out any longer. He wound up coming down pit road under green and got four fresh tires before going back onto the track.
But his problems only compounded from there, as his pit crew was penalized for being over the wall too soon. JGR opted to swap the crews from Daniel Suarez's No. 19 team and Busch's No. 18 ahead of the playoff opener at Chicagoland, and Busch's new crew was clearly flustered.
Busch was quiet on the radio following the penalty, but the rest of his day didn't go well whatsoever. He wound up two laps down and was never able to get back onto the lead lap. He was in the free pass position multiple times, but Truex Jr. kept putting more and more drivers a lap down, repeatedly putting Busch out of the free pass position. He ended up in 15th.
But fear not, Rowdy fans: Kyle will be fine. He has a 35-point cushion on the 13th-place cutoff thanks to the playoff points he's accumulated. On top of that, he will more than likely contend for wins at both New Hampshire and Dover in the upcoming weeks. But on Sunday, it just wasn't his day.
WHO'S WHERE?
After one race, the playoff grid looks relatively similar leaving Chicagoland Speedway compared to how it looked going into the Tale of the Turtles 400. Martin Truex Jr. is the leader (and has a free pass to the next round thanks to his win). Kyle Larson sits second, 27 points behind.
Kevin Harvick sits in third, 35 points behind. Brad Keselowski and Kyle Busch are tied for fourth (41 points behind), with Chase Elliott, Denny Hamlin, Jimmie Johnson, Matt Kenseth, Ryan Blaney and Jamie McMurray are all currently into the next round if it ended right now.
Austin Dillon and Kurt Busch are tied for the 12th and final spot, but Dillon owns the tiebreaker by virtue of his better finish this past weekend compared to The Outlaw. Ricky Stenhouse Jr., Kasey Kahne and Ryan Newman also are behind the cut off right now, as they look to gain more ground on the playoff drivers in front of them heading to New Hampshire and Dover.
WHAT'S NEXT
The Monster Energy NASCAR Cup Series heads to New Hampshire Motor Speedway for the ISM Connect 300 from "The Magic Mile." It will be the second of three races in the Round of 16. The green flag is scheduled to fly at approximately 2:15 p.m. ET from Loudon (NBCSN).
The Camping World Truck Series will also kick off their playoffs from NHMS, while the XFINITY Series will begin their postseason from Kentucky Speedway.