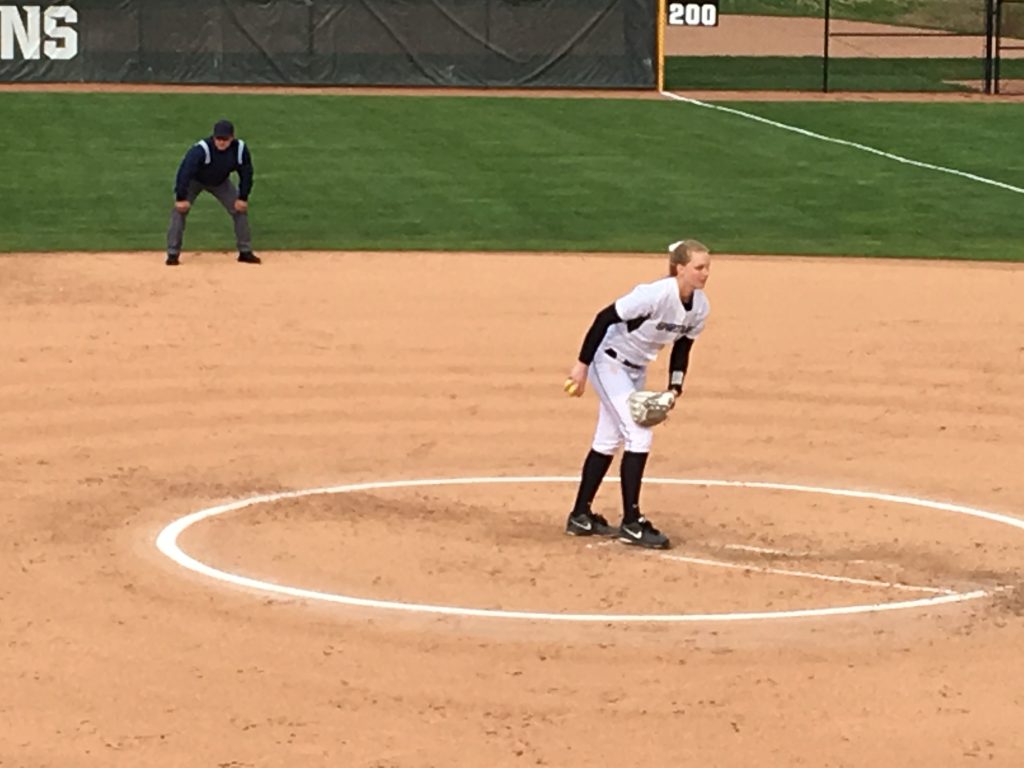 EAST LANSING, Mich.—Michigan State softball (28-17, 6-9 B1G) beat No. 25 Ohio State (27-11, 10-5 BIG) 3-2 in a game that went down to the wire. This was Michigan State's first Big Ten game back, but second game back overall, at Secchia Stadium after the Red Cedar River flooding kept the Spartans out of East Lansing for two weeks.
This game was far from the shootout that it was predicted to be. Ohio State and Michigan State are Nos. 1 and 2, respectively, in home runs in the Big Ten this year. Instead, it turned into a pitcher's duel between Ohio State's Shelby Hursh and Michigan State's Kristina Zalewski.
"I thought we played great," said head coach Jacquie Joseph. "We are not going to play a whole lot better than this, we just beat a top 25 team. We did it on the mound, we did it at the plate and we did it on defense. So, good for us, they (Ohio State) are a very good ball club, and we needed to be better than them today and we were."
It was a historic day for Zalewski (3-6), who had seven strikeouts. She tied Stacey Smith for second all-time in Spartan history for strikeouts, with 408.
"I wasn't thinking about striking anybody out," said Zalewski. "I just knew my defense had my back, so all I had to do was throw it."
Zalewski's most impressive inning came in the top of the third, when she struck out the side.
"It is really important (to have that catcher-pitcher relationship)," said catcher Lindsey Besson.  "(Zalewski) and I are not only friends on the field, but also off the field. And it helps, because I know her, and I know how she is going to respond to things. So I think it definitely helps and she came out today and did awesome."
The breakthrough happened for Michigan State in the fourth inning when Besson drove in Sarah Gutknecht with a sacrifice fly. The Spartans added on two more insurance runs in the bottom of the fifth, thanks to RBI singles from McKenzie Long and Kaitlyn Eveland.
Those two runs proved to be important in the top half of the sixth. Ohio State pulled within one run of Michigan State and loaded the bases. A scary moment followed as Zalewski went down after being hit in the leg by a hard line drive. She was forced to exit the game.
Relief pitcher Jordan Watson put out the fire in the sixth and got the last three outs in the seventh, but not before some controversy. While facing Ohio State's Lilli Piper, Watson was called for an illegal pitch on what would have been the last out of the game. Joseph was thrown out of the game for arguing the call.
"The official called an illegal pitch," said Joseph. "So the player who popped out at the end got an extra pitch. An illegal pitch is like a balk in baseball, so that is what happened there."
However, the call did not matter. Watson got Ohio State's Taylor White to pop out to first base, ending the game.
"I think we definitely have the momentum today," said Besson. "We are going to enjoy it today and come back tomorrow and do the same thing."
Michigan State and Ohio State play Game 2 of this three game series Saturday at Secchia Stadium at 1 p.m.
"I think it gives us great confidence and great momentum," said Joseph. "But every game counts only one. This game doesn't mean anything towards tomorrow."