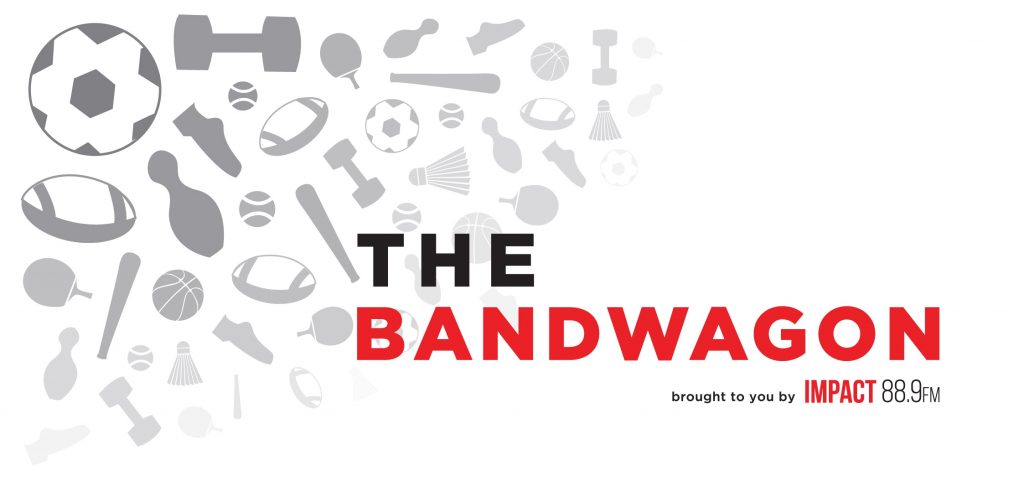 While Zachary Swiecicki, Zane D'Souza, and Ashanti Seabron are away from the mics for winter break, they still found time to bring you their Week 16 NFL picks.
With the season now 224 games in, Zach leads the pack at 146-78 (11-5 last week) while Ashanti and trail steadily behind at 143-81 and 142-82, respectively (13-3 and 12-4 last week). Zach and Zane present you a special Christmas edition of their NFL picks.
Recapping Thursday Night Football
NBC/NFLN, New York Giants (10-5)  [-1.5] at Philadelphia Eagles (6-9)
Well. We all picked the New York Giants. We were all wrong. New York has had a history of struggling in Philly, and that trend continued on Thursday night in a 24-19 loss. The Giants had a chance to clinch a playoff spot but couldn't get it done, thanks to three Eli Manning interceptions and a couple costly penalties. Credit to the Eagles for capitalizing on those mistakes… you would've never known that team had nine losses by watching this game.
Saturday, 1:00 p.m.
CBS, Miami Dolphins (9-5) at [-4] Buffalo Bills (7-7)
Zachary Swiecicki: Dolphins — I'm not completely confident with this pick. Buffalo being favored at all, let alone four points, perplexes me. Matt Moore looked good against NYJ (which isn't saying a lot), but he looked at least good enough to beat Rex Ryan's Bills, who let the Browns hang around last week.
Zane D'Souza: Dolphins — The Bills are struggling right now and it can't help team morale that they almost lost to the Browns. Dolphins need a win here and they'll get it.
FOX, Atlanta Falcons (9-5) [-3] at Carolina Panthers (6-8)
ZS: Falcons — Julio Jones looks like he's going to play, but Devonta Freeman and Tevin Coleman could run wild with no Luke Kuechly for Carolina. I'll give the Panthers credit for winning last week and take Atlanta on a late touchdown.
ZD: Falcons — Falcons offense will be in stride with Julio back as they prepare for playoff football. Though the Panthers are playing much better, it won't be enough.
FOX, Washington Redskins (7-6-1) [-3] at Chicago Bears (3-11)
ZS: Redskins — I picked Washington against Carolina last week and got burned. Fool me once, shame on you. I'm going with Kirk Cousins and the Redskins in a bounceback game at Soldier Field. Transformed running back Ty Montgomery had a field day in Chicago in Week 15, and I'm predicting the same for Rob Kelley in Week 16. Don't be surprised if Matt Barkley has da Bears in striking position late, though.
ZD: Redskins — Their chances of making the playoff are slim, but as I've said all year, I think the Bears might be the worst team in football. Matt Barkley makes them better, but it won't be enough. "You like that?"
CBS, San Diego Chargers (5-9) [-5.5] at Cleveland Browns (0-14)
ZS: Chargers — Melvin Gordon has yet to practice this week, but that won't make a difference (however, it could make a difference in my fantasy football championship). If, and I said IF, the Browns can stop Philip Rivers, they have a small shot in this one. That being said, I don't think it happens. San Diego by 14.
ZD: Browns — This is their only shot. The Chargers have underperformed based on their talent and the Browns have the cold on their side. Lions fans: rest easy, the record is yours.
FOX, Minnesota Vikings (7-7) at [-7] Green Bay Packers (8-6)
ZS: Packers — This is a tough game to pick. Green Bay's defense didn't impress me against Matt Barkley last week, but Minnesota's defense looked even worse against Andrew Luck. These are two teams headed in opposite directions and GB will get it done at Lambeau (as much as Lions fans will hate to hear it).
ZD: Packers — They know they can win the division. Aaron Rodgers is playing like the MVP he can be, while the Vikings have slid. Get ready for Week 17 in Detroit.
CBS, Tennessee Titans (8-6) [-5] at Jacksonville Jaguars (2-12)
ZS: Titans — With the new interim coach in Jacksonville, I'm not sure what kind of leash he's going to have for Blake Bortles. But, that doesn't really matter for Week 16. Tennessee should control this one from the start.
ZD: Titans — I like this team a lot. They have every component, although their youth might have been what held them back a little. This is an easy win.
CBS, New York Jets (4-10) at [-17] New England Patriots (12-2)
ZS: Patriots — New England will win this game; the only question is if they can cover the hefty 17-point spread. Assuming Bryce Petty plays, I think the Jets could lose by *just* two scores.
ZD: Patriots — There is no discussion here. If anything, it'll be good for the second unit to get some reps.
Saturday, 4:05 p.m.
CBS, Indianapolis Colts (7-7) at [-4] Oakland Raiders (11-3)
ZS: Raiders — This should be a better game than their records suggest. Derek Carr vs. Andrew Luck may create an instant Christmas Eve classic. I'll give Carr and the Raiders the four-point spread at home in what could be a shootout.
ZD: Raiders — The Colts are hot right now, but this Raiders team will be energized after clinching the division and a top seed. Oakland will be hype Saturday.
Saturday, 4:25 p.m.
FOX, Tampa Bay Buccaneers (8-6) at [-3] New Orleans Saints (6-8)
ZS: Saints — I can't pick against Drew Brees and the Saints in New Orleans after last week's offensive explosion against a top-10 defense in Arizona. It could be another game totaling over 50 points, but that just favors New Orleans even more. Tampa Bay needs a win, but I don't think they get it done. Saints cover.
ZD: Saints — Jameis Winston has stepped up tremendously this season, but he still has turnover issues. That's what will prevent them from winning this game. Drew Brees will also put on a show for a home crowd that's always embraced him and this team, even in a poor year.
FOX, San Francisco 49ers (1-13) at [-4] Los Angeles Rams (4-10)
ZS: Rams — Welp. This has to be Week 16's candidate for worst game of the year. Los Angeles has a shot to dominate San Fran. The Rams' defense and Todd Gurley have their time to shine. LA by 10.
ZD: Rams — Wow. This is a terrible matchup. However, someone must win, so I'll take the Rams. Their talent exceeds the 49ers' by a lot.
FOX, Arizona Cardinals (5-8-1) at [-8] Seattle Seahawks (9-4-1)
ZS: Seahawks — Seattle by eight is a little iffy for me. Zane's Cardinals are officially/literally/mathematically out of the playoffs. David Johnson, who accounts for about a third of Arizona's touchdowns, will be going against one of the league's best run defenses. The Seahawks got the extra time off after crushing LA last Thursday, and it's at CenturyLink Field. Give me Seattle, barely covering the spread.
ZD: Seahawks — My Super Bowl pick (the Cards) vastly underperformed. The Seahawks have caught their stride at the perfect time. That continues here.
Saturday, 8:25 p.m.
NFLN, Cincinnati Bengals (5-8-1) at [-1] Houston Texans (8-6)
ZS: Texans — The spread is nearly even, basically saying who knows. Vegas doesn't know, Brock Osweiler doesn't know, and neither do I. But, Tom Savage is the answer. The NFL wants Houston to win so there will be even more chaos next week, so I won't pick against the powers that be.
ZD: Texans — They look a lot better without Osweiler. Clowney should play and they're at home. The Bengals have been riddled with injuries all year and have nothing to play for here. Goodbye Marvin Lewis?
Sunday, 4:30 p.m.
NFLN, Baltimore Ravens (8-6) at [-5] Pittsburgh Steelers (9-5)
ZS: Steelers — I'm going to bet that the Ravens can't hold Le'Veon Bell to 70 scrimmage yards again. Steelers win and they clinch the AFC North. Ravens win and they still have a shot at the playoffs. Baltimore has the better defense, but they're going to need more than 206 yards, two TD's, a pick, a fumble, and three sacks out of average QB Joe Flacco. These divisional clashes are always messy; however, I feel comfortable taking Pittsburgh by more than five.
ZD: Steelers — This is the game of the week. The Steelers finally found their mojo, and even the defense is playing better. The Ravens are better than expected, but going to Heinz Field will be the deciding factor. Oh, and Le'Veon Bell.
Sunday, 8:30 p.m.
NBC, Denver Broncos (8-6) at [-3.5] Kansas City Chiefs (10-4)
ZS: Chiefs — Knock on wood, KC fans, I'm finally taking the Chiefs. That's only because multiple kickers have scored more points than the Broncos (16) have in the last two weeks. In the same breath, Alex Smith and the Chiefs offense hasn't been impressive either (at least no kickers have outscored them). Kansas City could win this game 10-6.
ZD: Chiefs — Though they won't win the division, they are still an AFC contender. Even with the game-manager himself in the name of Alex Smith, they play great football. The Broncos are essentially out of the playoffs with a loss here.
Monday, 8:30 p.m.
ESPN, Detroit Lions (9-5) at [-7] Dallas Cowboys (12-2)
ZS: Cowboys — As annoying as it may be to hear, "Matt Stafford is 1-22 in his career on the road against teams with winning record," it's true. Now, I know there have been a lot of different variables that effect that skewed stat, but until he proves the haters wrong, I'll side with history. Dallas already locked up a first round bye, but that won't change their lineup. For the Lions, Theo Riddick, Darius Slay, and Travis Swanson have yet to practice this week. Detroit would clinch a playoff spot with a win on Monday Night Football against arguably the best team in football. Your move, Stafford.
ZD: Cowboys — This was tough. I almost said the Lions, just because of how much Stafford loves the bright lights. With that being said, the Cowboys have too much talent, and know how to use it. Playing at home on Monday night elevates that. I think the starters play the whole game just because it'll be close. Week 17 will be a doozy for the Lions, while the 'Boys can rest easy knowing they have the top NFC seed.
From Zach and Zane: We hope you enjoyed reading our picks this week, as well as all of our episodes throughout the fall. Thank you for reading and listening. Merry Christmas and Happy Holidays from The Bandwagon.