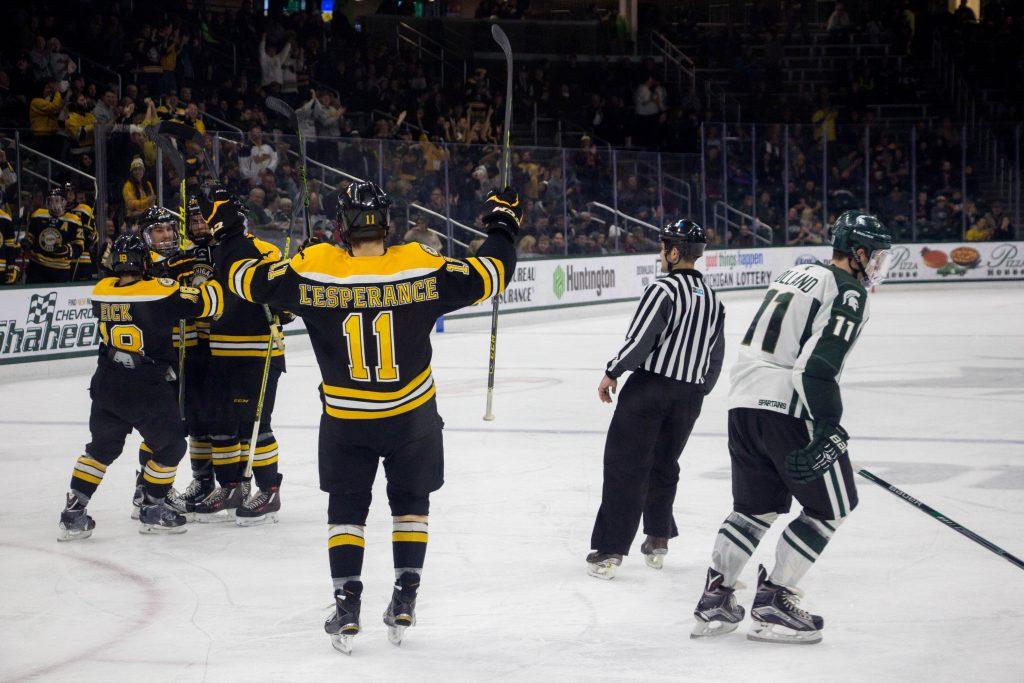 EAST LANSING, Mich. — Michigan State had a chance to earn their first series sweep of the season. Michigan Tech had other plans. The Huskies, led by their experienced defensemen, routed the Spartans 5-1 in front of 4,039 at Munn Ice Arena on Saturday.
"I don't think we did a good enough job of matching their intensity from the start," senior captain Joe Cox said.
After an abbreviated Spartan powerplay, senior forward Villiam Haag took a hooking penalty in in the crease. On the ensuing four-on-four, Michigan Tech struck first off a quick shot from junior defenseman Mark Auk. Eleven seconds later Joel L'Esperance scored on a powerplay breakaway to give MTU a 2-0 lead just over five minutes into the game.
"Once we came out of it in the first ten minutes, I thought our second ten minutes were pretty darn good," Spartan coach Tom Anastos said.
Michigan State was able to draw a tripping penalty at the 13:29 mark of the first period, and went to their second powerplay of the night. While the Spartans generated a few quality chances, they were held scoreless. That is, until freshman Taro Hirose picked up the puck in the high slot and rifled a wrister past Tech goalie Angus Redmond.
Hirose's goal marked the third straight game in which he has recorded a point. Anastos was quick to point out Hirose's improved play after the game.
"I thought he played with a lot of poise. I think he is gaining confidence. We brought him here because he is the type of player that can run a powerplay and can make players around him better. You can see that and he's just scratching the surface," Anastos said.
Hirose's third point of the weekend, and second goal of the year, sent MSU into the locker room with momentum on their side, down only 2-1.
Michigan State however was undermined by the loss of sophomore forward Mason Appleton, who left the game midway through the first period after suffering a nasty hit on his second shift.
"With the type of guy that he is, we all have to step up our game and start playing and bringing the stuff that he might bring. I think for the most part a lot of guys stepped up their game tonight." Hirose said.
As of Saturday night, no information was available regarding Appleton's injury or his expected return.
Going into the second, the Spartans continued to get scoring opportunities. However, they could not capitalize and missed on several opportunities from in close.
"We've got to start learning how to use that momentum to our advantage and start capitalizing on those opportunities," senior defenseman Rhett Holland said.
It was Michigan Tech who capitalized on their opportunities as the Spartans took two consecutive penalties and gave up a five-on-three powerplay goal to defenseman Shane Hanna. The senior picked the far right corner on Spartan goaltender John Lethemon from the left-side dot.
Entering the third period, the Spartans were dealt another blow. Freshman defenseman Butrus Ghafari coughed the puck up as he was turning to go up ice. Huskie senior Reid Sturos picked up the puck and chipped it over the shoulder of Lethemon to make it 4-1 Michigan Tech 59 seconds into the period.
"I thought our first shift [of the period] was excellent up until the situation that occurred behind the net," Anastos said. "I'd be lying if I said that didn't take a little bit of air out of your sails."
The Huskies would make it 5-1 off a faceoff goal by Chris Leibinger almost four minutes later.
Michigan State now falls to 2-5-0 on the season.
Despite the loss, the Spartans are focusing on the positives and using this game as a learning experience for this young team on what it takes to sweep a weekend.
"Obviously we're not satisfied with the result tonight or with the weekend, but it's nice to still get a split. We're never going to be satisfied with losing in our home building like that," Holland said. "Like I said, it's a good learning experience for our team to really figure out what it's going to take for us to play a full two games and six periods."