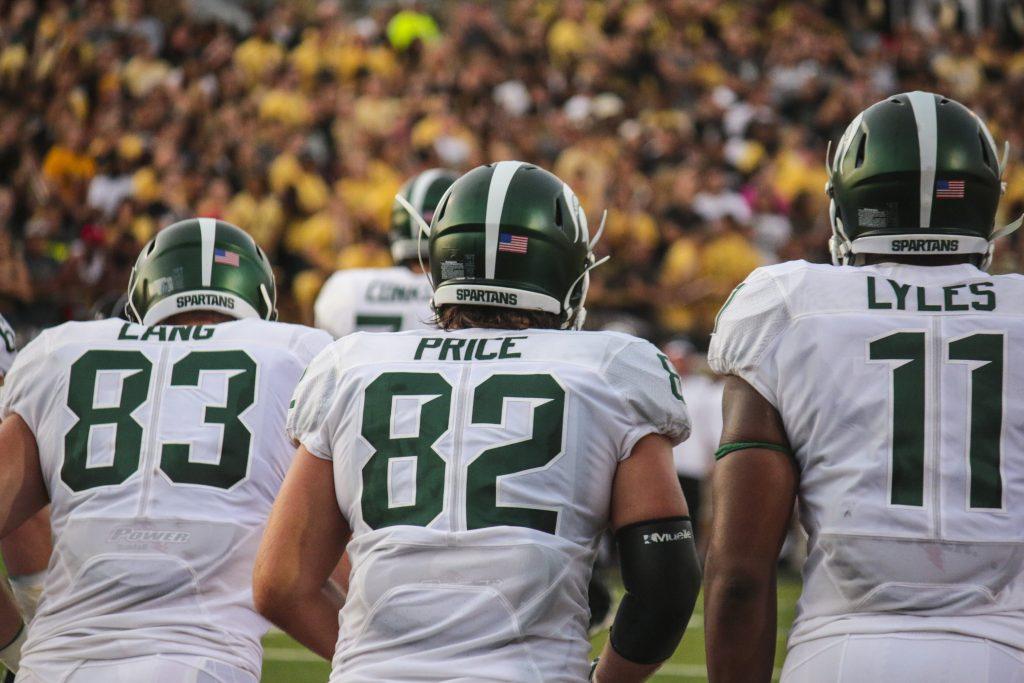 This is the fourth in a series of assessments on each position for Michigan State football. To read about the Spartan wide receivers, click here.
Andy Chmura: @andy_chmura
Mark Dantonio loves using multiple tight ends, and if there was ever a year to do just that, this would be it. On a youth-ridden team with little experience, feast your eyes on Josiah Price and Jamal Lyles. Price and Lyles are outliers in East Lansing entering their fifth years in Spartan uniforms.
Price had a solid 2015 season, racking up just shy of 250 yards on 23 catches. He also broke a school record with 16 career touchdowns as a tight end, and why not? Price is a big body, but much of that mass comes from muscle. In spite of his wrecking ball-like demeanor, Price shows a substantial amount of grace and route-running skills on the football field. With a young receiving corps, Price may be Tyler O'Connor's second favorite target, particularly in the redzone and in short yardage situations.
Jamal Lyles will probably take the second spot in rotation. Still, he will find himself on the field more often than not. Lyles is not quite as flashy as Price; his total career yards barely surpasses Price's in 2015. Still, Dantonio feels that this man's presence is invaluable to his offense, as he has appeared in every game following his redshirt. Expect Lyles and Price to push a young offensive line and receiving corps forward to a breathtaking 2016 season.
Although the MSU tight end show will be hosted by Price and Lyles, expect redshirt sophomore Matt Sokol to appear from time to time as a side act. The Spartans' tight end corps is not quite as deep as it once was with the departure of Dylan Chmura. But this only means that Sokol will get more time to show Spartan Nation what he is made of. Keep a close eye on this guy, because he will be essential to the team in 2017 and 2018.
Grade: A-
David Manion:
Senior tight end Josiah Price is arguably one of the greatest tight ends to ever play for the green and white. He may not have eye-popping numbers, but his outstanding leadership, consistent play and versatility all speak for itself. After all, actions speak louder than words.
Price has more career touchdown grabs than any other Michigan State tight end with 16. The senior is a sneaky fast player and a terrific route runner with a tremendous mind of the game. He has some of the softest hands in the nation, even when taking contact or getting stuck in heavy traffic. He is no slouch when it comes to run blocking either, as he usually does a nice job of containing his assignment while sealing the edge on outside running plays.
With only eight total catches last season, backup Jamal Lyles needs to become a bigger receiving threat. A good starting point for the Southfield native would be to use his huge 6-foot-3, 260-pound frame to shield off the smaller secondary players downfield. It's similar to a center in basketball boxing out his opponent, setting himself up in great position to collect the rebound. Lyles has excelled in the blocking department and is expected to carry that strength into 2016.
One surprise player that has the ability to make an immediate impact is Matt Sokol. The sophomore is seeking to take some of the load off of Price and Lyles in the trenches. Co-offensive coordinator Dave Warner might use Price or Lyles as decoys which will allow Sokol to spring free in the open.
This is one of the more experienced groups on offense along with the running backs. The productive duo of Price and Lyles should have no problem supporting both the developing passing game and with dubious blocking up front. The seniors will be entering every game with a target on their backs, which will perhaps create more opportunities for Sokol down the road.
Grade: B+
Matt Mika: @themattmika
The tight ends are led by senior Josiah Price who brings toughness and a high level of intelligence to the Spartan offense.
Price has a high football IQ and can find soft spots in coverage. He will be a safety outlet for new starting quarterback Tyler O'Connor this season. Whenever the newly appointed captain feels the pressure from opposing defenders, he will have a reliable Price to dump the ball off to.
In addition to third down conversions, Price is a lethal threat in the red zone. When defenses stack the box to stop the run, the Spartans can rely on the play action pass to allow Price to get open on a quick seam route or a swift post route. This is a weapon in the back pocket for O'Connor. If defenses key on Price and blitz up the middle, O'Connor has the ability to bootleg on play action for an easy touchdown as well.
Price gives the Michigan State offense options. The senior had a marvelous year in 2015 and will need to have another tremendous year for the Spartans to compete for back-to-back Big Ten titles.
Grade: A-