Who Will be the Championship Four Following Phoenix?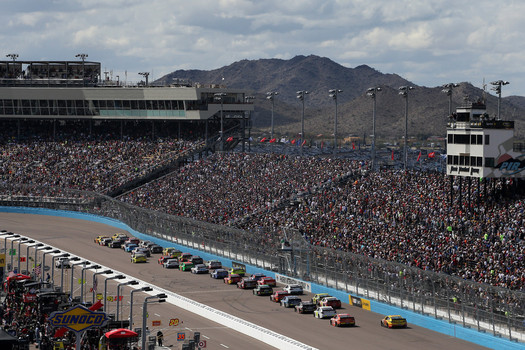 Kevin Harvick has won the last four NASCAR Sprint Cup Series races at Phoenix International Raceway. The question everyone's asking, is if he can make it five with another win Sunday afternoon in the desert. After leading over 1,000 laps, grabbing seven wins overall at the one-mile track and winning this race last season in a win-or-go-home scenario, he will be hard to beat, but it can surely be done.
Jimmie Johnson hasn't gotten off his high horse after last week's win at Texas, as he grabbed the pole for the Quicken Loans Race for Heroes 500 with a speed of 143.158 MPH.
Johnson's teammate, Jeff Gordon, who is the only driver in the field that doesn't have to worry about advancing to the next round, will roll off 11th, as PIR has renamed the track to "Jeff Gordon Raceway" for the weekend, to honor the legend as he retires at season's end. This will be his last race at Phoenix and his second to last of his career.
The aforementioned Harvick will roll off eighth. His SHR teammate, Kurt Busch, who pretty much needs to win to advance to the championship four, will start second, and had the fastest car in the final two practice sessions in his No. 41 car. Carl Edwards will start fourth, as he is currently on the outside looking in by a few points behind Martin Truex Jr., who will start in fifth.
The 19 year-old phenom in Erik Jones will start seventh, subbing for Matt Kenseth, who is still suspended for intentionally wrecking Joey Logano. Logano, who can only advance with a win, and has been mathematically eliminated otherwise, will start 14th. The other Chase drivers will start 10th (Kyle Busch) and 18th (Brad Keselowski).
Logano, as it has been well documented, will need to win in order to stay alive. He has been the dominant driver in the 2015 playoffs, but due to some payback and bad luck with a flat tire, he is now in the position that he hasn't been in all of his career.
"The Daytona 500 is a big win, but winning here what it would set us up for racing for a championship at Homestead would be the biggest one of the year. That's what this point system brings. It makes every moment the Daytona 500 moment." Logano said.
Logano's teammate, Keselowski, also needs to win to advance after dominating last week.
Drivers have also proved that they are willing to do whatever it takes to win, or in this case, transfer. Take Ryan Newman last year in this race, for example. He used up Kyle Larson going into turn four and knocked Gordon out of the championship finale, as he needed that one spot to get in, and he did that exactly.
Whether it's a young driver like Jones or Austin Dillon, who have both ran extremely well in the past few races, and are itching to get into victory lane in the top form of motorsport in North America to make their name and state their claim, or a guy like Gordon, who has absolutely nothing to lose.
Look for wacky strategy playing itself out throughout the race and Harvick to be out front of most of the afternoon. After overcoming some bad luck during his roller-coaster day at Texas last week, is Harvick's bad luck all behind him? After 12 second place finishes, bad luck through the summer months and multiple part failures, I think Harvick overcomes his bad luck.
However, I think his teammate, Kurt Busch wins the race and vaults himself into the championship round at Homestead-Miami Speedway.
I also think Kyle Busch, Harvick and Kurt Busch will join Gordon in his attempt to end his career in Hollywood style next weekend in Miami. Let's get racing, and one weekend and one step closer to crowning the 2015 NSCS Champion.
UPDATE: The race has been delayed until 6:00 p.m. due to rain in the area (rain in the desert, I know). It will be televised on NBCSN (PRN radio).